Backup Sensors and Backup Cameras
Backing up can be a nerve racking experience, especially in bigger vehicles. Parallel parking, corning, or coming in slow to loading zones are all situations that can make the sweat beads drop like bullets. That's why so many drivers have turned to backup sensors and reverse cameras. When you have a backup camera with a monitor, there's no need to worry about creating new dents and scratches on your vehicle, or anybody else's. Simply plug in any variety of cameras, with or without microphones and audio, then choose the perfect monitor for your car, truck, or SUV, and you're well on your way to safe and simple backing.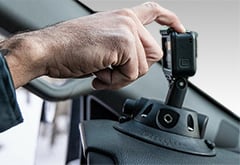 If you want to get that once-in-a-lifetime shot on the off-road trails, or just capture a fender bender for insurance purposes, you need to keep the camera rolling. But when you need to dedicate your hands and attention to driving, mounting your camera with a SeaSucker Action Camera Mount is the perfect solution.
From $65.00
Free Shipping
Quick View
Want to learn more? Read our:
About Backup Sensors and Backup Cameras
The most common time for you to scratch, dent, or otherwise tarnish your ride is when – you guessed it – you're backing up. While mirrors and a good old fashioned neck craning can give you some of the picture, the real way to get a crisp and complete picture is with a high-definition monitor, attached to a high-tech reversing camera. Once you can back up with a full view of what lays behind you, you'll won't be able to believe how you survived without a backing camera.
Backup sensors come standard in many new models for a reason: the results simply speak for themselves. If you're behind the wheel of an older model vehicle, or a newer car or SUV that didn't come standard with a reverse sensor system or back-up camera, you need to supplement that and pronto. The sooner you add a backup camera and monitor to your ride, the lower your chances of causing some permanent damage will become.
The best way to equip your rig with a camera, monitor, or reversing sensor is to go through AutoAccessoriesGarage.com. We've done the legwork to find the best in the biz, and since customer satisfaction is our number one priority, not only will we sell you only the best in a reverse camera, we'll offer a no-hassle returns process, and a knowledgeable customer service team. In fact, every backup sensor and reverse camera system at AAG is available with 100% Free Shipping.