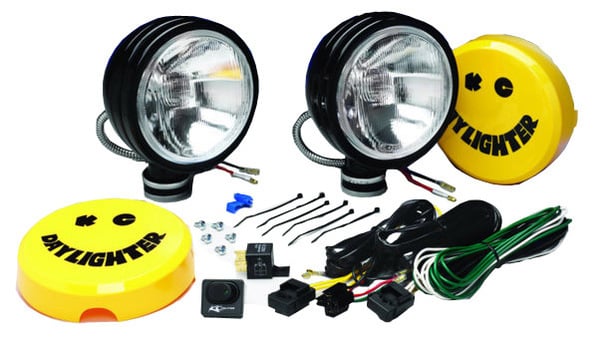 The lights on your vehicle aren't just a safety feature - they define your exterior style and give your ride its attitude. Whether you ride in a sport compact, off-road truck, or daily driver, you can benefit from upgraded headlights and taillights or a set of auxiliary lights. There is a lot of information (and misinformation) out there about lighting technology, and that can raise a lot of questions when shopping for the best automotive lights. Here are answers to some of the more common questions about vehicle lighting.
Automotive Lighting FAQs
Answers to Frequently Asked Questions
What are auxiliary lights for?
As the name implies, auxiliary lights are extra sets of lights that are used in conjunction with your headlights to improve your visibility and safety. These can be mounted in your bumpers like driving lights and fog lights, or you can bolt extra lights to a light bar or bull bar, like off-road lights.
What is the difference between driving lights, fog lights, off-road lights, and flood lights?
Fog lights are designed to be used in inclement weather such as fog (obviously!), rain, and snow. They cast a wide, low beam that illuminates the road ahead without reflecting off the mist in front of you. Driving lights are designed for long-distance visibility and blast a narrow, strong beam with your hi-beams. Flood lights cast a wide and tall beam pattern that "floods" your entire view with light.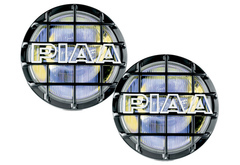 Off-road lights are built especially tough to handle the abuse and harsh conditions of off-road driving. They often feature more durable weather sealing, beefy lens guards, and larger construction for even more light output. Off-road lights are available in a variety of beam patterns, including the aforementioned flood, fog, and driving light styles.
How do I install auxiliary lights?
Installing your auxiliary lights is typically a straightforward process. If you're mounting fog lights or driving lights to your bumper, you may have to knock out or punch out holes in the bumper if they don't already exist. Then, mount the lights in the holes, connect the wiring to your battery, and route the power switch into your cockpit. Off-road auxiliary lights require the same process, though they usually mount onto light bars or grille guards rather than inside your bumper.
Is it difficult to install aftermarket taillights and headlights?
No. All the headlights and taillights we carry are custom-designed to your exact vehicle for a precise fit. You may have to put in a little elbow grease to get your old lights out, but replacing them is a straightforward process. The following video shows what it takes to install Spyder Taillights on a Dodge Charger:
How do I operate auxiliary lights?
Auxiliary and off-road lights usually include a switch that mounts to your dashboard. This switch connects to the lights with wires that run through pre-existing holes in your firewall, so it's easy to hook up. When you need extra visibility, just flip the switch and you're good to go.
What are HID xenon lights?
HID is an acronym for High-Intensity Discharge. HID lighs utilize an arc of electricity that heats up a cloud of gas that's sealed inside the bulb. Xenon gas forms a super-bright light that's almost as powerful as daylight, making it the common choice for these bulbs. HID lights are also highly efficient, so they generate a massive amount of light energy without drawing a lot of electricity. HID xenon lights began as industrial-strength bulbs, but they're quickly becoming a dominant force in the consumer automotive lighting market due to their bright, natural light and increased visibility compared to standard halogen bulbs.
Can I install HID bulbs into my stock headlights?
If your vehicle came with stock halogen lights, you can not retrofit them with HID bulbs. Your vehicle's lenses and reflectors are designed specifically to optimize the light emitting from halogen bulbs. If HID xenon bulbs are put in their place, your headlights will project the wrong beam pattern and create an intense glare that will blind oncoming drivers. If you want the performance of HID xenon, consider adding xenon-filled halogen bulbs or replacing your entire headlight assembly to get the proper reflectors and lenses.
How can I wash my auxiliary lights?
You can wash your auxiliary lights the same way you would treat your headlights and taillights. Just make sure you don't bump or hit the lights too hard - you don't want to throw off their alignment and ruin your carefully-set beam.
Are all driving lights and auxiliary lights street legal?

Most driving lights are street legal when you use them in conjunction with your hi-beams. Some very powerful driving lights with narrow beams are not legal for road use. As their name implies, off-road auxiliary lights are designed strictly for off-road use and should not be operated on streets and highways.
Some automotive lighting laws and standards vary, so be sure to check with your local department of transportation or DMV before installing and using auxiliary lights.
Conclusion
We hope these Lighting FAQs will help you in your search for the best automotive lights. If you have any more questions about car lights or the information in this guide, please call our highly trained Customer Service staff at 800-663-1570.
This page was written by Packy AutoAccessoriesGarage