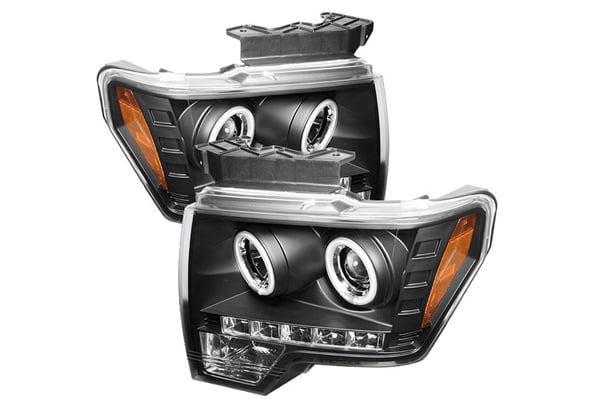 Aftermarket automotive lighting is a quick and easy way to redefine the look of your car's exterior. Most auto manufacturers take a "one size fits all" approach to car lighting, but with custom lights you can reclaim ownership of your car's style and create a look that's wholly your own. At AutoAccessoriesGarage.com we carry an exhaustive line of aftermarket lights in a variety of styles from sleek diamond cut headlights to off-road fog lamps. Before you start upgrading your car's lighting system, take a look at our lighting research guide and get the knowledge you need to find the best car lights for your vehicle.
Types of Car Lights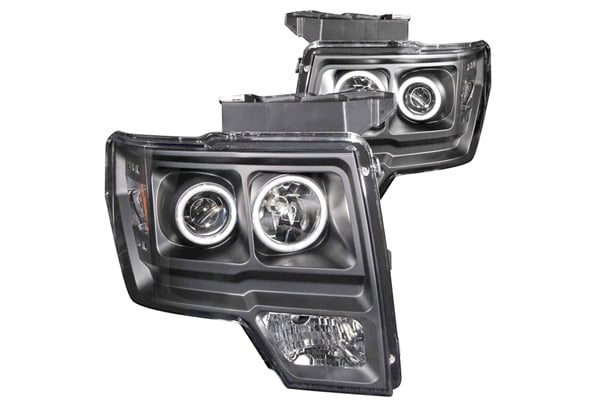 Headlights
Think of your OEM headlights as that suit you wore to your high school prom. That powdered blue tuxedo was cool back in the day, but it's hardly fashion forward by today's standards. The same is true for your car's headlights. While most OEM lights provide adequate illumination, most times their style is straight out the 70s. Thankfully, you can pull your car's exterior out of the past with a set of aftermarket headlights. Replacement headlights go above and beyond the uninspired design of OEM lights to enhance you car's look and attitude. These exterior accents range from the sleek and sophisticated to the rugged and race ready, and our diverse catalog of automotive lights are sure to please drivers of all tastes.
Aftermarket headlights do more than just alter the look of your exterior - they can also enhance your car's light output. Helpful Tip: To learn more about the variety of bulb types we carry, head over to the bulb types section of our lighting guide.If your factory headlights aren't meeting your standards, consider picking up a set of Spyder headlights. LED headlights produce a significantly stronger beam than regular OEM headlights to increase your visibility at night. Plus, they use less power than OE lights and stand up to weather and water damage better than Halogen bulbs. In addition to LED headlights, you can upgrade your front end with Euro headlights or Halo headlights. Euro lights, like Spyder Euro headlights, are ideal for import cars seeking a more continental style. Additionally, Euro beam patters are significantly wider than normal beam patterns found on factory lights, improving visibility at night and in bad weather. However, if state-of-the-art performance and style is what you want, take a look at Anzo halo headlights. Halo headlamps feature CCFL technology, which means they burn more efficiently than other lights on the market and add a super-modern style to your front end.
Tail Lights
Sure, your tail lights' primary responsibility is to illuminate your back-end, but they also help determine your car's look. Unfortunately, most OEM tail lights fall short in the style department. You can bring your car's backside looks into the 21st century with a set of replacement tail lights. From bright and bold LEDs to subtle designs inspired by European luxury, aftermarket tail lights give you the freedom to add any look to your vehicle.
Did You know? The term "Altezza Lights" originates from the clustered tail light design on the first generation Lexus IS, which sold in Japan as the Toyota Altezza.If an imported style is what you're looking for, pick up a set of Altezza tail lights from IPCW or Spyder. These Altezza lights are essential for adding that luxury look seen on high-end sedans and imports. They feature a clustered Euro-style beam pattern that looks great at night and come in a variety of finishes to match your car's other lighting accessories. For drivers in search of a light that basks in attitude and style of performance racing, there are Anzo tail lights. The powerful LEDs on these tail lamps are visible in any situation. LEDs also light up significantly faster than incandescent bulbs, improving your safety on the road. The Rampage LED Tailgate Light Bar is another great option for adding some attention-getting style to your truck's tailgate. It features simple plug-in wiring, fast response time, and bright output.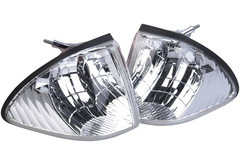 Bumper Lights and Corner Lights
Bumper and corner lights are the small but essential accents that tie your car's style together. If your car's front-end still looks frumpy even after installing a set of new aftermarket headlights, it may have something to do with your bumper lights. In the same way a chipped tooth can ruin a perfect smile, cracked bumper lights, parking lights, and corner lights can diminish your front-end looks. Pick up a set of Anzo bumper lights to fill out your style. These bumper lights come in a variety of styles and feature a cosmopolitan design that adds sophistication to any bumper. For cars suffering from outdated corner lights, consider a set of APC Amber corner lights. These cool amber corner lights are custom designed to your vehicle, making them the easy-to-install way to brighten up the sides of your vehicle. Helpful Tip: Need help finding the best LED headlights for your car? Take a look at the customer reviews on our site while you browse and see what people are saying about our aftermarket lights.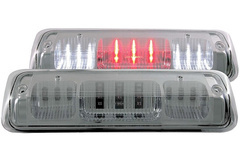 Third Brake Lights
Third brake LED lights take your rear-end lighting system to the next level. These lights provide drivers with an instant, cost-effective lighting upgrade, and most 3rd brake lights install easily with hand tools or automotive-grade tape. Truck and SUV owners should take a look at the Anzo LED third brake light. The Anzo 3rd brake light features a set of long-lasting LED lights and adds a rugged look to the back of your cab. It's ideal for domestic trucks and SUVs, and comes in multiple colors. Truck owners in search of an attention grabbing light accessory should check out the Putco tail light bar. This light bar is constructed with striking LED lights that are custom fit to your truck's tailgate. For budget conscious truck owners, this lighting accessory is a no-brainer.
How To Install Your Car Headlights
Contrary to popular belief, you don't need a seasoned mechanic to install a set of replacement headlights. In fact, adding a new set of lamps to your car is easy, regardless of your experience with do-it-yourself projects. Check out this video and see how you can install a new pair of Spyder Euro headlights to your vehicle in under an hour.
Compare Our Most Popular Automotoive Lights
Price
from $47.25
from $102.09
from $67.46
from $106.00
from $33.99
Shipping
Free Shipping
Free Shipping
Free Shipping
Free Shipping
Free Shipping

Rating

Overall:
Performance:
Quality:
Appearance:

Install Time
Under 30 minutes
2+ Hours
Instant
30-60 minutes
Under 30 minutes
Fit
Universal Fit
Vehicle-Specific Fit
Vehicle-Specific Fit
Vehicle-Specific Fit
Vehicle-Specific Fit
Colors
Warranty
1-Year Warranty
1-Year Warranty
1-Year Warranty
90-Day Warranty
1-Year Warranty
More Details
More Details
More Details
More Details
More Details
Off-Road Lights
Trucks, SUVs, and Off-road vehicles have different needs than regular automobiles. When you're fording through dark trails or cruising through the campsite, those high-beam headlamps aren't going to cut it. Off-road lights are designed to meet the specific needs of heavy duty vehicles and enhance the style of your exterior. They come in a variety of designs to increase your visibility and truck's rugged look. Before you start browsing, take a look at these popular off-road lighting options to find the best set of lights for your vehicle.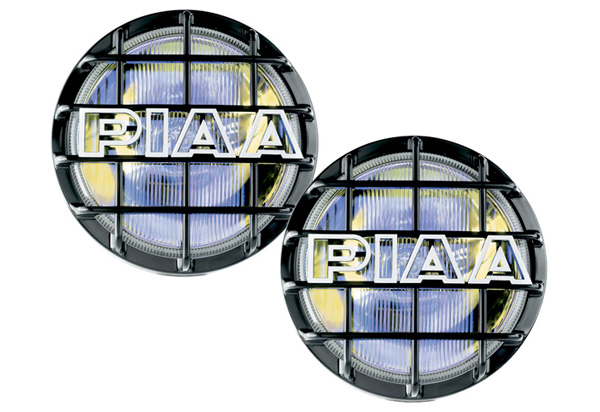 Flood Lights
If you're facing inclement weather while off-roading, you may need additional illumination to get to your destination safely. In these situations, rely on a set of car flood lights. These flood lights have a wider beam pattern than OEM headlamps and make for a great exterior ornament for any truck or SUV. If you're interested in mounting a set of flood lights onto your vehicle, take a look at KC HiLites off-road lights. Heavy rain and inclement weather are no match for these lights. These KC Hilities flood light kits come with impressive HID lights and feature a compact design that's perfect for Jeeps and SUVs that are short on space.
Fog Lights
Fog can spell major problems for drivers. Driving through heavy fog can make the straightest paths seem uncertain, and even the most experienced drivers could get lost in the haze. You can see past heavy fog, however, with a set of high powered fog lights. Car fog lights are different from flood lights in that their beam shines at a downward angle to avoid your beams reflecting off of hazy weather. Drivers who face fog on a daily basis should pick up PIAA 2000 Series Fog Lights. These compact fog lights fit most vehicles and produce a wide 55-degree light beam to increase your visibility on the road. If these lights don't suit your style, then check out Anzo LED fog lights. The LEDs on Anzo Fog Lights add over 400 Lumens to your existing light system and are available in multiple sizes and styles. In addition to the safety they provide, fog lights can also enhance the rugged style of your truck or SUV. For drivers looking to enhance their Jeep's style with a set of mountable fog lights, check out PIAA 520 Series fog lights. This off-road fog light kit comes with two high powered bulbs and a rugged style that provides any vehicle with a set of tough off-road lighting accents.

Long Range Off-Road Lights
Off-Road long range lights can bulk up the look of any SUV or truck. They drastically increase your visibility at night and mount onto most vehicles in minutes. If your truck is lacking in the lighting department, a long range off-road light kit might be just the thing to enhance your 4x4's visibility. Among the many off-road range lights we carry, our most popular among off-road enthusiasts are the KC HiLites Daylighters. These powerful HID lights increase your ability to drive along dark trails and come equipped with a rugged casing that enhances your vehicle's off-road look.
Bulb Types
LED Lights
LED lights shine brighter than OEM headlights and can even triple your range of vision in some cases. Additionally, they're built to last longer than incandescent lights. Unlike standard car lights, LEDs don't have a filament, which makes them more resistant to water damage. LED lights also use up less battery power than incandescent lights and fire up faster than incandescent bulbs, making them ideal for brake lights. If you're thinking about switching over to an LED light system, check out Anzo LED tail lights. These replacement tail lights give your rear-end increased visibility and make for a great off-road accent for trucks and SUVs. Also, be sure to browse this Top Ten list of the best LED light bars.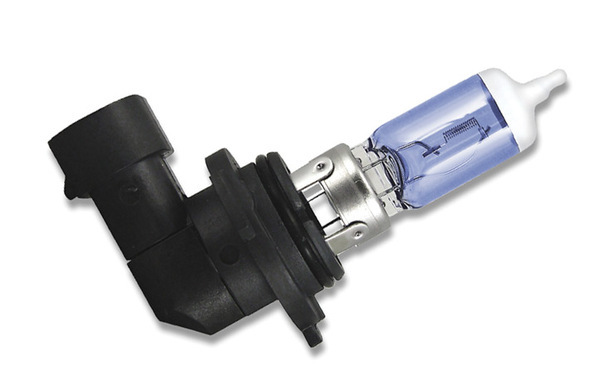 Halogen Lights
Halogen is the standard bulb for most replacement headlights and tail lights. These lights burn brighter and longer than regular incandescent lights and are more energy efficient. However, like most incandescent bulbs, halogen lights are more susceptible to wear and weather damage than LED lights. If you plan on buying a pair of halogen headlights, make sure they're encased in a weather resistant cover. Otherwise, the filament could be vulnerable to dust or water damage.
HID Lights
The intense glow of HID (High Intensity Discharge) Xenon lights is caused by a superheated ball of xenon gas, which burns with the same level of intensity as daylight. HID lights are typically found in off-road driving lights and flood lights. HID bulbs are ideal for drivers in search of high performance, high-efficiency lighting. If you're thinking about adding these lights to your vehicle, check out PIAA HID lights. These driving lights only use 35 watts of power and dramatically increase your visibility at night.Helpful Tip: Remember, fog only hovers a few feet off the ground, so make sure you mount your fog lights low on your bumper.This forces your light beam to angle downward, which helps prevent light from reflecting off of the moisture in the air and gives you a better view of the road ahead.
CCFL Lights
CCFL stands for Cold Cathode Fluorescent Lamps. These lights are sometimes referred to as "halos" for the unique, circular light pattern. Halos produce a concentrated beam of light that shines father down the road than other car lights and are ideal for cars driving at high speeds. Plus, CCFL halos give any vehicle a high-performance, high-tech style. For drivers seeking a performance halo light, check out Anzo CCFL headlights. These are car lights are custom fit to your car's front end and install under an hour with simple hand tools.
What are the Best Automotive Lights for my Car?
How Weather Determines Your Automotive Lights
In the same way climate determines what kind of tires you drive, the weather in your area also plays a major part in your car's lighting system. Simply put, drivers in foggy San Francisco aren't going to need the same lights as those living in snowy Colorado. If fog is frequently a part of your morning commute, then you should pick up a set of Spyder fog lights. These lights feature an extra wide beam pattern that gives you the ability to see past the haze and get to your destination safely. For those living along unlit, winding roads that are often covered in rain, you may consider equipping your vehicle with a pair of PIAA driving lights. These driving lights provide you with a wider field of vision at night and during inclement weather. Plus, they mount easily onto any vehicle in minutes.

Use Lighting Accessories to Define your Truck or SUV's Style
Aftermarket headlights and tail lights can help redefine your vehicle's look and attitude. However, if those lighting upgrades aren't enough, consider tricking out your vehicle with a set of automotive lighting accessories. We carry an exhaustive line of light accessories for trucks and SUVs, from tailgate light bars to tail light covers. If you're looking for an additional lighting accessory for your front end, pick up a set of PUTCO Dayliners. These bright LED lights install directly underneath your truck's headlights with 3M automotive tape and provide your vehicle with a set of attention grabbing accents that look great at any time of day.
If you're looking for something a little bolder for your lights, consider installing a truck light bar on your truck or SUV. Truck bars do more than just provide you with additional illumination at night or in bad weather - these mountable lighting accessories embody the rugged attitude associated with off-road vehicles. SUV owners seeking a total front end upgrade should consider the KC Hilities light bar. KC Hilities has long been associated with the off-road lifestyle, and their light bar is a favorite among Jeep owners for its easy to install design and its tough, wear resistant design.
Final Thoughts
Custom automotive lights separate you from the rest of the vehicles out on the road. They can increase your safety and style and completely revamp your car's look. We hope our lights research guide taught you something new about these exciting exterior accessories. While you shop our headlights, tail lights, and off-road lights, feel free to use this guide as a resource. If you have any additional questions about the aftermarket lights we carry, please contact our highly trained Customer Service Department at 800-663-1570.
This page was written by Packy AutoAccessoriesGarage