Whether you hit the track in a sport compact or rip up the trails in your 4X4, you could always use a little extra power. What's the quickest and most affordable way to add some extra horses under the hood? Simple - just hook up a Performance Chip. Our Power Programmers tap into your engine's computer and tweak its settings to unleash a ton of hidden power. From the tracks and highways to the back roads and trails, the results will truly give you the edge you need.
Bully Dog Performance Chips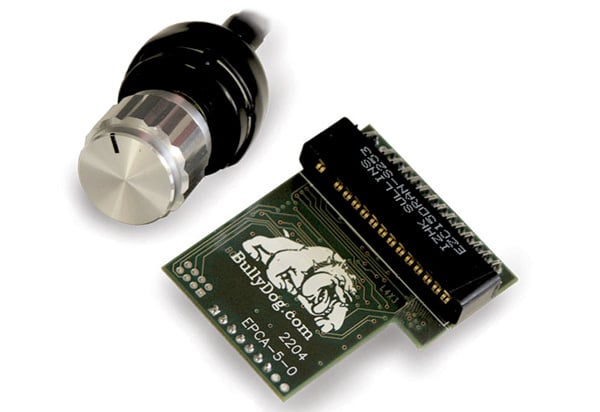 Bully Dog Programmers have been catapulting engines to whole new heights of performance since 1999. Their custom tunes ensure awesome power gains for your particular year, make, and model engine. Custom programs also ensure you won't put your vehicle through undue stress or damage.
When you just need to monitor your engine's stats, take a glance at the Bully Dog Watchdog Monitor. This device displays four different parameters (of 20 possibilities) at once, and its unique Driving Coach software analyzes your habits to encourage more fuel-efficient driving. For all-in-one power gains and monitoring, the Bully Dog Triple Dog may be the way to go.
Superchips Power Programmers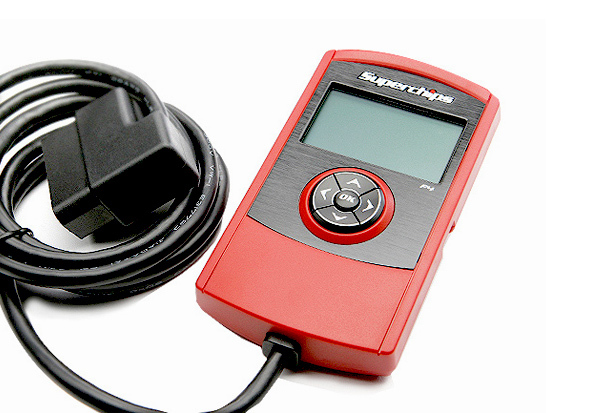 One of the fathers of modern-day engine tuning, Superchips has been revolutionizing vehicle performance since way back in 1983. They were one of the first companies to get into re-tuning computer-controlled engines, and since then they've continually found new ways to coax awesome power out of all kinds of vehicles. Superchips aren't just for novices looking for extra raw power - they've also been used by professional drivers across the world, including NASCAR and NHRA.
The Superchips Flashpaq is the best-seling handheld tuner in the world, and with great reason. It installs in seconds, features an easy-to-read LCD screen for real-time monitoring, and offers massive torque and horsepower boosts. It's fully loaded with all the tunes and adjustments you need, so you can adjust your speed and rev limiters, compensate for custom tire sizes, and read diagnostic trouble codes. You can also pick up the MPG-focused Superchips Mileage XS Tuner, as well as the high-tech Superchips VIVID, which includes an Android-powered tablet to give you full control over your engine.
Bully Dog or Superchips - Which Is The Best Performance Chip?
Bully Dog and Superchips Tuners all provide awesome performance boosts, but depending on your vehicle type, engine, and driving style one brand might be the better choice for you. The chart below places Superchips and Bully Dog side-by-side so you can compare them directly. Be sure to read our Performance Chips Reviews for some real-world reports, as well as our expert-written Performance Chips Research Guide. Also, you can always give our customer service team a call at 800-663-1570.
| | | |
| --- | --- | --- |
| | | |
| Starting At | $275.99 | $254.99 |
| Available Products | Tuners, Tuner/Monitor Combo, Tuner/Air Intake Kit | Tuners, Monitors, Pillar Mount |
| Finishes | Black, White | White, Black |
| Warranty | Lifetime | 1-Year |
| Shipping | FREE | FREE |
| | | |
This page was written by Packy AutoAccessoriesGarage