Hacking into your engine's computer to unleash massive performance boosts may sound like something out of the Matrix, but it's actually a pretty simple process. Simply plug in one of our Performance Chips and after just a few seconds and pressing a few buttons you'll be laying rubber with the best of them. The world of power programmers is a crowded one, however, and there are lots of manufacturers clamoring for your attention. To help you make a more informed purchase, let's compare two of the top brands in the game, Banks and Edge.
Banks Performance Chips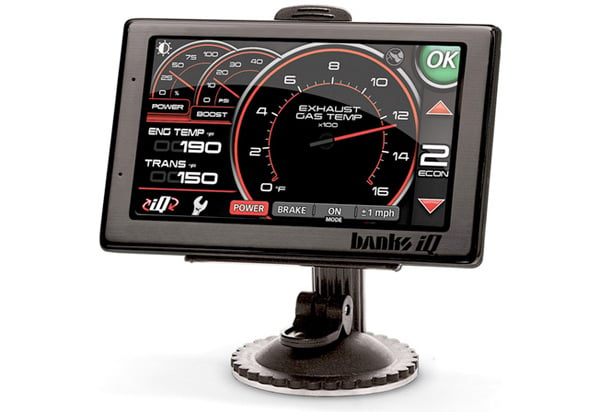 With over a half-century of experience in diesel performance, Gale Banks Engineering knows a thing or two about maximizing power. Over the decades they've continued to design state-of-the-art gear that extracts more power out of diesels than ever before. This devotion to hi-tech power carries into the design of Banks Power Programmers. These devices drastically overhaul your engine's programming, fine-tuning it for amazing performance gains you can really feel. Check out the Banks Big Hoss Tuner, which boosts your torque by up to 180 ft. lbs. and your power by as much as 70 HP.
If you just want advanced monitoring of your engine's stats, go with the Banks iQ. This monitor boasts a bright 5" touchscreen that provides sharp graphics you can read any time of day or night. From RPMs and true speed to engine temperature and EGTs, this monitor gives you all the info you'll need. You can even use the monitor to play mp3s, watch movies, and even play some video games.
Edge Performance Chips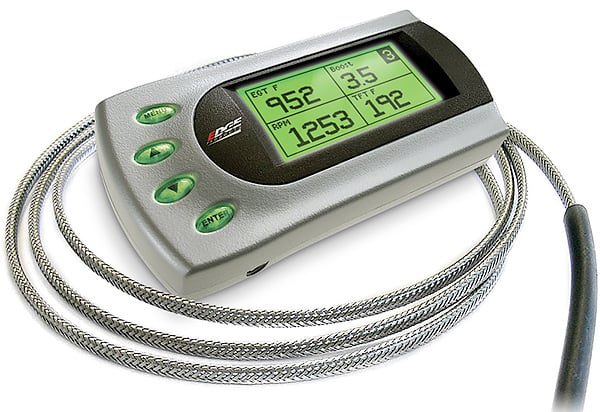 Since forming in 1999, Edge Products has developed a full line of tuners for diesel and gas trucks from every major truck manufacturer. Edge Tuners are appropriately named, as they truly give your vehicle the leading edge. From heavy-duty towing to just getting a little more speed off the stop line, these chips do it all. Plus, they take just minutes to install and get running, so you'll be back on the road with killer performance in no time.
Edge offers a wide variety of tuners to satisfy all kinds of performance and functionality needs. The Edge EZ Tuner is designed for enhanced performance and power that takes virtually no time to install, and the chip comes pre-flashed so there's nothing you have to do besides plug it in. If you like tinkering more with your settings and want to get detailed monitoring of your engine's vitals, check out the Edge CTS Programmer. This device features a sharp state-of-the-art touchscreen and comes loaded up with a wide range of tunes to let you dial in the performance you're looking for.
Banks or Edge - Which Is The Best Performance Chip?
Both Banks and Edge Performance Chips let you tune in to awesome power gains. Depending on certain factors, though, one brand might be preferable over the other. Consider your vehicle, engine type (gas/diesel), driving style, and budget to help figure out the best performance chip for your needs. You can also check out our Performance Chips Research Guide and get some more details about how these devices work. And if you have any more questions, our customer service crew is on the line and ready to help at 800-663-1570.
| | | |
| --- | --- | --- |
| | | |
| Starting At | $448.20 | $254.99 |
| Available Products | Tuner, Monitor | Tuners, Monitors, Pillar Mount |
| Engine Types | Diesel Tuners, Universal Monitors | Diesel, Gas, Universal |
| Finishes | Black, Red | White, Black |
| Warranty | 2-Year | 1-Year |
| Shipping | FREE | FREE |
| | | |
This page was written by Packy AutoAccessoriesGarage