Pillar Mounts
Install a Pillar Mount and keep your Performance Monitor in full sight. Our Pillar Mounts put your monitor at eye level and within arms reach, so you'll never have to fumble around for it again. Pillar Mounts mount easily to your A-pillar frame. You can paint them to match your interior for a fully custom look.
Keep your eyes where they should be, on the road, when you use Edge Pillar Mounts. Evolution and Juice w/ Attitude monitors attach to your dashboard via these mounts, in whatever configuration best suits your particular vehicle. Finished in black, they can be painted to match your vehicle interior, and every dash pod features a clean, factory look when installed.
From $72.95
Free Shipping
Quick View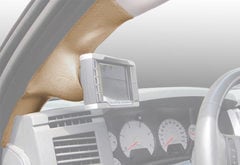 Mount your Bully Dog power programmer between your windshield and driver's side window with the Bully Dog A-Pillar Mount. These pillar mounts feature a paintable finish and are custom fit to your interior.
From $84.90
Free Shipping
Quick View
About Pillar Mounts
All the freshest gauges, tuners, and monitors certainly give you a leg up on the competition – and let's be honest, the look pretty cool too. But in some cases, we've talked to drivers that might have leaped before they looked. All those monitors can add up, and if you've got them strewn about your interior they can be hard to read and use. And if you can't easily read them while you drive, what was the point?
That's where Pillar Mounts come in. When you have a pillar mount installed in your ride, you can mount your monitor with ease, and keep it at eye level while you cruised own the road. That's the true way to use your tuner, monitor, or gauge in the way it was meant to be used. And when you procure your pillar through AutoAccessoriesGarage, you get the powerful protection of the pillars we stand for. For example, every order includes 100% Free Shipping, and a 12-Month Price Match Guarantee.