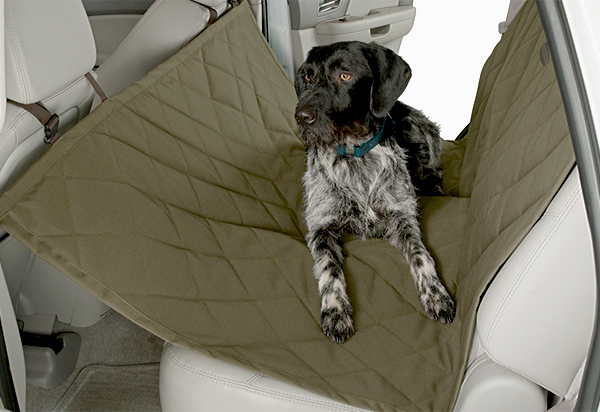 If you're a pet owner, you know what driving with animals in the car can be like. There's a constant risk of spills, scratches, and "accidents" that can wreak havoc on your interior. Plus, if a restless dog hops into the driver's seat and blocks your view, you could have a whole other set of problems on your hands. Luckily, there is a full line of Pet Travel Accessories at your disposal to help you eliminate these problems.
Read on to check out the different kinds of Pet Accessories we offer and find out how you can keep yourself - and your pet - happy, even on long road trips
What Do Pet Travel Accessories Do?
Protect Your Investment
As stated before, pets can pretty quickly ruin the integrity of your vehicle's interior. They leave behind hair, slobber, or worse, leaving your seats and carpets wet, stained and messy. Plus, their sharp claws can tear fabric and put big gouges into your vinyl and plastic trim. This kind of damage leaves your interior looking rough and drastically lowers your vehicle's resale value. Pet Travel Accessories are designed to minimize interior damage.
To combat interior destruction, we offer a full line of Dog Seat Protectors that keep muddy paws, drool, and accidents off your upholstery. For even more coverage, go with a Door Protector. These are essential if your dog likes to perch up on your doors' arm rests and look out the window.
Keep Your Pet Comfortable
Helpful Tip: Vets advise that your dog drink from 1/2 to 1 ounce of water per pound of body weight per day. Make sure your pup is well fed and hydrated with our Portable Dog Food & Water Bowls.Car seats are designed to be comfortable, but only for humans. Pets may have a less enjoyable time sitting on your seats, and the ride is especially rough if they have to stay on your SUV or wagon's cargo floor. That's why many of our Pet Seat Protectors are made from soft materials to give your dog a more inviting surface to sit and lay on. We also offer Dog Travel Beds like the Classic Accessories DogAbout Pet Travel Bed, which offers extra comfort on long trips and folds up for easy travel.
Increase Safety
Driving with a pet can be dangerous if you aren't careful. Larger dogs can interfere with your driving if they hop up into the front seats, and they can distract you or block your view of the road. Several Pet Travel Accessories are designed to alleviate this problem, whether you want to form a temporary wall with a Pet Barrier for your SUV or secure your dog with a Seat Belt Harness.
Compare Our Most Popular Pet Travel Accessories
Price
from $45.00
from $84.95
from $230.00
from $43.50
from $55.45
Shipping
Free Shipping
Free Shipping
Free Shipping
Free Shipping
Free Shipping

Rating

Overall:
Performance:
Quality:
Appearance:

Install Time
Instant
Under 30 minutes
Under 30 minutes
Instant
Under 30 minutes
Fit
Universal Fit
Universal Fit
Vehicle-Specific Fit
Universal Fit
Universal Fit
Colors
Warranty
90-Day Warranty
3-Year Warranty
90-Day Warranty
90-Day Warranty
Limited Lifetime Warranty
More Details
More Details
More Details
More Details
More Details
Dog Seat Covers & Door Protectors
Dog Seat Covers
The first way to improve your pet travel experience is by lining your interior with a Seat Protector. These mats lay over your rear bench or bucket seats and form a protective barrier against mud, scratches, and other messes. They can be universal, like the Classic Accessories DogAbout, or they can have a tighter fit like the Canine Covers Semi-Custom Seat Protector.

Pet Seat Protector Materials & Styles
Dog Seat Covers come in a varetiy of styles and materials to shield your interior from harm. If you're equipped with bucket seats you can go with the easy-to-install Covercraft Pet Pad or go for the more snug-fitting Canine Covers Semi-Custom Seat Protector. The same applies for the bench seats, too - The Canine Covers Semi-Custom Rear Seat Protector offers excellent coverage, or you can choose the more universal Heritage Seat Protector, which acts like a hammock to guard your carpets as well as the seats.
Many seat protectors for cars and SUVs are made from polyester blends, which block moisture and resist stains. For a more luxurious look and feel, go with the Classic Accessories DogAbout Quick-Fit Seat Protector. The DogAbout series offers the same coverage and moisture resistance as other seat protectors, but features a micro-suede outer layer that looks great in any vehicle and provides a soft surface for your dog to lay or sit.
If you drive an SUV, a Pet Cargo Liner is a great choice. These liners go in your rear cargo area, protecting your factory carpet or cargo mat from harm while providing a soft surface. The Canine Covers Dog Cargo Liner is custom-designed to your exact vehicle for a perfect fit and secures to the seat backs for maximum coverage. For shorter trips, you can simply rely on one of our standard Cargo Mats to protect your carpet from scratches and stains.
Door Protectors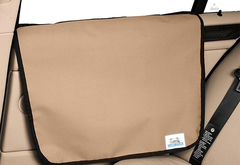 Another method to keep your interior safe is with a Door Protector. These mats, including the Canine Covers Door Shield, lay over your doors, keeping paws and claws off of your trim. With easy-to-install Seat Covers and Door Protectors in your vehicle, you can keep it looking and smelling great for when you're hauling human passengers. Plus, your vehicle's resale value won't take a hit from a stained or damaged interior.
Pet Barriers & Harnesses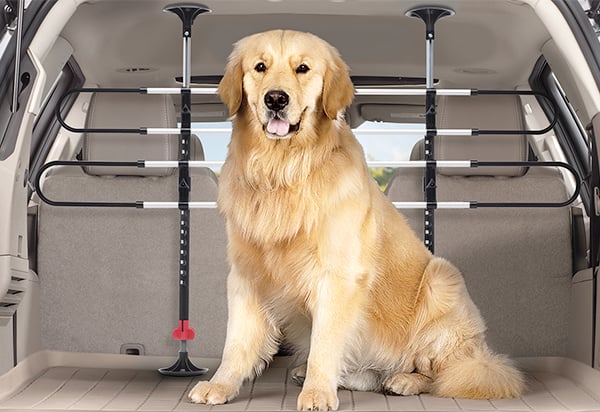 Pet Barriers are designed to safely keep your dogs in the back of your car or SUV. They act like temporary cage walls you can put behind a row of seats so that your dog doesn't jump up into the front of your vehicle. Look to the WeatherTech Dog Barrier to keep your pet securely in the rear of your car or SUV.
Another way to keep your dog secure is with a harness restraint. Like a leash, these devices hold your dog in place and keep it from running amok. The Canine Covers Buckle-Up Harness is specifically designed for automotive use, and straps your dog in safely using the seat belt.
Traveling Dog Food Bowls & Water Storage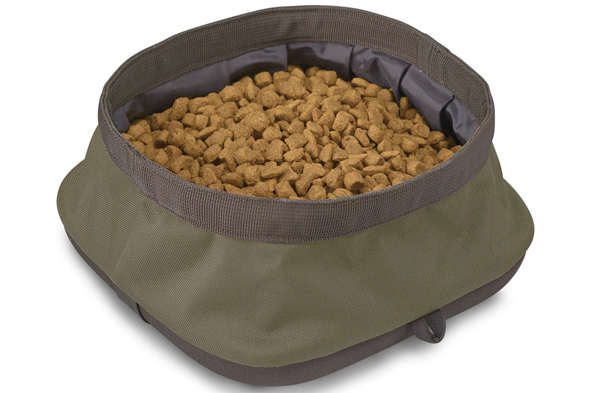 According to the American Kennel Club, you should make sure your dog has plenty of water available at all times when traveling. When taking your pet on the go, you need to make sure you're equipped with enough water and food for the trip. Don't fumble with huge bags of dog food or sloppy bowls from home - travel with your dog's nutrition the right way with our Portable Dog Food & Water Bowls. With the Classic Accessories DogAbout Food & Water Pack you can bring everything you need to feed your dog on the road, and store 1.5 liters of water. Or you can go with the Heritage Dog Food Bowl, which holds either food or water and is specially designed for traveling.
Conclusion
Driving with your pets doesn't have to be stressful or dangerous when you're equipped with the right Pet Travel Accessories. If you have any questions or suggestions about the info in this research guide, feel free to call our experience Customer Service staff at 800-663-1570.
This page was written by Packy AutoAccessoriesGarage