Nerf bars and running boards give you and your passengers a boost up into your vehicle while also upgrading its exterior style. As with any automobile accessory, certain questions arise prior to purchasing. Below, you'll find a collection of common questions, and their answers, to aid you in your decision-making process.
Frequently Asked Questions about Running Boards & Nerf Bars
Running Board & Nerf Bar FAQs Answers
What is the difference between a running board and a nerf bar?
A running board stretches the length of your vehicle to provide a single, full, continuous step shared by both front and back seat passengers. A nerf bar, also referred to as a tube step, is a metal tube, often in the shape of an extended U, that has individual stepping areas below every door.
How does a truck step differ from a nerf bar or running board?
A truck step is a single step, usually made of metal, that bolts wherever it is needed along a truck's frame. These usually fold up or twist away beneath the truck when not in use.
How much weight can a nerf bar or running board support?
The average set of Dodge Ram Nerf Bars can hold up to 300 lbs. of weight at any one time, while the average running board can usually support up to 500 lbs. It is important to thoroughly read the manufacturer's instructions to find out exactly how much weight a particular nerf bar or running board can support.
Will installing nerf bars or running boards void any part of my vehicle's warranty?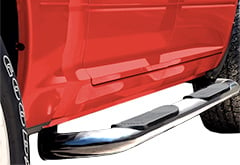 Auto manufacturers include bracket mounting areas for bolting their own running boards and lights to a vehicle's frame. Nearly every nerf bar, running board, and truck step attaches to this area without any modification necessary. As such, since you are not altering anything, your vehicle's warranty will remain intact. (Note: While most of these products attach easily to the bracket mounting area, some do not. Please pay attention when purchasing and installing one of these implements.)
Why would I want a truck side step instead of a nerf bar or running board?
Some truck owners are uninterested in the eye-catching superficial enhancements available with Chevy Silverado Nerf Bars or running board and would prefer something simple that folds out of the way when not needed. Truck steps are also more versatile and can often be attached on the side of a truck bed or below the tailgate in addition to underneath vehicle doors. Below is a video featuring truck steps and how to install them:
Is it difficult to install a nerf bar or running board?
They install via brackets to pre-approved mounting positions. The entire process is relatively painless. While it may require some time to do it exactly right, installing Toyota Tacoma Nerf Bars yourself will save you money and bring untold satisfaction with every use because, hey, you did that. Good job.
Is it difficult to wire running board lights?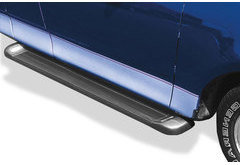 If you know your way around your vehicle's electrical circuitry, you shouldn't have any difficulty. However, even if you don't, strictly adhering to the manufacturer's directions will make the process as painless as possible. Further helping your cause, any running board light kit will come with all the equipment necessary for installation.
Will my nerf bar scrape the ground as I drive?
Nerf bar and running board clearance is going to depend on your vehicle's ground clearance. If your vehicle has been lowered, you may run into some difficulty with your running boards or Toyota Tundra Nerf Bars scraping the ground in certain situations (such as going over a speed bump). Conversely, jumbo nerf bars of the highest thinknesses will ONLY fit raised trucks. Make sure to take exact measurements and know your vehicle's dimensions and alterations before purchasing a nerf bar or running board to avoid an unfortunate surprise.
What is the difference between cab-length and wheel-to-wheel side steps?
A cab-length side step runs the length of the space between your wheels with stepping surfaces below each door. A wheel-to-wheel step stretches back to attach beneath your rear tire well, allowing for an extra step up into your truck bed.
Where did the name "nerf bar" come from?
The term itself comes from auto racing. A "nerf" is a slight, intentional bump that aids one race car in passing another. Nerf bars prevent racing vehicles' tires from becoming tangled while also protecting their sides from damage. The term "nerf bar", however, has also replaced the term "side step" with regard to truck accessories. It should be noted that the nerf bars we sell DO NOT have similar functionality to their racing counterparts, and should not be used for those purposes.
Conclusion
Hopefully this series of questions and answers has you on your way to finding the best nerf bars, truck steps, or running boards for you. If you still have a question left unaddressed above, please feel free to contact our knowledgeable Customer Support team by calling 800-663-1570.