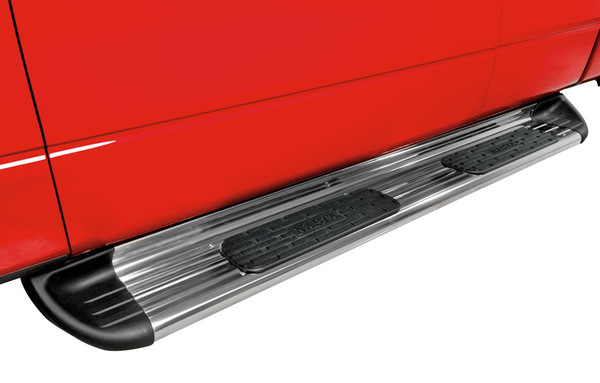 Like a stairstep for your lifted truck, a set of hearty Running Boards provides you with a wide, flat stepping surface. These handy accessories will not only make things easier for you, but also for your knees and ankles, by decreasing the pressure on your joints as you get into or out of your rig. Brands like Iron Cross, Go Industries, and ATS offer a wide selection of running boards, wide enough to allow you room to find the perfect running board for your truck's particular needs.

Running Boards fit most trucks, whether you have an F-150 or a Tacoma, a Silverado or a Titan. And while the idea of installing steps for a truck by yourself might seem daunting, it's actually both simple and practical. It's important to read the manufacturer's instructions that accompany every running board when shipped, but in general you can expect the process of installing a running board to go as follows:
Running Boards Installation Instructions
Open the box (naturally) and lay out all hardware and components, to make sure all necessary parts have been included.Helpful Tip: When the time comes to attach your mounting brackets, attach them loosely at first so you can make sure they fit before tightening them all the way down.
Determine if your truck has a pre-drilled mounting holes. If not, you'll need to drill the requisite mounting holes in your truck's frame. Be VERY careful when drilling into your vehicle's frame, and make sure you are absolutely certain the maneuver is warranted before doing so, as drilling into your vehicle's frame can be dangerous and may void your warranty.
Upon discovery or creation of mounting holes, locate the included mounting brackets. Attach these brackets to the mounting positions with the proper number of requisite fasteners, usually some sort of large bolt-and-spacer combination.
Prior to attaching the running board, hold it up to the mounting brackets to make sure the mounting positions are exactly where they need to be. If movement is required, delicately set the running board aside and make the necessary adjustments. When the positions are determined to be correct, lock your mounting brackets into place as tight as possible.
Hold the running board up to the mounting brackets one last time. Rest it on the mounting brackets, and move it as necessary to properly line up every last connection. When everything is in place, install all hardware (nuts, bolts, washers, etc.) up and down the running board. Tighten everything one final time.
Enjoy the benefits a running board brings to your truck.
Conclusion
It might not change your life as you know it, but a quality set of Running Boards from, say, Westin or Romik, will make your life a little bit easier. It will also make your truck that much more handsome. If you have any further questions regarding your Running Board purchasing or installation process, do not hesitate to ask our friendly, knowledgeable Customer Service staff by calling 800-663-1570.