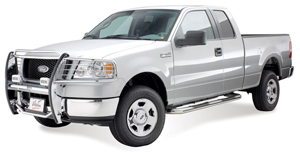 One of the easiest ways to enhance the looks and function of your truck or SUV is by bolting on a set of nerf bars or running boards. These handy steps add an extra touch of style to your vehicle and make it easy to get in and out of it. Whether you're looking to jazz up your SUV's looks or give your lifted rig a helpful boost, running boards and nerf bars are the way to go.
There are many different varieties of truck steps out there, so how do you find the best nerf bars or the best running boards for your needs? Read on to learn about all of our styles, discover their many benefits, and find out what you need to consider when choosing the best side steps for your truck.
Why Add Nerf Bars or Running Boards To My Vehicle?
Step bars offer several benefits. They add some great-looking style to your truck or SUV, and provide a safe and easy step to get into and out of your tall vehicle. Here are some of the ways nerf bars and truck side steps enhance your truck:
Step Bars Provide An Easy Lift Into Your Vehicle
Trucks and SUVs are getting taller and taller every year, making it harder to step into and out of them. Plus, when you add a lift kit and big off-road tires, getting into your vehicle can be downright awkward.
Luckily, you don't need a rope ladder to climb into your monster truck. Ford F-150 nerf bars from Westin, Bully, and Dee Zee give your vehicle an extra step to make it easier to get in and out. Rather than twisting your back trying to get into your Denali's driver seat or risking a broken ankle jumping out of your lifted Ford, side steps provide a safer route. These accessories are built tough enough to support several hundred pounds of weight, so these are some steps you can rely on.
Safe Footing In Any Weather

Truck running boards and side steps aren't just strong and supportive - they're safe, too.
Rain and snow cause slippery surfaces that can be hazardous no matter how good your balance is. Side steps for Jeeps and trucks are built with treaded pads so you can win the fight for friction and safely climb into your vehicle. The treads act like cleats that grab your shoe soles and keep you from slipping, even when it's pouring outside. These steps feature a grooved design that pulls water away from the stepping surface, keeping it dry and providing a handy place to wipe your muddy shoes. Plus, the step pads are usually pressed into recesses in the tube so they maintain the strength of a one-piece design.
Enhance Your Style With Nerf Bars & Running Boards
You're probably very discerning and demanding when it comes to choosing what you bolt onto your vehicle. No matter what you use to accessorize your truck, it has to look sharp as well as perform flawlessly. Nerf bars and running boards do both, adding a nicely finished-off look to the bottom of your truck or SUV while offering a safe stepping surface for you and your passengers.

Most steps usually come in two finishes so you can choose a set that matches your exterior style. Polished bars are buffed to a mirror shine and give your truck a gleaming touch of chrome. Most polished nerf bars are built from tough stainless steel that won't corrode or fade. If you're going for a more subtle yet durable look, choose carbon steel truck side steps with a smooth black powder-coated finish, such as RBP step bars. Their tough finish resists rust and stands up to scratches, chips, and impacts.
Running boards also come in a variety of styles to dress up your ride. Many steps come with a raw matte black finish, and many can be custom-painted to flawlessly match your vehicle You can choose aluminum steps from Dee Zee for a brighter look. Some steps such as Romik have unique designs that combine the stepping surface of a running board with the looks of a tube nerf bar. Westin and Bak running boards are even available with built-in lights. These boards don't just make for an illuminated accent - the lights make them more visible for safer nighttime stepping.
Bolt-On Installation
Helpful Tip: Keep your carpets clean! Nerf bars & running boards make a perfect place for kicking mud and snow off your shoes.Convenience. Safety. Style. Are you sold on side steps yet? How about this - they're super easy to install!
Most nerf bars are fully custom-designed to your exact vehicle for a perfect fit. Plus, they're engineered to bolt directly to pre-existing holes in your truck's frame. That means you can install your new accessories in under and hour, using only a few common hand tools - no drilling, cutting, or welding necessary in most cases.
Compare Our Most Popular Running Boards & Side Steps
 
Price
from $154.00
from $219.99
from $136.20
from $240.00
from $39.45
Shipping
Free Shipping
Free Shipping
Free Shipping
Free Shipping
Free Shipping
Special Offers
 
 
 

Rebate

 

Rating

Overall:
Performance:
Quality:
Appearance:

Install Time
30-60 minutes
30-60 minutes
30-60 minutes
Under 30 minutes
30-60 minutes
Fit
Vehicle-Specific Fit
Vehicle-Specific Fit
Vehicle-Specific Fit
Vehicle-Specific Fit
Vehicle-Specific Fit
Colors
 
Finish
Black Powder-Coat

---

Polished
Black Powder-Coat

---

Polished
Black Powder-Coat

---

Chrome

---

Polished
Black
Black Powder-Coat

---

Polished

---

Titanium Silver Powder-Coat
Length
Cab Length
Cab Length

---

Wheel-to-Wheel
Cab Length
 
10"
Width
3"

---

4"
4"

---

5"

---

6"
3"
 
 
Material
Stainless Steel
Stainless Steel
Stainless Steel
ABS

---

Aluminum
Aluminum
Shape
Round
Oval
Round
Flat
Drop-Down
Warranty
Lifetime Warranty On Polished Models, 3-Year Warranty On Black
Lifetime Warranty
3-Year Warranty On Chrome And Black, Lifetime Warranty On Stainless Models
3-Year/36,000-Mile Warranty
Lifetime Warranty
 
More Details
More Details
More Details
More Details
More Details
Nerf Bar Styles
Whether you're looking to beef up your Jeep's off-road style or add a convenient step to your Colorado, running boards and nerf bars come in a variety of designs and lengths. Let's take a look at the different nerf bar styles out there:
Cab Length Step Bars
Cab length step bars including bars from Raptor and Nasta are the most common style. They usually have a pair of step pads on each tube, providing footing for front and rear passengers.
Wheel-To-Wheel Nerf Bars
When it comes to full-size pickup trucks, nothing beats the convenience of wheel-to-wheel nerf bars. Say farewell to climbing into your bed - These tubes run back to your rear wheels, giving you easy access to your gear. They're available in different styles, from long tubes like those from Go Rhino to off-road style bars from N Fab.
Oval Tube Steps
Oval nerf bars offer a wider stepping surface than typical round tubes due to their slightly flattened design. Oval step bars are usually 4-5" in diameter, giving your vehicle a beefy design upgrade and offering sure footing for your fellow riders.
Sport Tubes
Sport tubes mount snug under your vehicle for a dressed-up look. Sport tubes come in bright polished or chrome finishes. These small-diameter tube bars aren't made to support weight, so they're intended for decoration only.
Running Board Types
Running boards offer a wider stepping surface than most nerf bars, and most also have a higher weight capacity. You can choose from a variety of designs and options and achieve the perfect style you're looking for.
Standard Running Boards
The most common running boards span the length of your front and rear doors, or come in wheel-to-wheel designs. They're available in a variety of materials and many models can be custom-painted or accessorized with lights.
Molded Steps
Many of our running boards are molded from tough UV-resistant polymers, with a rugged aluminum base board for high strength. Molded steps are a great choice if you want to custom-paint the steps to match your finish. Most feature a dark grey or black textured finish that's ready for primer and paint.
Aluminum & Stainless Steel Running Boards
If it's a more rugged and reflective look you're after, go with stainless steel or aluminum running boards. Manufactures like Dee Zee and Lund craft their boards from industrial-strength materials for excellent weight capacity and most include treaded step pads for sure footing in any weather.
Lighted Running Boards

Lighted running boards have the knockout combo of style and function. They're equipped with lights on either end that make the stepping area more visible at night and give your vehicle a stylish glow when you open the doors. Bak has options available in standard and lighted models, and Westin offers light kit upgrades.
Retracting Running Boards
Maybe you want the convenience of a running board but prefer the smooth looks and side clearance of going without side steps. Luckily, there's a solution for your needs - and it's a really cool solution!
High-tech running boards like the Amp Research Powerstep swing out from under your vehicle when you open your doors, and retract when you shut them so they're completely hidden while you drive. Plus, these steps extend much farther out than other permanently-mounted options, making it more comfortable and natural to step into your vehicle. 
Truck Side Steps

You can add some handy steps to your vehicle without the full-on look of step tubes or boards. Individual truck steps are available in several different designs including flat (ex: Carr Hoop II) and tubular (ex: Go Rhino). They also come in a range of finishes including polished, chrome, and black powder-coat and are built from stainless steel or aluminum. Truck steps aren't just for getting into your vehicle, either. You can bolt on a step from Bully or or AMP Research and gain easy access into your pickup bed.
Choose The Best Side Steps For Your Vehicle
You know how many varieties of nerf bars, running boards, and truck steps are out there. Now how do you pick the coolest accessory for your truck or SUV? Here are some things to consider when shopping for a set of side steps:
Style
What kind of look do you want to show off with your vehicle? If it's a seamless style you want for your SUV, consider a set of molded running boards. Westin features OE-style channeled step areas for a factory-installed look without the dealership price. Mid- and full-size tuck drivers usually go for the hefty style and strength of nerf bars. Choose from a wide variety of tube nerf bars from brands like Putco, Westin, and Bully and toughen up the sides of your truck or SUV. Brands like Go Rhino and Carr boast an aggressive style that's ready for job sites and off-road trails alike. If you're only interested in upgrading your exterior style, consider a set of sport tubes and dress up your truck's underside.
Length
Nerf bars and running boards are available in different lengths depending on your vehicle and your needs. For everyday use and straight-ahead style, go with a set of cab-length bars. This is the most common length and installs easily to most vehicles without drilling.
If you frequently need to reach into your truck bed for tools, toys, and other cargo, bolt on a set of wheel-to-wheel nerf bars. Go Rhino offers options that are made with three sets of step pads, giving you sure footing when reaching into your truck toolbox or grabbing groceries from your pickup bed. Wheel-to-wheel running boards and side steps are also a great choice if you carry cargo on your roof rack. The full access you get with wheel-to-wheel bars lets you easily tie down your luggage or get into every corner of your cargo carrier.Did You Know? You don't have to just take our word for it! Read our nerf bar customer reviews and find out more about our products. They're written by fellow AAG customers and truck/SUV drivers just like you.
Weight Capacity
Just about all the running boards and nerf bars we carry will have the weight capacity you need for everyday driving. Most have a weight capacity of at least 300 pounds. If you think you might need more capacity for heavy-duty use, think about getting a set of reinforced steps like those from Bak or AMP Research, which have a capacity of 600 pounds.
Final Thoughts
Whether you use your truck or SUV for hauling lumber or driving the kids to school, you and your passengers would benefit with the added convenience of running boards and nerf bars. We hope the information in this research guide will help you make the right decision when searching for the best accessories. If you have any questions or suggestions about the info in this guide, feel free to call our experienced Customer Service staff at 800-663-1570.