Running Boards Reviews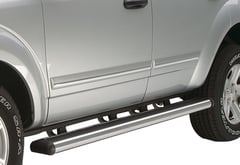 Running Boards offer drivers a long, flat step up into their trucks or SUVs. They can be lighted for extra safety and better looks, and most feature a contoured stepping pad for better traction. As far as the running boards themselves go, customers seem generally pleased with the benefits offered, including weight support and enhanced looks. A major problem for some came in the instructions for attaching the running boards being difficult to read or understand. Everyone seemed pleased once they moved past the installation process, though.
Good stuff. Material quality is good, looks great -only 2 issues: wish it would extend outwards a little bit more, only fit about half a foot on it, but we bought it mostly to add to the looks of the car and for our kids - their feet are smaller so it's all good. Instructions were great though. I spent a good amount of time figuring it out, but once I did, the whole process was easier for the other side of the car.
Rich C. from Phoenix, AZ - Audi A7
Running boards and mounting kit came at one time and on schedule. Came with specific instructions for Highlander. I had to read the instructions closely several times to understand the mounting process. Mounting was not as easy as I had hoped. Some brackets needed modification. But happy with end result.
Andrew C. from Jacksonville, N.C. - Toyota Highlander
Nerf Bars Reviews
An oval or round bar with textured stepping surfaces for getting into or out of trucks and SUVs, nerf bars are handy solutions for drivers who need a lift up into their vehicles. They also offer a modicum of collision protection. While most customers seem pleased with the convenience and look of their new nerf bars, some found themselves needing to modify the mounting brackets in order to fit them to their truck.
I have a 2010 Tundra. The instructions were very good and straight forward. The whole installation took an hour. The bars look great and make it alot easier to get in and out.
Jared H. from Colorado Springs, CO - Toyota Tundra
Beautiful set of nerf bars. The only problem that I had was that the rear frame bracket on the drivers side did not fit between the crossmember and the fuel tank skid plate. I had to severely modify that bracket. Other than the bracket, installation was a breeze.
Kory M. from Carson City, NV - Ford F-250
Truck Side Steps Reviews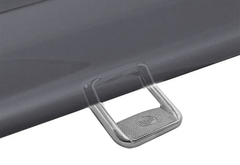 Whereas nerf bars and running boards can dominate a vehicle's look, truck side steps are convenient smaller implements that fit securely below the door of a truck or SUV without dominating its appearance. As with other side steps and running boards, installation sometimes proves to be a trickier business than the manufacturers would have you believe. However, nearly every commenter who purchased a truck side step was very happy with the increased access and convenience.
Easy installation, just followed instruction sheet. Install was less than 45 mins. Solid supports no issues so far. Excellent product.
David L. from Beaumont, TX - Toyota FJ Cruiser
I like the step very much. The hardest part was getting to the nuts on the bumper bracket to remove it. Patience required!
Bruce J. from Birmingham, AL - Dodge Ram 3500