Take your style and comfort to the next level with custom-designed CalTrend Seat Covers. We think they're among the industry's best, but don't take our word for it. You will find actual CalTrend Seat Covers customer reviews below. That's right: real customers, real CalTrend reviews. Give them a look, and hear them out. They would know, after all, having themselves made similar purchases to the one you are considering.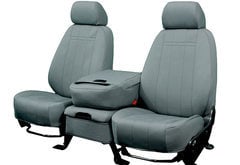 CalTrend's version of the popular, durable, water-resistant neoprene seat cover is custom-designed for your specific vehicle's make, model, and year. Fitting your seats like their very own wet suit, CalTrend Neosupreme Seat Covers are crafted with reinforced edges to fend off splitting and wearing. Simple to install and comfortable, a purchase of these seat covers is an investment in your car's future.
Seat covers are beautiful. My only complaints are the seams stitching can be seen because they are stretched so tightly. Also they did take my husband some time to get them on and he can do anything. Overall though they are worth every penny.
Leslie from Wheaton, IL - Chevrolet Avalanche
I like my new seat covers very much. They were easy to install and came true to their description. However, after just a few a days I noticed a very slight pulling up on the seat area of the drivers side. I re-adjust this each time I get out of the vehicle. Not a big deal but I do wonder if it will get worse as time goes on. Over all though; nice product, good customer service and speedy delivery.
Chris from Lincoln, NE - Toyota Pickup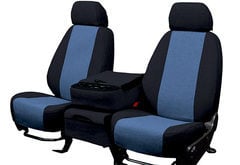 Crafted from tough, tightly-woven polyolefin, CalTrend Tweed Seat Covers give your interior top-notch style to go with hearty protection. Comfortable and breathable, these tweed seat covers will be cut to fit your exact make, model, and year vehicle. Ultra-soft foam backing, applied with special attention to body contact points, gives supreme comfort that is both easy to install and easy to clean.
Best looking and easiest to install seat covers I've ever dealt with, fit was right on. You people know what you are doing.
Shawn T from Venice Beach, CA - Ford Escape
We purchased front seat covers for my Son's 2010 Mustang and they look terrific. The company did an excellent job of following up on my order and they took only about 20 minutes to install.
Jonathan B from Johnson City, TN - Ford Mustang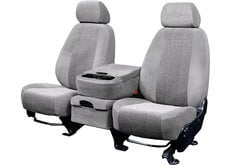 CalTrend Velour Seat Covers are the perfect compliment to an older vehicle that could use a comfortable style upgrade. Luxurious velour is UV-treated to resist fading and complimented with foam at contact points for extra comfort. Custom-fit to your vehicle's specific needs, these seat covers are also built to last, thanks to reinforced seems. Upgrades rarely mix luxury and usefulness so deftly.
Fit is very good, could use 2 more straps inboard for the seat cushion so it would stay tucked in at the back. Fabric is great. Almost a custom fit. Seat back fit is fantastic. Everything lines up perfectly. Highly recommend.
Pat K from Davis, CA - BMW 318is
I wish the attachment of the straps was stronger. I tore the vinyl a bit pulling the straps snug. Overall, however, the covers are a vast improvement over our worn-out leather (neglected before we bought the vehicle) and are much more comfortable to sit on.
Dan C from South Bend, IN - Toyota Previa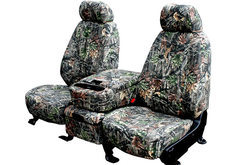 CalTrend Camouflage Seat Covers are the perfect vehicle addition for the avid outdoorsman. They outfit your vehicle in custom-designed, snug-fitting camouflage, but it's not just the style that counts: these covers are durable, UV-treated, and feature reinforced seams and foam-lined body contact points. Show your true enthusiasm for the great outdoors with these handsome seat covers.
These covers fit very well. They are also very comfortable. My seat has a large rip in it and I can not even feel it now.
Toni C from Oklahoma City, OK - Toyota Land Cruiser
We were not impressed with the fit, stitching or the fabric but the pattern is nice. These replaced neoprene seat covers which fit much nicer, only changed to get the camo pattern. We have not had these long enough to rate performance accurately.
Linda L from Huntsville, AL - Ford Ranger