Your Neoprene Car Seat Covers are the perfect complement for your active lifestyle. They keep all the spills, mud, and messes of off-roading and outdoor traveling off of your stock upholstery, and they look great doing it. With the right cleaning and maintenance, your Neoprene Seat Covers will protect your seats and look awesome for years to come.
Why Go With Neoprene Seat Covers?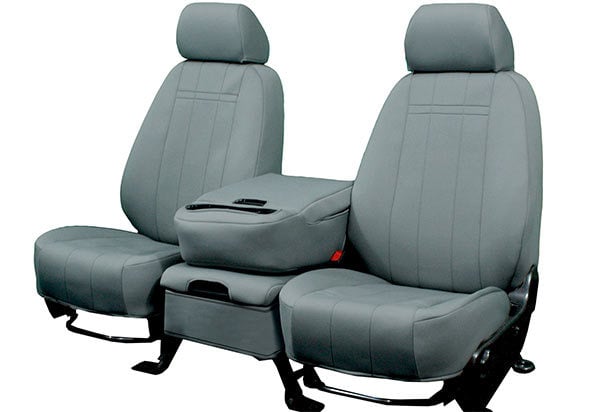 Scuba divers wear neoprene suits when they head underwater, because this material provides excellent flexibility and comfort while being fully water-resistant. Those same soft, liquid-blocking properties make neoprene a great seat cover material as well. Whether you take your Jeep off-roading through swamps and muddy trails or you drive your Caravan with Fido in the back seat, a set of Coverking Neoprene Seat Covers or Saddleman Neoprene Car Seat Covers will keep the onslaught of mud splashes and pet claws at bay. Plus, our Neoprene Seat Covers look great, with a wide variety of two-tone colors that perfectly accent your interior and fit your driving style.
Cleaning Your Neoprene Seat Covers
Keeping your Neoprene Auto Seat Covers clean is important, but it's also easy. After all, they're made to be totally waterproof, so you don't even have to remove them. By following these simple steps your Jeep Wrangler seat covers or Silverado Seat Covers will look like new:
Make sure your seats are free of excess debris and dust. Remember to check the cracks between the seat back and bottom for loose change, pens, and bonus fries!
Fill a bucket with water and the appropriate amount of wet suit shampoo.
With a lint-free cloth, wash and scrub down your covers.
Rinse the covers off with fresh, soap-free water.
Use a towel to dry the covers off
Allow your seats to completely air-dry before hitting the road.
That's all you need to do to keep your vehicle's Neoprene Seat Covers clean and tidy, no matter how dirty you get them. If you want some more tips on our neoprene covers, check out our Seat Cover Reviews, which are written by actual customers who've had experience with these prouducts. And finally, you can always call our customer service crew at 800-663-1570 if you have any other questions.