Daystar Comfort Ride Lift & Leveling Kit KF09110BK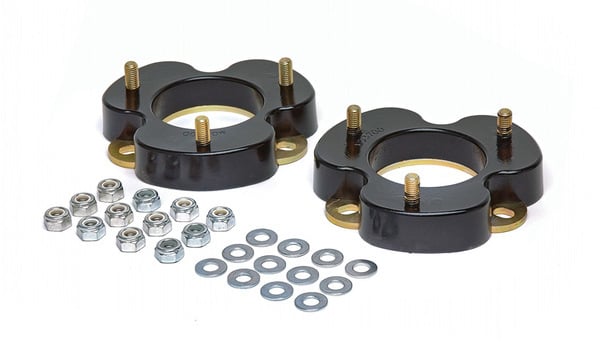 Our Price:

$170.00

Shipping:

FREE SHIPPING

Part Number: KF09110BK
UPC: 814423010528
2 In. Front Strut and Rear Coil Spring Spacer Lift Kit
Part #:

KF09110BK
2 In. Front Strut and Rear Coil Spring Spacers
$170.00
Free Shipping
Select your vehicle details above to ensure item compatibility.
Ships between 01/04/24 - 01/12/24
Levels and/or lifts your stock suspension 1"-3" to fit oversized tires/wheels or level the front rake of your truck
Custom-molded from dense progressive-rate Polyurethane material to provide lift while maintaining comfortable ride
Depending on the vehicle, you get coil spacers, strut spacers, torsion bar keys, add-a-leafs, blocks, or shackles
Torsion key applications let you "dial in" the lift amount to your needs
Leveling kits are front-only; Lift kits include front and rear lifts
Many kits include bumper stops
Installs in as little as 1 hour
Made in the USA
Lifetime Warranty
If you need to put a little lift in your ride, look no further than Daystar. A Daystar Comfort Ride Lift or Leveling Kit will give you the lift you need to fit big offroad tires or level the nose-drop rake on your front end. You can also raise your front end back up if it's been weighed down by a heavy winch or bull bar. You get all this while maintaining your stock ride comfort, and at a fraction of the cost and hassle of a full suspension system.

Daystar takes pride in their motto: "Driven By Design." Each of their Comfort Ride Kits is designed to fit the suspension on your specific make, model, and year vehicle. They've rigorously tested each and every design for top quality and performance, as well as a perfect fit. Your Daystar Comfort Ride Kit seamlessly integrates into the stock suspension, providing you with the most natural handling and ride comfort possible. The Comfort Ride's polyurethane material withstands grease, oil, and other road gunk far better than rubber, providing you with a lifetime of reliable service.

Your Daystar Comfort Ride Leveling/Lift Kit is made to last a lifetime, and is warrantied for as long as you own your vehicle.
Daystar KF09110BK fits:
2003-2009 Ford Expedition