With their rugged construction and state-of-the-art design, BAK tonneau covers are among the best in the industry. But we don't expect you to take our word for it. Below, you'll find BAK tonneau covers reviews for four of their most popular tonneau covers. These are the words of your fellow truck owners, giving their own personal testament to the quality of BAK tonneaus. We hope they help your decision-making process when shopping for a tonneau cover.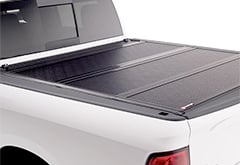 The BakFlip F1 tonneau cover features a fiberglass-reinforced polymer (FRP) top that is the toughest BAK has yet produced. With panels 35% denser than the G2, the F1 tonneau has been finely crafted for durability and impact-resistance. It installs as easily as the other BAK tonneau covers, and it is just as easy to use. Both heavy-duty and convenient, the BakFlip F1 is one versatile tonneau.
Great product and worth the money that spent on it. I have received many compliments on it's looks and it's low profile effect. Overall very satisfied and have recommended this cover to everyone that I know.
Famman from La Crosse, WI - Dodge Ram 1500
What can I say, this thing is everything I would hope it would be!! I'm a huge hunter and have a ton of valuable equipment that needs to be protective from thieves and weather. NOT a problem for the Bakflip!
Ckwill174 from Boise, ID - Chevrolet Silverado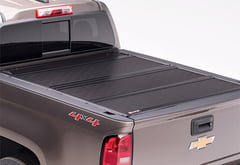 What would you call a tonneau that features all of the benefits of a BakFlip but with aluminum panels? Indestructible, that's what. Tonneaus do not come more heavy-duty than the BakFlip HD aluminum tonneau cover. It is simple to install and easy to use, as well as both secure and good-looking. If you want, you can get a toolbox, too. Wonders never cease with the BakFlip HD tonneau cover.
The things Great! After the short install I went on a 3500 mile trip. Can't say I noticed any MPG improvement but it's clean looking and it hid all the families luggage during all our stops along the way.
Mark Melaney from Charleston, SC - Honda Ridgeline
From the box to completed install in under 30min. All the parts fit together extreamly well. I would recomend this cover to anyone who is looking for a flexable way to use the bed of their truck.
David Pitzer from Caledonia, MN - Toyota Tundra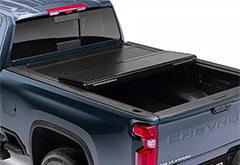 BAK's latest folding, multi-paneled tonneau cover is perhaps it's best yet. The entire G2 tonneau can be folded up against the cab, allowing you full bed access without having to completely remove the cover itself. However, if you do wish to remove the entire cover itself, doing so is easy. The G2 is 100% waterproof and won't shrink or expand, making it a perfect tonneau in nearly any conditions.
This product is outstanding and ANYONE can install it. I have had the product for over a month, 3 heavy rains and I am still dry. To date I have no concerns and I would reccomend this product to anyone who wants a secure box.
Rja from Dallas, TX - Ford F-150
Just a terrific accessory. The installation instructions on the website were all I needed. Install took 30 minutes and the cover fits perfectly. I got exactly what was described and exactly what I was looking for.
Mark Benson from Oxford, MS - Honda Ridgeline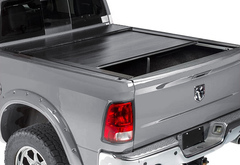 Total weather protection comes in an extra-strength package with the RollBak G2 tonneau cover. Retractable covers usually sacrifice toughness for convenience, but not this tonneau. "Weather-tight" security keeps the elements off your valuables, and a felt-lined underside further protects whatever's in your truck bed. The RollBak G2 is still convenient, though, as easy to use and install as any BAK tonneau cover.
Great Quality and easy to install. Very soild cover, looks great on my long bed. The locking feature makes it very secure with my locking tailgate.
NPrice from Dover, DE - Nissan Titan
I was reluctant to purchase this product because I had read several bad reviews as far as installation was concerned on a competitors web site. I guess they have some not so smart people installing this product. This was one of the easiest product installs I've delt with. I did have one or two questions that were not very clear in the instruction manual, but the on line install video answered them for me. Product looks great, and operates as advertised.
Wayne from Ypsilanti, MI - Ford F-150
This page was written by Packy AutoAccessoriesGarage