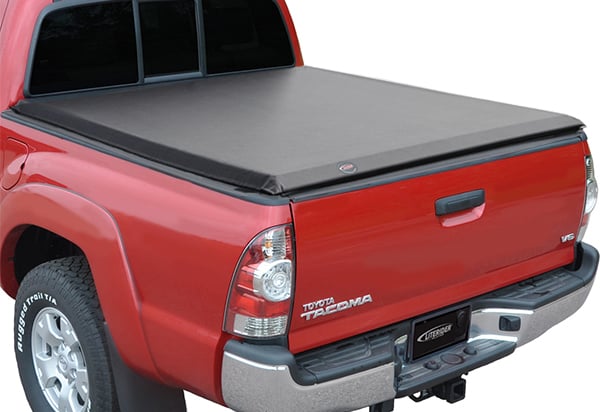 If you take one look at our truck bed cover page you'll see that we offer a whole boatload of different tonneau covers, in a variety of styles. Clearly, tonneau covers are among the most popular products in the world of pickup truck accessories, and new models are springing up constantly. This means you can choose from plenty of great covers for your bed, but it also means you might even have too many options to consider. Truck bed covers can be expensive, so you want to make sure you're making the right investment.
Shopping for a truck tonneau doesn't have to be a difficult or confusing process, however. We've compiled a few questions you should ask yourself while you're shopping to help you find the right tonneau cover for your truck, your needs, and your budget.
What do you want to accomplish with a tonneau cover?
Tonneau covers offer a number of benefits, from anti-theft security and weather protection to customized looks and easy bed access. What do you want your tonneau cover to do for you? Your answer will help narrow down the style you're looking for, whether you're looking for a Ram 1500 accessories or parts for your Ridgeline. Retracting and hard truck bed covers offer more security at a higher cost, while soft tonneaus from Access and Advantage are easier to handle and less expensive.
The following video gives you a closer look at the security a retracting tonneau provides:
How much do you want to spend on a tonneau cover?
Obviously, your budget is an important factor when shopping for any pickup truck accessories. When shopping for a tonneau cover, bear in mind that hard top and retracting tonneau covers can cost from about $600 to over $2,000, while a soft top tonneau can cost under $300.
Is your truck lifted?
Many tonneau covers require you roll or fold them open and closed, and that usually requires reaching up to operate straps, buttons, and latches. If you have a lift kit on your pickup, you may have trouble operating the cover on your tall bed - especially if it's a hinged hard tonneau. You may need to prepare yourself to hop on the tailgate when you need to operate the cover, or consider a remote-controlled retractable tonneau.
How often do you need full truck bed access?

Do you find yourself often hauling large gear like ATVs or refrigerators? You should consider picking up a tonneau cover that either opens fully for maximum bed access or that easily removes. Many roll-top tonneau covers open all the way to the back of your cab, letting you use the whole bed as needed. Retracting covers also provide handy bed access, though they incorporate a storage canister at the front that will take up some room. Some folding tonneau covers only open 2/3 of the way up, but others open fully and flip up against your back window for complete use of your truck bed.
Do you have a bed liner?
This is one of the most common issues facing pickup owners who want to add a tonneau cover. If you have a bed liner on your truck, the next most important question is what type of liner it is. "Under-the-rail" bed liners will not interfere with the installation of a tonneau cover, but if your liner wraps over the bed rails you will likely have trouble installing it. Over-the-rail liners slightly change the side dimensions of your truck bed, making for a tight squeeze.
In order to install a tonneau to your truck, you may have to cut notches into the liner to make some hardware fit. Before purchasing, check with either the tonneau cover manufacturer or call our Customer Service team at 800-663-1570 to make sure the cover will fit your bed.
Are you going to be using bed rails or bed caps?
If your truck has stake pockets, you may find yourself wanting to use bed rails or tie downs. Some soft tonneau covers and hard truck bed covers mount to the inside of the bed, so they will not interfere with your tie downs or rails. Others, however, mount over the rails, covering your stake pockets. Keep these design features in mind when shopping for a tonneau.
Helpful Tip: You don't just have to take our word for it! Check out all of our Tonneau Cover Reviews while you shop to get real-world testimonials and advice from your fellow pickup drivers.All tonneau covers are custom-designed to accommodate your factory truck bed, and that includes accessories like stock bed caps. Most factory bed caps work with tonneau covers as well, as long as the caps have a "smooth" design. Caps with diamond plate or ribbed designs make it harder to install your tonneau due to their irregular shape, and that can also affect the tonneau's weather-sealing properties. As usual, check with us or the manufacturer before ordering to make sure your tonneau, stake pockets, and bed caps will work together.
Are you going to install your tonneau cover yourself?
Even if you're a novice with tools and mechanical concepts, most tonneau covers are fairly straightforward to install. Expect about 30 minutes to 1 hour to install a soft tonneau cover and up to 2 hours to install a more complex hard tonneau. It's important that you install your tonneau cover correctly, as this is the only way to ensure maximum weather protection and leak-free performance.
Conclusion
A tonneau cover instantly improves your truck's versatility, security, and looks, but you should make sure you're getting the right cover for your particular needs. If you have any other questions about shopping for a tonneau cover, feel free to give us a call at 800-663-1570 and we'll help you find the right tonneau for your truck.