Not all folding tonneau covers are created equal. Fold-A-Cover rises above the status quo with high-quality truck bed covers that protect your gear from all manners of weather, debris, and theft. Fold-A-Cover customers appreciate the covers' weather sealing, durability and security. Check out our Fold-A-Cover reviews and see what people are saying about them.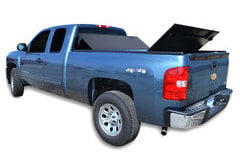 The aluminum G4 Elite tonneau cover improves your truck bed's looks while turning it into a secure trunk for all your cargo. It opens in seconds, and is even specially designed to allow for 5th wheel trailers. Many of our customers owned previous versions of the Fold-A-Cover tonneau and noted that the G4 is an improvement in design and durability. It's also telling that so many pickup drivers were loyal to Fold-A-Cover when they needed a new tonneau and came back for a G4.
Overall I am very pleased with the cover. It took a lot longer to install than I expected. Part of this was due to the factory box liner having to be trimmed to clear the mounting clamps and the front lock assembly. I have used it to cover clothes and equipment on several trips while driving through heavy rain and even car washes, nothing has ever gotten wet.
Rick P. from Belleville, IL - Chevy Colorado
This is my second Fold-A-Cover, but my first G4 Elite. I am now a fan! The covers are solid and well fitting; it's very rare the weather elements seep in. Very happy with the purchase.
Sarah M. from Springfield, MA - Ford F-150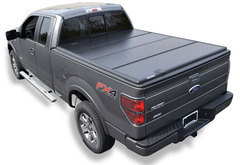 The Fold-A-Cover LS was the first hard folding tonneau cover on the market, and it continues to lead the pack. It can be opened and locked at either the front or rear of the bed, and it features water resistant seals in the hinges for superior weather protection. Some customers had a bit of trouble with installation, but once they got the cover on they enjoyed its ruggedness and security.
The cover is well-made and secures the bed of my truck as I wanted. Installation, especially placing the side rails, was not easy. It is a two-man job. It didn't seal at the tail gate, so I had to install extra molding. I had to purchase a rivet gun because it uses rivets instead of screws. It doesn't fold up against the cab of the truck, so there is a portion of the bed that is not usable near the cab. The positives are that it affordably priced, it is attractively painted, light weight and appears to be durable.
Larry C. from Grand Rapids, MI - Ford F150
I thought it would be hard for me to install the bed cover. But with the help from my brother I think we did a great job. It took us about an hour to install the bed cover. My truck has a new look to it. The most important thing is my items are secure in the truck bed with the Fold-A-Cover LS Tonneau Cover.
LaVaughn from Columbia, IL - GMC Canyon
This page was written by Packy AutoAccessoriesGarage