Truck covers USA crafts some of the most advanced and rugged tonneau covers available. Their retracting tonneau covers are famous for their smooth operation, great looks, and high level of security. Our customers enjoy all the details Truck Covers USA puts into their products, from the miniscule storage canister to the durable locks. Check out some Truck Covers USA reviews below and see what other pickup drivers are saying.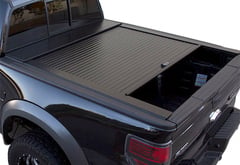 The Truck Covers USA American Roll tonneau cover gives customers a little bit of everything. It's low-profile design improves gas mileage. Double-walled aluminum panels provide extra-strength protection. Stop-and-lock points and the industry's smallest canister bring convenience and ease-of-use to everything, while wide weather seals and an innovative draining system keep the weather out and your gear protected. Don't take any chances: the Truck Covers USA American Roll is everything you will need it to be.
Boy is this thing heavy! But with that weight comes some serious protection, I can't imagine anyone being able to beat through this thing which means the tools I've been buying over my entire lifetime are safe. That piece of mine is worth it alone at the job site. Like other reviewer's stated, the instructions could be better but anyone should be able to figure it out. I highly recommend a friend helping you install, makes things go much smoother.
Nate R. from Stanton, PA - Chevrolet Silverado
I have had a roll cover on my truck for 7 years now and like the convenience and security. My previous cover was made of lexan and did hold up fairly well although a strong hail storm did drive holes threw it. After taking a look at all the covers on the market I decided to purchase the American Roll Tonneau cover and am glad I did. It is much heavier and still retracts with ease. The lock is stout and the storage box is a lot smaller than the lexan unit. I would highly recommend this product.
Mark B from Orlando, FL - Ford F-150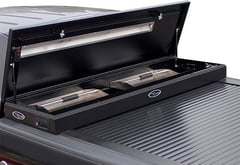 No other tonneau can compete with the Truck Covers USA American Work tonneau cover as far as sheer capability it concerned. Double-walled heavy-duty aluminum is topped with a toolbox, allowing you full access to your gear while your tonneau cover is in use protecting other cargo. All of the other benefits of the American Roll are available here, and with a Kevlar-fortified toolbox! The Truck Covers USA American Work tonneau cover does exactly that: work, better than any other tonneau on the market.
Heavy-duty with a toolbox sounds good to me! This thing is massive, heavier than all hell, and the toolbox is a nice touch. Maybe it's a little small, but it fits my stuff with no problems. If you can afford one, you might as well. It's a pretty great thing, sure.
Mel T from Garnet, KS - Dodge Ram 1500
You got your heavy cover with a toolbox here and it works like a dream, I've had a number of these over the year but this one is the best, it like turns my truck into a tank or something, and my tools couldn't be more secure at a job site. Good job, truck covers usa, this here is a good one.
Larry B from Tuscaloosa, AL - Nissan Titan