If you've never owned a TruXedo tonneau cover, then it might be difficult for you to understand just how high quality these tonneaus are. You've heard enough from us, though, so we'll let actual TruXedo owners tell you themselves. On the page that follows, you'll see TruXedo tonneau cover reviews. Real people, real products, real TruXedo reviews.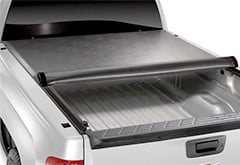 One of the best tonneau covers in the business, the TruXedo Lo Pro tonneau cover features innovative design for maximum practical benefits. Automatic tension control plungers allow for a tight seal in nearly any temperature (-20 to 120 degrees), while leather-grain vinyl-coated fabric keeps out the elements and looks great doing it. Easy to install and easy to remove when full bed access is needed, the TruXedo Lo Pro is pretty much the perfect tonneau cover, period.
The cover installed as directed and was fairly easy. All pieces seem of high quality. I love the cover with one exception. Standing at the rear of the pickup, the left side of the cover sets higher than the right side. Tried to adjust several times but there is really no way to adjust level/height.
John Butterbaugh from Pensacola, FL - Honda Ridgeline
Installation took about 45 minutes to an hour. Didn't require any tools other than a socket. Fits like a champ, looks great, and gets tons of compliments.
Dan K from Pittsburgh, PA - Ford F-150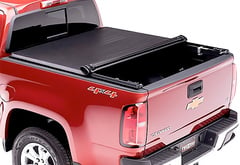 Take twenty minutes to install a TruXedo TruXport tonneau cover and know how good it is to have a quality all-purpose tonneau. High-quality vinyl fastens along your bed rails with Velcro, which works with tension adjusters, straight bows, and cross members for a nice low-profile look. When you need bed access, it will take maybe one minute to roll up the TruXport tonneau cover. When you need to put it back, the locking mechanism works from underneath, too, for greater access and security.
Cover was easy to put on, it took only about 30 mins. It works and looks awesome, I would recommend it to anyone else looking for a cover.
Av2584 from Peoria, IL - Chevrolet Silverado
Received my cover in good time. Took me about 40min to install (all by myself) and I love this thing. Went to Mt. Shasta, had rain and snow, no water in/on bed. It is worth every penny I paid for it, many times over!! It also looks great on my Nissan Titan. Don't think twice, buy it, you will not regret it.
Hendrik van der Merwe from Redding, CA - Nissan Titan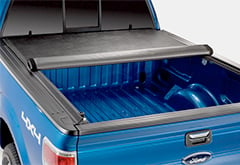 The TruXedo Edge tonneau cover features an aerodynamic arch-backed design that you won't find in any other tonneau. In addition to the custom look and better fuel efficiency, the TruXedo Edge is also designed for maximum function and an easy installation. A tension control system will keep this tonneau tight in any conditions, and a one-finger release mechanism when bed access is needed rounds out an innovative, practical package.
I love this cover, such a great idea and much cheaper than the hard fiberglass covers out there. Installation was pretty easy and the instructions were clear.
Brad Stevens from Harrisburg, PA - Dodge Dakota
My truck looks so much better now! Install was a breeze. So far no leaks, very happy with my purchase.
Russ W from Lima, OH - Ford Ranger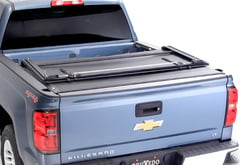 Double your convenience with the TruXedo Deuce tonneau cover. Next-level design allows you to either roll this tonneau up or fold it back in sections. Vinyl-coated fabric and industrial-strength Velcro provide a durable seal against the elements, and the whole system clamps on in minutes, with no drilling required. All of the benefits you would expect from a TruXedo tonneau are here as well, making the TruXedo Deuce among the most practical tonneaus on the market today.
The flip up front is awesome. When it's closed it looks like a regular truxedo tonneau cover. When I saw this I had to get it. It took a little bit of adjusting to get just right but I think I installed in under 30 mins. It makes the lines of my truck nice and clean, and keeps the clutter in the bed hidden.
Dakota49 from Eureka, CA - Dodge Dakota
Installation was fairly straight forward. It's water tight. The flush fit is a very nice look. Looks like it will get through a New England winter without a problem!
BAI from Worcester, MA - Lincoln Mark LT