When it comes to rugged, reliable protection for your gear, you don't have to fumble with bulky fiberglass bed covers. Undercover Tonneau Covers are strong and weather-resistant, yet lightweight and easy to handle. Our customers report back that installing these covers is a breeze, and that their water sealing is top-notch. Check out the reviews below for more opinions from your fellow pickup drivers.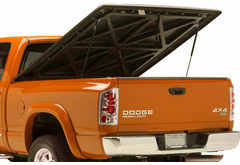 The original Undercover Tonneau Cover is constructed from light yet durable ABS plastic, with quick-release hadware that makes it easy to take off or put back on. Plus, its concealed-clamp design makes for a no-measure, no-drill installation. Customers appreciate the Undercover's strength and ease of use, and the included LED truck bed light is one of those little details these truck owners appreciate.
The cover arrived in mint condition, with simple installation instructions. I think it only took about 30 minutes total to install the cover. It is completely water tight and looks really good on my Titan. Thanks again for such a great experience!! Take Care.
Tim G from Saginaw, MI - GMC Sierra Pickup
The LED light is a great feature - I can't believe none of the other tonneau cover manufacturers thought of that first! As far as construction goes, I can't imagine it will ever fail. Very, very solid. No one would be able to break into this thing without some serious tools, and it seals air-tight. Highly recommend this cover.
Ron D. from Charlottesville, VA - Dodge Ram 1500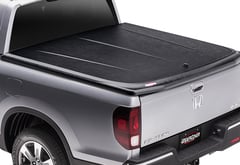 The Undercover SE Tonneau Cover takes the same design and construction of the original Undercover and adds some hot updated style, with molded ribs and a spoiler. Its quick-release struts, pull strap, and vehicle-specific designs make this cover super easy to install and use, and it's built tough enough to resist impacts and other environmental hazards.
I've only had my cover for a few weeks but it has exceeded my expectations. Before I purchased the cover I did a good amout of research on the internet, read all of the reviews and made my decision. I installed it myself in less than an hour. It fit perfectly. I just ran it through the local car wash, a car wash with the reputation of having the most powerful air dry blower in Western PA. Not one leak, bed was completely dry! I can now keep my tools in the bed of my truck and not have to worry about them being stolen. This is a great cover, I'd recommend it to anyone.
James K. from Akron, OH - Toyota Tundra
i have an 8ft bed cover by UNDERCOVER and it is a great item. it has been on for a year now and looks like new-even in the hot sun of south carolina. having some difficulty finding a source to replace a failed gas strut, which holds the cover open. other than that, the materials, workmanship and price could not be beat!
Joe L. from Kankakee, IL - Chevrolet C/K PIckup