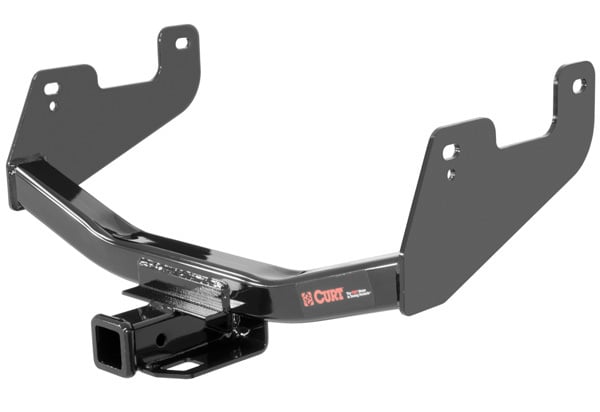 A Trailer Hitch transforms your automobile. The addition of a Volvo V70 hitch or a Lexus RX300 hitch, whatever your vehicle, gives you the ability and strength to tow flatbeds, trailers, campers, boats, and a host of other utility and recreational gear. Hitches by Curt and Reese, for example, outfit your car, truck, or SUV with the capacity to simply do more: haul more, bring more, and have more fun.

Many vehicles come with Trailer Hitches, but even if your Nissan Rogue did not, the addition of a Infiniti FX35 hitch is a relatively easy job. Installation might seem a painstaking task fraught with peril and inconvenience, but loosen a couple screws here, turn a couple more there, and your Draw-Tite Trailer Hitch is ready to go. Below, you'll find general hitch installation instructions that work with most applications.
How To Install a Trailer Hitch
Please Note:In order to access your vehicle's mounting brackets, you may need to move or temporarily detach some components of your exhaust system.
Take out all parts and instructions. Make sure everything described in the instructions is present and accounted for before you begin.
Most trucks should have hitch-mounting holes on their frame, but some cars may not. If not, you are going to have to drill them yourself. Before drilling, be sure to measure the holes precisely, and be very, very careful when using the drill itself.
Hold your hitch up to the mounting holes to make sure the fit is right. Line up all mounting hardware with the proper mounting positions. Once everything is in place and ready, lightly attach your frame with the mounting bolts. Simply spin the bolts on so that they will hold the hitch to the frame. A tight attachment is not necessary right away.
Helpful Tip:It's not a terrible idea to apply lock tightening solution (such as "Loctite") to the bolts prior to installion and tightening. Such solutions act as a sort of glue once bolts are fastened for further protection against loosening.
Once your hitch is lightly attached, use your socket wrench or ratchet to tighten the bolts all the way up. Be sure to make them tight so they won't be prone to wriggling loose. In the instance of a trailer hitch, you really can't make the bolts too tight. You do not, under any circumstances, want them coming loose.
This is only the first step in setting up your towing system. From here, shop AutoAccessoriesGarage.com to find the perfect Ball Mount for your new hitch. Once that is purchased and installed, you will be ready to do whatever you want, thanks to your new towing and hauling system.
The following video details the process of installing a Curt Hitch onto a 2007 Dodge Caravan.
Conclusion
Above all else, a sturdy Lexus RX330 hitch, attached well, adds ability to your vehicle greater than it had before. Your recreational life in particular will become more fulfilling, but towing and hauling capability via a Isuzu Rodeo hitch or any other hitch proves its usefulness at unexpected times, in a host of unexpected ways. If you have any further questions about purchasing or installing a Trailer Hitch to your vehicle, please contact our wonderful Customer Service team at 800-663-1570.