Weight Distribution & Sway Control
Keep your heavy load balanced properly with Weight Distribution & Sway Control accessories. This hardware offers you more control over your hitch for easier handling, improved safety, and fewer "white knuckle" moments on the road. With your weight more evenly balanced across your wheels for smooth pulling, you'll steer straighter, stop quicker, and relax sooner.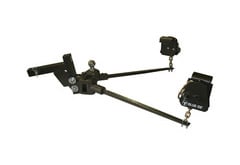 Make sweaty brows and white knuckles a thing of the past with the Blue Ox SwayPro Weight Distribution Hitch. This hitch is available in 550-1500 lbs. TW capacities and is easy to hook up and disconnect. It also features built-in sway control and provides simple weight distribution adjustment. 3-Year Warranty.
From $645.00
Free Shipping
Quick View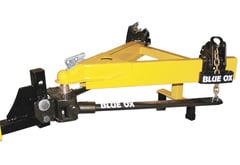 Blue Ox offers several performance-enhancing accessories for SwayPro Weight Distribution Hitches. Choose from versatile, adjustable receiver hitch mounts, sway-eliminating rotating latches, or super-strong replacement spring bars. All of these accessories are made with Blue Ox quality and include a 1-Year Warranty.
From $147.05
Free Shipping
Quick View
Want to learn more? Read our:
About Weight Distribution & Sway Control
When towing a heavy load, you need proper balance. Our Weight Distribution & Sway Control accessories do the job and then some. Attaching this equipment to your hitch allows you to drive safer with improved handling and less wobble. For instance, if you drive a Tundra and install a Toyota Tundra Hitch, you'll be able to drive as well under load as you do without.
Choosing the right hitch for your vehicle is easy. Let's say you need a Dodge Ram 1500 Hitch. Simply choose your vehicle from our selector widget and you'll be shown all of the products designed specifically to work with your make and model. Large photos and detailed descriptions tell you everything you need to know about these accessories. Once you've made your selection, we'll ship it to you for free. When it comes to Weight Distribution and Sway Control, AAG is #1.
More Popular Weight Distribution & Sway Control Vehicles: