Doing tough jobs and hauling tough cargo in your truck can quickly cause all kinds of damage to your bed. From paint chips and scratches to dents, dings, and rust, all that daily activity can trash your investment. Luckily, there's a full range of Truck Bed Liners out there to help you protect your bed from scrapes and damage. There are some different options out there as far as the kinds of Bed Liners that are avaialble, such as Spray-On Liners and drop-in liners like those made by BedRug.
Spray-On Bed Liners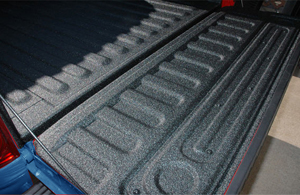 Spray-On Bed Liners are the choice for many who use their truck in agricultural, commercial, and industrial applications. They're typically made from a mix of polyurethanes, elastomers, and polyureas that is tough enough to stand up to high friction and even impacts. As the name implies, these liners are sprayed directly onto the bed, typically with a spray gun. The liner, being a liquid, fits every detail of your truck bed perfectly, no matter your modifications or if you even have pre-existing damage.
The problem with Spray-On Bedliners, however, is that the installation process can be complicated, messy, and expensive for non-commercial daily truck drivers. Plus, certain spray-on brands may utilize chemicals that can be hazardous while they're airborne, so often the installation needs to be done by well-equipped professionals. Plus, once applied, a Spray-On Bed Liner cannot be removed. This would especially be a problem if you're leasing your truck, or have other concerns about permanent modifications.
BedRug Bed Liners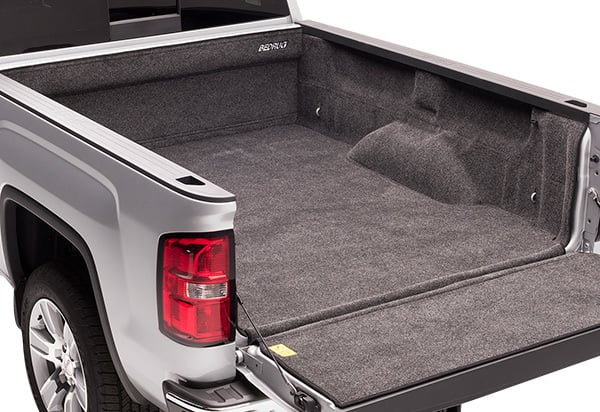 BedRug Bed Liners are designed to provide the protection and benefits of a full-blown bed liner, without the expenses, chemicals, or hassles. They're molded from a thick, soft material that feels and looks like carpet but is actually a super-durable plastic. This gives your truck bed a luxurious look and a feel that's easy on the knees, yet also tough protection against impacts, scraping, and spills. Plus, they're custom-formed to your exact truck bed, guaranteeing a perfect fit and a fast installation. No sprays, no chemicals, no mess.
Choose from the BedRug Bed Liner, which covers the floor, tailgate, sides, and wheel wells in your bed, or if you just want some floor protection go with the BedRug Truck Bed Mat. Both models are made from the same tough-yet-soft material, so they're great no matter how much coverage you need.
Check out the video below, which shows off the features of BedRug Truck Bed Liners:
In conclusion, we think for many of our customers that BedRug Bed Liners will provide all the necessary benefits with very little of the troubles and expenses of spray-in bed liners. If you have any extra questions, be sure to read our Truck Bed Liner Reviews and give our customer service staff a call at 800-663-1570. Happy shopping!