Camper Shells & Truck Toppers
Turn your truck into a modern covered wagon and safely haul more cargo than ever. Camper Shells and Truck Toppers provide weather protection and shade for your pickup bed. They also let you easily load taller gear without worrying about tie downs and rails, and keep it out of sight for extra security. They're also the perfect add-on for pickup drivers who enjoy taking their truck on camping excursions.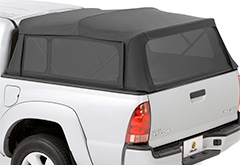 Keep your gear covered and protected from the elements with the Bestop Supertop Truck Camper Shell. This truck bed camper shell is made from the same high-quality hardware and materials as the Bestop Supertop Jeep Soft Top, but is designed to fit your pickup. It features an easy to install and remove design, beefy zippers, and tinted zip-out windows.
From $899.99
Free Shipping
Quick View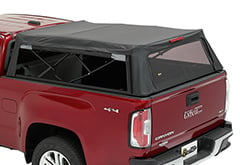 You'd love a truck cap or camper shell, but they can be so limiting. Uninstalling and reinstalling a truck cap might be more trouble than it's worth, right? Well, not exactly. With the Bestop Supertop 2 Truck Soft Top you can easily fold your bed top up and out of the way when you need to, and pull it back over your bed and cargo when you need it.
From $999.99
Free Shipping
Quick View