You do all kinds of work, and haul all kinds of cargo, with your pickup truck bed. Day in and day out, the constant onslaught of lumber, equipment, and toys can scrape up and dent your bed. Before long your bed will be looking pretty beat up - or worse yet, it'll begin to rust through. Therefore, a Bed Liner is a downright essential addition to your rig if you use your bed frequently. There are two main types of liners out there: Drop-In and Spray-On. Check out their features below and find the right Bed Liner for your truck.
Spray-On Bed Liners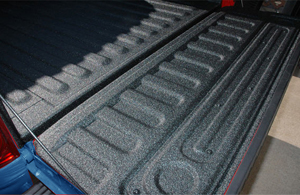 Spray-On Bed Liners act like an extra layer of paint-like material that is tough enough to resist scratches and dings. These liners are usually applied via spray guns or cans, with an epoxy-like mixture that is  Often utilized in industrial, commercial, and agricultural applications, Spray-On Liners are known to provide an excellent level of protection, with a look and feel that's both tough and stylish. Plus, because they're applied in a liquid state, they perfectly fit every ridge, curve, and contour of your truck bed - even if you have existing dents and dings.
Problems with Spray-On Bed Liners
While durable and versatile, Spray-On Truck Bed Liners have their share of problems, as well. For one thing, once applied they are permanently bonded to your bed. This can be a problem if you are leasing your truck, or if you simply decide you don't want to keep the liner on. Certain brands of Spray-On Liners utilize chemicals that can be hazardous to your health and the environment, so special care needs to be taken when applying. Speaking of applying, the whole installing process can be difficult, messy, or even require dropping your truck off for an expensive professional installation.
Drop-In Bed Liners & Mats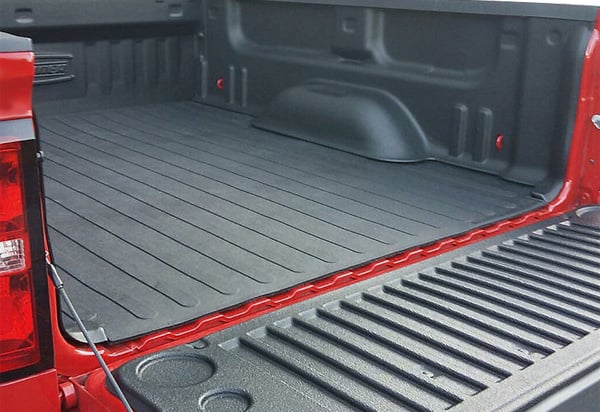 Drop-In Bed Mats and Truck Bed Liners are designed to give you rugged bed protection without the dangers, hassles, and expenses of Spray-In Bed Liners. Drop-In Liners can be made from molded hard plastics, flexible rubber, or carpet-like materials. They're typically custom-designed to your exact year, make, and model truck, so they're bound to fit your bed's features about as well as a Spray-On Liner.
At AutoAccessoriesGarage.com, we offer several options when it comes to Drop-In Bed Liners. The DualLiner Bed Liner is designed to wrap your whole bed in trustworthy protection, with hard side walls and a high-friction rubber floor that holds cargo in place. If you want a rugged liner with a softer feel, check out the BedRug Bed Liner. This model features a super-durable plastic construction that looks and feels like carpet. And like molded plastic liners, the BedRug is custom-molded and holds its shape through every season.
Spray-On or Drop-In - What Is The Right Truck Bed Liner?
Both Spray-On and Drop-In Bed Liners offer excellent protection and looks for your truck bed. So which type should you choose? Consider your budget, whether you own or lease your truck, and how simple of an installation you would like. Be sure to read all of our Truck Bed Liner Reviews and see what other truck drivers like and dislike about their liners. And finally, you can always call our customer support team at 800-663-1570.