A Bed Liner is a crucial add-on if you use your truck to haul gear on a daily basis. From building materials to motorcycles to firewood, all that cargo you throw in the bed can quickly scrape, dent, and damage your finish. That means a little extra coverage is essential to protecting your investment. Many truck owners debate whether they should go with a DualLiner or Spray-In Bed Liner. Let's take a look at the two and see what the differences are.
Spray-In Bed Liners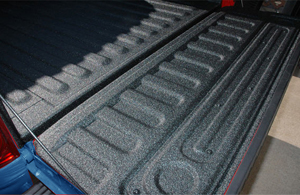 As the name implies, Spray-In Truck Bed Liners are made from a liquid material that is sprayed directly onto the truck bed. Typically this material utilizes some combination of polyurethanes, thermoplastics, and elastomers to provide a tough, permanent coating of protection for the metal underneath. Spray-In Liners are especially popular with commercial, industrial, and agricultural trucks due to their ruggedness, watertight seal, and low maintenance.
Spray-In Bedliners aren't always the right solution for your everyday pickup driver, however. The expense and complicated installation process are a bit much to take on, and the permanent nature of these liners means you're 100% committed to them once installed. This can also be a problem if your truck is a lease, or if you think you'll want to return it to its stock condition some time. Luckily, if you still want a bed protection solution without these problems, there's an answer.
DualLiner Truck Bed Liners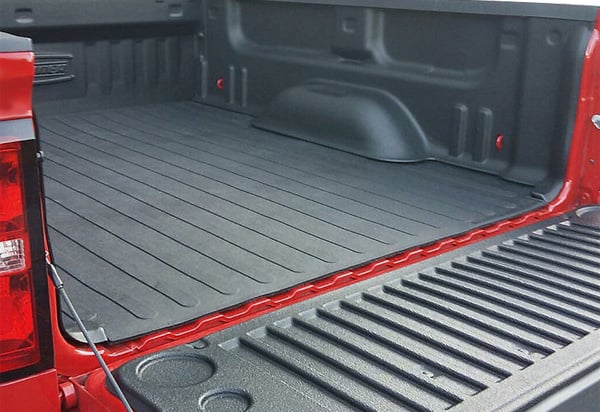 When you want to protect your truck bed from scratches, dings, and dents, and you don't want to spring for a permanent spray-on liner, the DualLiner Bed Liner is a fantastic solution. No matter what you toss into your truck, day in and day out, the Dual Liner is up for the task.
DualLiner Bedliners feature a "ZeroSkid" high-friction rubber floor mat, which secures your cargo in place, dissipates static build-up, and prevents dings and scratches. The sides of your bed are protected with hard side walls that are custom-molded for a dead-on fit. Everything is held together with a patented interlocking design, so the liner holds tight in your bed no matter what you do with it.
The following video shows off the benefits of DualLiner Bed Liners in more detail:
If you have any more questions about DualLiners, or any of our other Truck Bed Liner options, feel free to give us a call at 800-663-1570 and our customer service crew will be happy to help. Also, be sure to check out our Truck Bed Liner Reviews pages and see what your fellow pickup owners have to say. Good luck!
This page was written by Packy AutoAccessoriesGarage