Go Industries Headache Racks & Tailgates
The last thing you can afford to have happen to your work truck is a blowout of your rear window or something falling out the back. Prevent this from happening and guarantee years of use with a Go Industries Headache Rack or Tailgate! The racks put up an impenetrable line of defense in front of your back window, while the tailgates offer better aerodynamics with total security. Easy to install and durably construction, you can count on these working hard for you.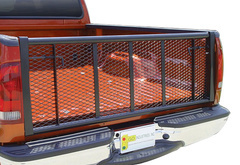 From $436.58
Free Shipping
Quick View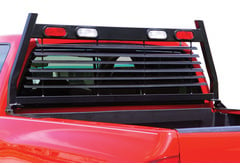 From $641.21
Free Shipping
Quick View
About Go Industries Truck Bed Accessories
Shopping for Go Industries Headache Racks is easy at AutoAccessoriesGarage.com. We designed it so that when you come by, you can find what you need and get on your way in no time. Use our vehicle selector to tell us what you drive and every Go Industries Headache Rack you'll see will be custom-designed for your vehicle. Don't sweat the small stuff: AAG is here to help.
Go Industries Truck Bed Accessories Reviews
DJM
from Wellsville, UT says:
First of all this tailgate is very strong and well built, it's gonna last a long time. It's a bit crude and not real refined, but for the price it does the job and looks great. The installation took awhile because I had to trim off some of the bushing on the passenger side for it to fit, then drill out the entire back of the driver side bushing for it to fit, all in all though not a huge deal. Last but not least, for some reason the tailgate doesn't sit flat and level at a 90 degree angle, it sits about 3 inches above level which makes loading some heavy stuff a little inconvenient, but for the most part very happy with the purchase and would definitely buy again. Read more Go Industries Air Flow Mesh Tailgate customer reviews.
Darwin Q
from Pequot Lakes, MN said:
Arrived very well packaged with no damage. Appears to be a well made gate, better than others I have had. Installation was simple. As stated by others the release cable is a little hard to get to and should be redesigned. Overall a nice looking very functional product.
Stephanie P
from Sykesville, MD said:
Great speed on delivery. Box was a bit beat up but tailgate was fine, my husband removed his dented and worse for the wear white tailgate and placed the new one on with a few tweaks to the edge of his bed liner and it looks just like the illustration above. He had to work a little on removing the wires from the old tailgate to attach them (still in the process but he doesn't see any problem getting it done) A good solution to spruce up his 13 year old truck that is in pretty good shape.
Stephen W
from Dallas, OR wrote:
Well constructed, goes on very easily. My only complaint is they did not use the original screws and cable type clamps to attach the tailgate cables. You will need a size 45 tork drive to remove the cables from the old gate.
Harold H
from Trenton, FL said:
I received the Air Flow Lovered 5th Wheel Tailgate in excellent condition. The installation was very simple and took about 15 minutes total time. I have used the tailgate now for over a month hooking and unhooking my 5th wheel and it has made it very easy and now I don't have the stress of worrying about denting my OEM tailgate. Thanks alot Go Industries for making a great product that does everything you stated it to do!
Barbara L
from Greensboro, FL wrote:
My husband loves the tailgate. It was easy to install, and looks really great on our Dodge.The price was great for the product, and we don't have any complaints, and will probably be buying more of your products.
Popular Go Industries Truck Bed Accessories