You've got a heavy payload, cargo stacked high, and a lunatic pulls out right in front of you. Sure, you can slam on the brakes, but chances are the cargo you're hauling won't be able to stop so quickly. The result could be a scratched cab, busted rear window, or worse! Save yourself the headache and equip your pickup truck with a headache rack.
A truck headache rack offers an unbreakable barrier between your bed and your cab, protecting you from scratches, scrapes, and broken glass. A headache rack can also offer additional shade, additional lighting, and other features and benefits to your pickup. But with so many headache racks on the market, how do you find the right one? We decided to put out years of industry experience, customer reviews, and sales data to good use to bring you're the Top 10 Best Headache Racks of 2022!
The Best Headache Rack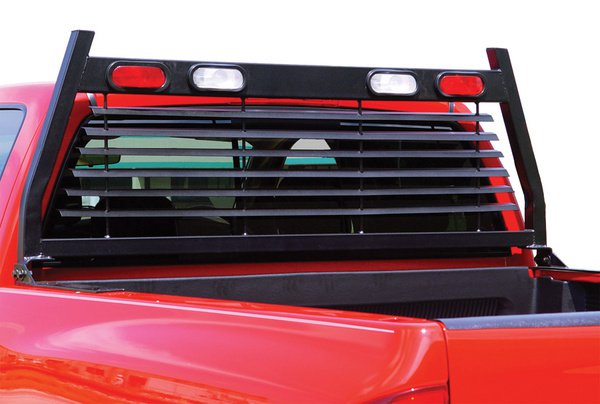 Once concern about adding a headache rack is that it might cover your third brake light- some do, some don't. But in the case of the Go Industries Lighted Headache Rack, your can actually improve upon your third brake light – or lack thereof. Plus the black powder coat finish will look great with any other powder coated accessories.
Looks great!!! Perfect fit and now I don't have to worry about the window getting smashed.

Read More Go Industries Lighted Headache Rack Reviews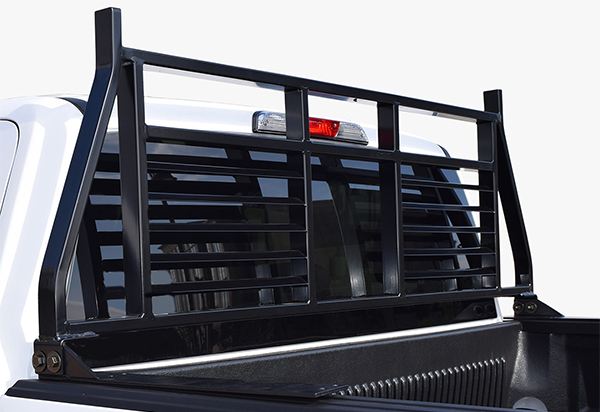 Know for their expertise in crafting steel, the impressive Steelcraft Headache Rack is everything you want it to be in a headache rack. This bad boy is built from T304 Stainless Steel and includes a stylish louvered design that not only looks great but will help keep the hot and distracting sun out of your cab.
As advertised, no issues. Good rack for the budget conscious person (like me) that can't afford some of the higher end racks.

Read More Steelcraft Headache Rack Reviews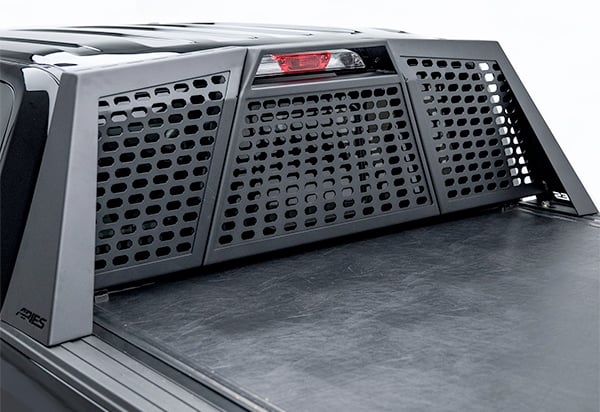 Masters of the headache rack game, Aries really turned heads when they came out with the Switchback Headache Rack. This lightweight rack is built from a heavy-duty aluminum which is finished in a Black Carbide powder coat. A fully slotted edge means it's easy to customize this rack or add any number of LED lights to the mix.
Easy install... great fit... It looks awesome on my dually!

Read More Aries Switchback Headache Rack Reviews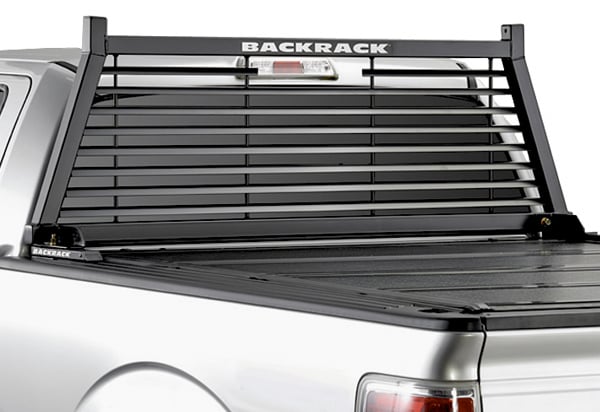 Backed by a lifetime warranty and offering a completely drill-free installation, the Backrack Louvered Rack brings strength and resilience to the back of your cab. Available in full or half rack configurations, this rear window protector can also secure your cargo and improve your truck's style.
Looks awesome. Very sturdy. Also easy to install and adjust as necessary. I like the versatility. I will probable order more products from this company.

Read More Backrack Louvered Rack Reviews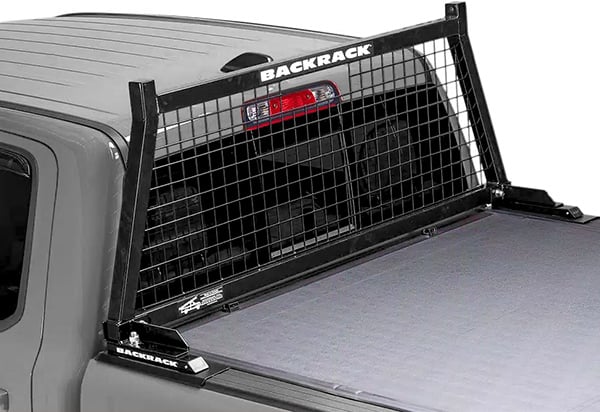 Not unlike a steaming plate of barbecue ribs, the Backrack Safety Rack is available in a full rack or half rack. This welded, cold-rolled wire rack gives you full back window protection. Plus, you can even use the wire mesh to clip accessories and hang your other tools. This rack installs directly in your stake pockets with no drilling required.
This was the third and fourth Backrack that I have purchased. We find them to be easy to install, rugged and the finish holds up well. A very good product.

Read More Backrack Safety Rack Reviews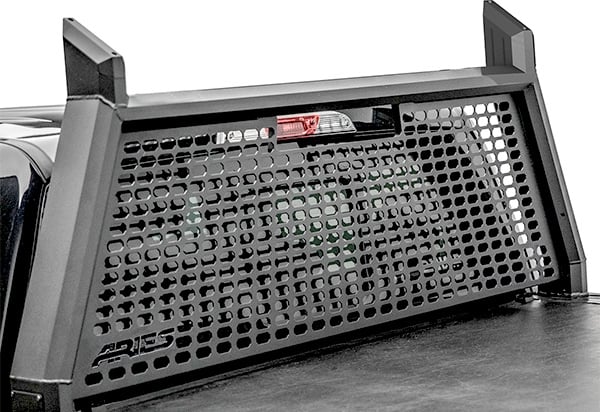 One of the biggest advantages of the Aries AdvantEDGE Headache Rack is the cutting-edge style it will bring to your pickup. Plus, a simple stake pocket mounting will have this truck headache rack in place and the eight-sided tubing is as strong and sturdy as it is stylish. Backed by a 5-Year Warranty
Easy install, good quality, great look.

Read More Aries AdvantEDGE Headache Rack Reviews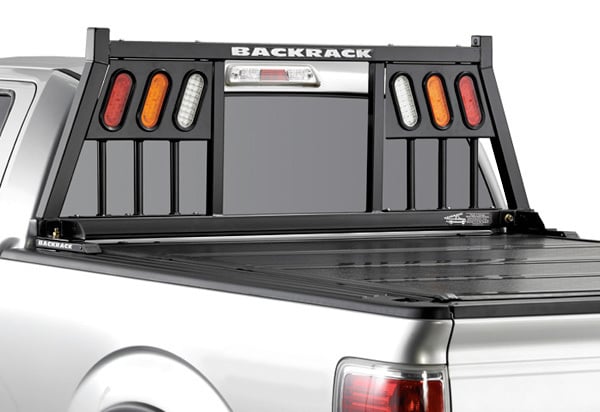 The steel used to build the Backrack Three Light Rack is not only hot rolled, but then pickled, oiled, and finished in a Black Powder Coat. And as its name suggests, this headache rack features three lights on the back for additional brake lights, reverse lights, and turn signals – bringing an elevated level of safety and visibility to your pickup.
Works well, looks awesome, and the price was fantastic.

Read More Backrack Three Light Rack Reviews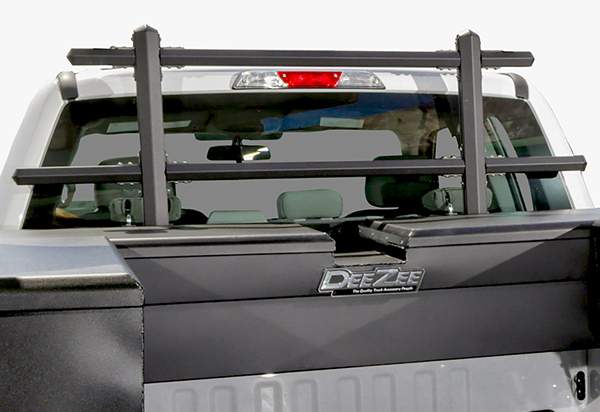 With an eye-catching hexagonal design, the Dee Zee Hex Cab Rack installs easily in your existing stake pockets and is built from a tough but lightweight extruded Aluminum. What's more, this rack is fully customizable and can easily accept other aftermarket accessories like storage and lighting.
Super simple to assemble. Installing works better with two people but can be done with one. The stake bed attachment system worked perfectly. Makes my Silverado look awesome!

Read More Dee Zee Hex Cab Rack Reviews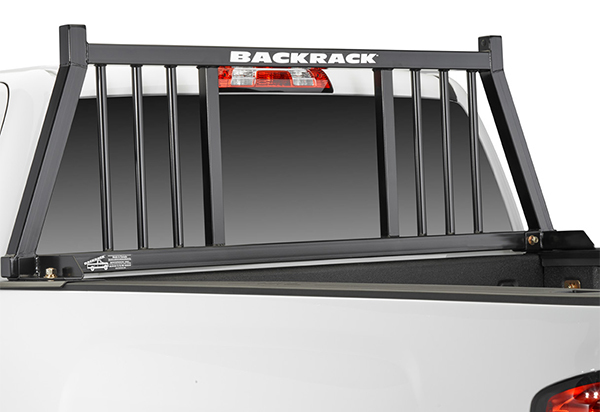 Simple and strong, the Backrack Three Bar Rack features three vertical bars on each side of your cab's back window to leave the center unobstructed while offering powerful protection to the sides. This Stainless Steel headache rack will work on your truck with or without tonneau covers and toolboxes.
I totally LOVE this rack!! Easy to install (under 30 minutes), extremely well built and looks great on my truck! Best price around and fast delivery, will be back for my truck needs!

Read More Backrack Three Bar Rack Reviews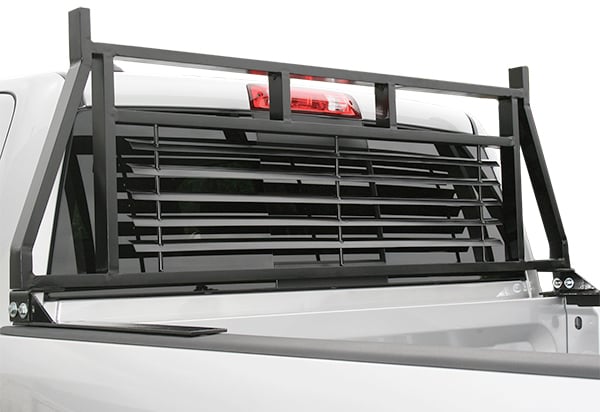 There's a sophistication to simplicity that you can see in the Aries Headache Rack. A flagship rack for the company, this headache rack features big, beefy louvers to keep the back of your neck in the shade whil they stop any sliding cargo from smashing your window. The high-gloss black powder coat finish also looks great.
This rack is remarkable. It is stylish, yet durable. I like the fact that safety was another factor in ordering this rack. I do not have to worry about cargo flying through the rear window. This rack is worth every penny.

Read More Aries Headache Rack Reviews
What's the Best Fit for Your Vehicle? Enter Your Info Below to Find Out!