Truck Bed Extenders
Your truck is built to haul, but even the longest of truck beds sometimes feel small. We don't know why, but almost any truck owner we know would agree it seems they could always really use another foot or so. Luckily, it's easy to drop your truck bed down – but then you have to worry about your cargo being properly secured. But when you outfit your truck with a sturdy and easy-to-use truck bed extender from Auto Accessories Garage, you can make the most of your storage space safely, securely, and stylishly!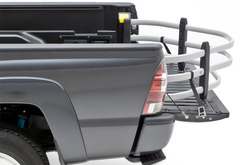 Give yourself the extra space you need to bring along your motorcycle or dirt bike with the AMP Research Moto X-Tender HD. Made for use with short bed trucks, this bed extender provides two additional feet of truck bed length to allow for easy motorbike transport. Made of rugged materials and finished with Silver or Black Powdercoat to resist corrosion, this is a strong and useful accessory for any bike enthusiast.
From $260.00
Free Shipping
Quick View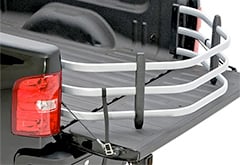 Add two feet of extra cargo-hauling space to your truck bed with the AMP Research Bed X-Tender HD. Rounded, rectangular aluminum tubing is nearly indestructible, anchored in place to your lowered tailgate with composite posts and attached with an easy, light-drilling installation. Precision-crafted and custom-designed for your truck bed, this bed extender folds back into your truck bed to provide a handy cargo hold when the tailgate is up.
From $240.00
Free Shipping
Quick View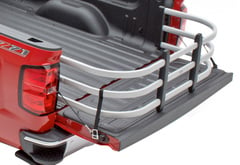 Open up your truck bed for the most cargo space available with an AMP Research Bed X-Tender HD Max. These handy truck bed extenders offer up to 2 feet of extra area for your cargo, the most available on the market, thanks to rounded extender edges. Lightweight aluminum and nylon uprights make for a durable and strong hold.
From $250.00
Free Shipping
Quick View
Want to learn more? Read our:
About Truck Bed Extenders
It can seem difficult to find the perfect truck bed extender for your make and model of pickup when you consider the need to measure your tailgate, bed width, and determine how or if the bed extender will install on your pickup. But when you shop with AAG, we make everything easy. All you have to do is plug in the make and model of your truck and we'll show you only the truck bed extenders that are compatible. Then you can click and compare on bed extenders to contrast the materials, warranties, and more.
Once you've found the perfect truck bed extender on AutoAccessoriesGarage, we'll ship it at no additional cost. Not only that, but our product specialist are in everyday and available by phone or live chat, so don't hesitate to get one on the horn for all of your truck bed extender questions. And at AAG, we guarantee you'll get your truck bed extender at the lowest possible price. In fact, if you see a better price for a full year after you place your order, we'll still beat it by a dollar! That's our 12-Month Price Match Guarantee!
Popular Truck Bed Extender Vehicles: