Truck Bed Slides
With a Truck Bed Cargo Slide in your pickup, getting at all your cargo is easier than ever. Our Truck Pull Outs and Truck Slide Outs turn your bed into a sliding drawer, so you don't have to crawl into your bed to grab something up by your cab. Plus, our Truck Bed Cargo Slide Out Trays are built from super-tough materials for incredible strength and weight capacity. Best yet, every Truck Bed Sliding Tray includes completely Free Shipping, saving you tons.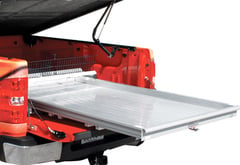 Get to your cargo quickly with the Jotto Cargo Slide. This truck bed cargo slide can hold up to 800 lbs. of weight and slides out the full length of your bed. With the Jotto Cargo Slide, you can access all of your cargo without throwing out your back. The Jotto Cargo Slide is available with or without aluminum flooring. Backed by a 5-Year Warranty.
From $777.45
Free Shipping
Quick View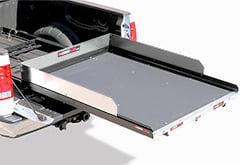 Bring your equipment out to you with the CargoGlide Truck Bed Cargo Slide. This handy accessory attaches into your enclosed cargo area and saves you the trouble of having to crawl around inside the space yourself. A variety of weight and extension limits are available to fit most vans, trucks, and SUVs.
From $995.00
Free Shipping
Quick View
Want to learn more? Read our:
About Truck Bed Slides
You work with your truck day in and day out - it's time you make your truck work for you. Installing a Truck Bed Pull Out makes climbing up on your tailgate or leaning against your dusty bed a thing of the past. Our Truck Bed Sliding Trays are tough, dependable, and even look great. Shop for Truck Bed Cargo Slides at AAG and we'll make sure to hook you up with one that perfectly fits your make, model, and year truck.