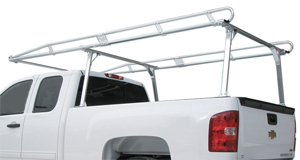 If you work on farms or construction sites, you know how valuable cargo capacity is on your truck or van. With the right equipment on your vehicle you can minimize the number of back-and-forth trips you need to make and get your projects done more quickly and efficiently. One of the most essential accessories you can bolt onto your vehicle is a heavy duty Van Rack or Pickup Truck Ladder Rack.
Our Truck Racks and Ladder Racks come in a variety of styles to suit your vehicle and your specific cargo-hauling needs. Read on and see what one of these durable racks can do for your vehicle and find out what we've named the Top 10 Best Truck Racks, Van Racks, & Ladder Racks of 2021, with reviews!
The Best Truck Rack, Van Rack, and Ladder Rack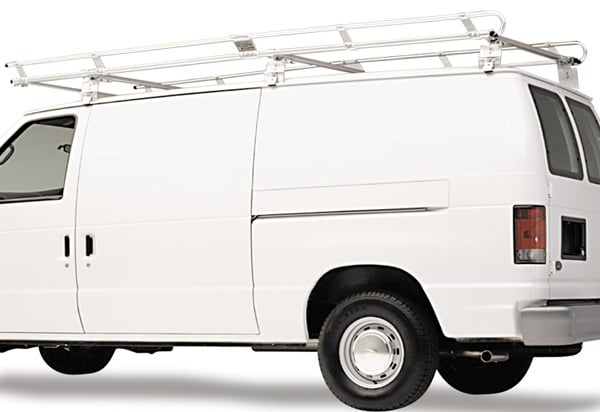 If you drive a van, why settle for anything less than rooftop cargo space? The Hauler Racks Utility Van Rack is built from a sturdy anodized aluminum and can carry up to 1,200 pounds of your gear, tools, and cargo. A permanent mount installation is possible, or you can opt to leave this rack as a removable accessory.
Good working rack, doesn't weigh much but obviously the weight limit itself is quite high. Easy to put together and install.

Read More Hauler Racks Utility Van Rack Reviews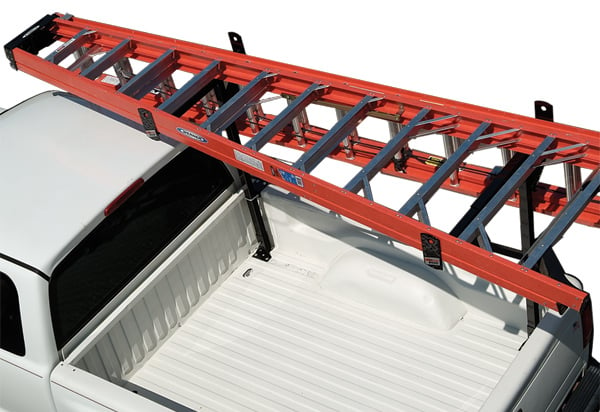 If you want to add a ladder rack to your pickup without losing much bed space, you might be interested in the Cross Tread Moonlighter Ladder Rack. This rack easily installs on one side of your truck bed to leave you with as much bed space as you can handle. This rack is available in your choice of finish.
Fit well and is of good quality. You do have to drill into your truck bed, but anyone with basic mechanical skills can do it.

Read More Cross Tread Moonlighter Ladder Rack Reviews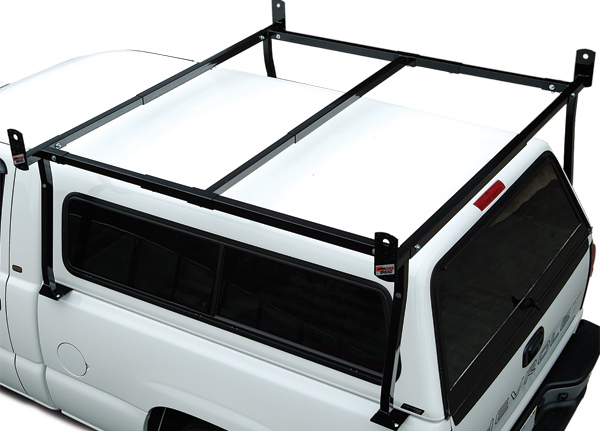 Compatible with virtually any truck and built from heavy-duty steel, the Cross Tread Renegade Truck Rack is easily adjustable and will work with any camper shell or tonneau cover. Plus, it holds up to 1,000 pounds of gear without breaking a sweat so you know this rack is quality.
Sturdy and rugged looking. I like the look almost as much as the function.

Read More Cross Tread Renegade Truck Rack Reviews
A worthy addition to Westin's HDX brand, the Westin HDX Overhead Truck Rack brings style, sophistication, and strength to one sturdy truck rack. Tie down hooks are included all along this rack to provide you with reliable places to secure your gear for long drives.
I already have HDX bumpers (front and rear) and drop steps, so I knew I was going to go with the HDX rack. Really looks great!

Read More Westin HDX Overhead Truck Rack Reviews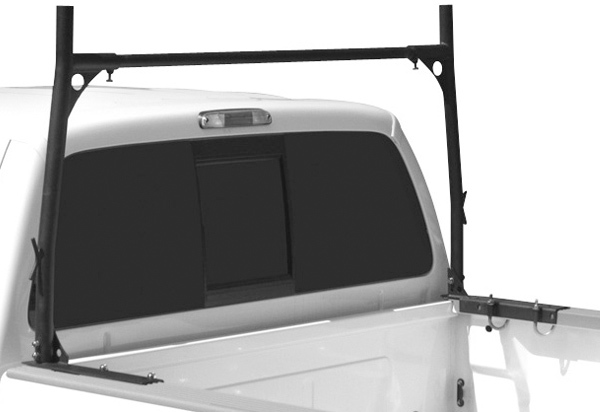 If simplicity is the goal, the ProMaxx Truck Cab Rack is sure to put a smile on your face. This rack gives you and anchor point and tie-down locations for your more oversized loads. No drilling or cutting is required for the installation and all of the mounting hardware is included.
I installed this rack in less than thirty minutes. This is the third one I have ordered for as many trucks. I like the construction and the paint job.

Read More ProMaxx Truck Cab Rack Reviews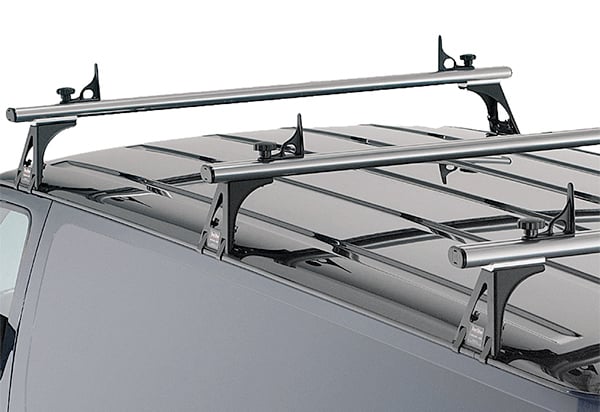 One bar? Two bars? Three bars? It's all up to you when it comes to the TracRac TracVan Can Rack. This easy to use and adjust system allows you to order just what you need to make your van roof exactly how you want it to be. This system is made in the USA and backed by a Lifetime Warranty.a
I live out of my fan for part of the year, so I have to take all storage I can get. This is the perfect set-up for folks trying to carry surf boards on their van.

Read More TracRac TracVan Van Rack Reviews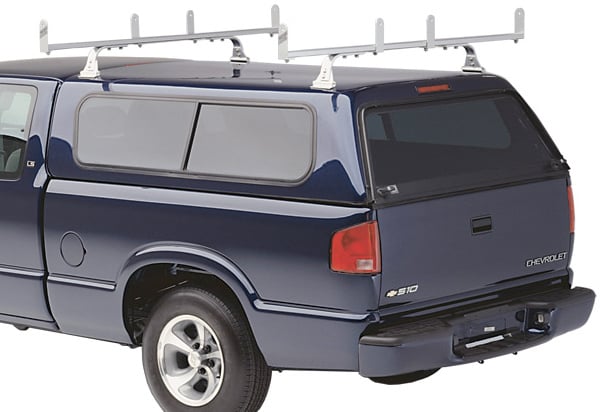 If you have a camper shell on your truck, then you should honestly already have the Hauler Racks Universal Cap Rack. This sturdy rack can be either top-mounted or side-mounted on your camper shell and it will take your storage capacity to the next level.
Solid rack and components. Simple and easy to understand instructions. Wonderful customer service department who helped me with one of my install issues. Very highly recommended.

Read More Hauler Racks Universal Cap Rack Reviews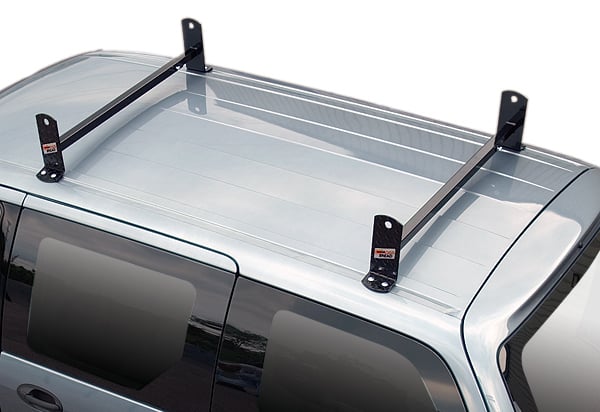 Available in your choice of three finishes, the Cross Tread Roof Mount Van Rack comes with two bars standard, but a third matching bar can be easily added. This system will fit any van and can support up to three-hundred pounds of evenly distributed weight.
Fits great and is very easy to install. Sturdy!

Read More Cross Tread Roof Mount Van Rack Reviews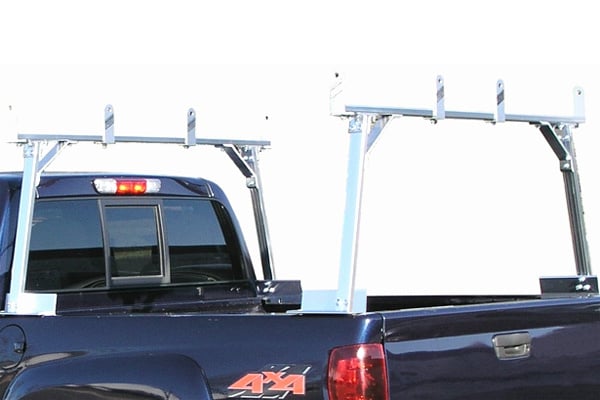 Holding up to five-hundred pounds of gear, the Hauler Racks Econo Truck Rack is up to just about any task you could think of. Because of its width-adjustable design, this rack will fit any pickup truck. Plus, the zinc-coated hardware will resist rust and corrosion for years to come.
I love this rack! It was shipped quickly and was incredibly easy to assemble. I haul both small and large ladders with it.

Read More Hauler Racks Econo Truck Rack Reviews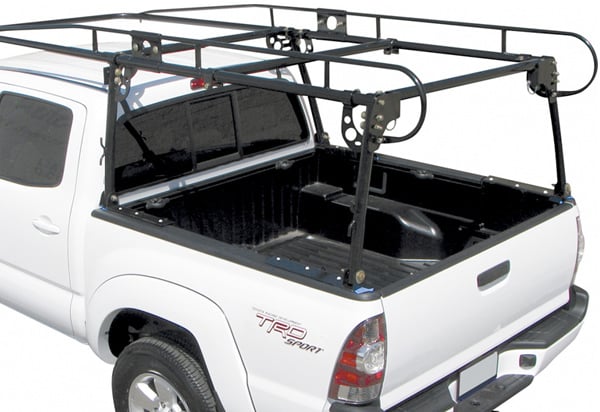 For people who really work out of their truck, the ProMaxx Contractor rack may be the best way to go. This rack has more standard features than any truck rack on the market and is available in several sizes to accommodate whatever make and model of pickup you're currently running.
Fit my Tundra perfectly. Pay close attention to the instructions and you will assemble it fine. I couldn't be happier with it after two weeks.

Read More ProMaxx Contractor Rack Reviews
What's the Best Fit for Your Vehicle? Enter Your Info Below to Find Out!
Truck Racks & Van Racks Buying Guide
What Do Truck Racks Do?
Chances are you've seen plenty of vans and trucks with racks bolted to their beds and roofs. Why are so many of these accessories popping up on the road?
Haul Large Items With A Truck Rack
Your truck or cargo van lets you haul plenty of equipment and materials but some cargo is just too big to fit. You shouldn't drive around town with a ladder dangling from your truck bed or a pile of 2x4s hanging over your van's rear bumper. The safe way to take your large cargo with you is by strapping it to an overhead Truck Rack. Truck Racks and Van Racks let you stow cargo like lumber and pipes over your vehicle, giving you plenty of space for extra-long items.
Truck Racks and Van Racks Maximize Your Cargo Space
Truck Racks virtually double your vehicle's cargo capacity. You can keep plenty of stuff in the back of your truck or van while mounting extra items overhead. Plus, our racks are built from tough materials to support hundreds of pounds for heavy-duty hauling. With a Truck Rack or Van Ladder Rack on your vehicle you can carry more gear at once and do it safely.
Truck Rack & Van Rack Styles
Truck Roof Racks & Van Racks come in a variety of styles to suit different vehicles and cargo hauling needs. Let's take a look at the different types of cargo racks out there.
Ladder Racks
Ladder Racks for Trucks are the most common design you'll see on the road. These racks let you carry gear over your truck bed and cab, maximizing your cargo capacity. They bolt directly to your bed rails and haul anywhere from 500 to 1,200 pounds of cargo. They can be built from rugged steel, like the ProRac Contractor Series Truck Rack, or you can go with the strong and lightweight construction of Hauler Racks Truck Racks.
Cap Racks
You can enjoy the benefits of a pickup truck bed rack even if your pickup truck is equipped with a bed cap or camper shell. Models like the Hauler Racks Hauler II Cap Rack mount to the sides of your shell, while the Hauler Racks Universal Cap Rack bolts to the top of your cap. With a Cap Rack, you can keep your cargo secure under the shell while mounting your longer gear overhead.
Tonneau Cover Racks
Tonneau Covers offer weather protection and security for your valuable cargo, and a Tonneau Cover Rack lets you haul extra gear at the same time. These racks are designed to provide heavy-duty strength while maintaining full function of your tonneau cover. The BAK BakTrack is designed to work in conjunction with BakFlip Tonneau Covers, and the ProRack Tonneau Rack accommodates a variety of tonneaus from several different manufacturers.

Van Racks
Handy ladder and cargo racks aren't only made for pickup trucks. Van Racks mount to the roof of your van and provide a trusty place to carry your longer ladders and lumber. Units like the Hauler Racks Utility Van Rack can either be bolted to the roof or temporarily attached to your drip wells for an easy installation. Whether you work with a contractor-ready Ford Econoline or the family's Dodge Caravan, Van Ladder Racks maximize your versatility.
Van Racks are available as standard roof racks, or you can add extra accessories for maximum convenience.
The Hauler Racks Drop Down Ladder Rack attaches to your Hauler Racks van rack and lets you drop your ladder off to the side for easy access. It's equipped with hydraulic cylinders to stop the ladder from slamming into your van, and you don't have to lean or stretch to get to your ladder.
This video shows how easy the Drop Down Ladder Rack is to use.
Choose the Best Truck Rack for your vehicle
We offer a wide variety of Truck Racks and Van Ladder Racks. Here are some guidelines to consider when trying to find the best Ladder Rack.
Your Vehicle Type
Helpful Tip: Experience matters! When shopping for a ladder rack for your truck or van, read our Truck Rack Reviews and see how our products are working for your fellow drivers.The type of vehicle you drive is important when determining what rack to purchase. There are several different racks available for pickup trucks including the Hauler Racks Overhead Truck Rack and the Access Adarac Truck Rack. If you're equipped with a camper shell, go with a rack that accommodates your cap like the Hauler Racks Utility Cap Rack.
When it comes to vans, make sure the Van Rack you choose is suited to your vehicle. Most Van Ladder Racks simply mount to your drip wells, and models like the ProRac Contractor Van Rack adjust to fit a variety of cargo vans and minivans.
Your Cargo Needs
What kind of cargo are you trying to haul? Our Truck Racks and Van Racks are designed for different types and weights of cargo. For lighter-duty use like ladders and pipes, a more simple rack like the 500 lb. capacity Hauler Racks Ladder Rack will do the job. If you need to carry heavier piles of lumber like lumber and rebar, go with a higher-rated rack like the Hauler Rack II Taruck Rack. This rack is rated to carry a whopping 1200 pounds, so you can haul even the heaviest gear.
Final Thoughts
By simply bolting on a Ladder Rack you can enhance your truck or van's cargo-hauling versatility and boost your productivity. We hope this Truck Racks & Van Racks Research Guide will help you make a better decision when shopping for Ladder Racks for pickups and vans. If you have any questions about the info in this guide, please call our experienced Customer Service team at 800-663-1570.