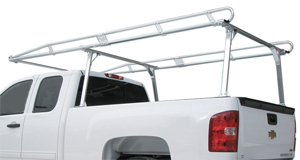 If you work on farms or construction sites, you know how valuable cargo capacity is on your truck or van. With the right equipment on your vehicle you can minimize the number of back-and-forth trips you need to make and get your projects done more quickly and efficiently. One of the most essential accessories you can bolt onto your vehicle is a heavy duty Van Rack or Pickup Truck Ladder Rack.
Our Truck Racks and Ladder Racks come in a variety of styles to suit your vehicle and your specific cargo-hauling needs. Read on and see what one of these durable racks can do for your vehicle and find out how to choose the best Ladder Rack for your truck or van.
What Do Truck Racks Do?
Chances are you've seen plenty of vans and trucks with racks bolted to their beds and roofs. Why are so many of these accessories popping up on the road?
Haul Large Items With A Truck Rack
Your truck or cargo van lets you haul plenty of equipment and materials but some cargo is just too big to fit. You shouldn't drive around town with a ladder dangling from your truck bed or a pile of 2x4s hanging over your van's rear bumper. The safe way to take your large cargo with you is by strapping it to an overhead Truck Rack. Truck Racks and Van Racks let you stow cargo like lumber and pipes over your vehicle, giving you plenty of space for extra-long items.
Truck Racks and Van Racks Maximize Your Cargo Space
Truck Racks virtually double your vehicle's cargo capacity. You can keep plenty of stuff in the back of your truck or van while mounting extra items overhead. Plus, our racks are built from tough materials to support hundreds of pounds for heavy-duty hauling. With a Truck Rack or Van Ladder Rack on your vehicle you can carry more gear at once and do it safely.
Truck Rack & Van Rack Styles
Truck Roof Racks & Van Racks come in a variety of styles to suit different vehicles and cargo hauling needs. Let's take a look at the different types of cargo racks out there.
Ladder Racks
Ladder Racks for Trucks are the most common design you'll see on the road. These racks let you carry gear over your truck bed and cab, maximizing your cargo capacity. They bolt directly to your bed rails and haul anywhere from 500 to 1,200 pounds of cargo. They can be built from rugged steel, like the ProRac Contractor Series Truck Rack, or you can go with the strong and lightweight construction of Hauler Racks Truck Racks.
Cap Racks
You can enjoy the benefits of a pickup truck bed rack even if your pickup truck is equipped with a bed cap or camper shell. Models like the Hauler Racks Hauler II Cap Rack mount to the sides of your shell, while the Hauler Racks Universal Cap Rack bolts to the top of your cap. With a Cap Rack, you can keep your cargo secure under the shell while mounting your longer gear overhead.
Tonneau Cover Racks
Tonneau Covers offer weather protection and security for your valuable cargo, and a Tonneau Cover Rack lets you haul extra gear at the same time. These racks are designed to provide heavy-duty strength while maintaining full function of your tonneau cover. The BAK BakTrack is designed to work in conjunction with BakFlip Tonneau Covers, and the ProRack Tonneau Rack accommodates a variety of tonneaus from several different manufacturers.

Van Racks
Handy ladder and cargo racks aren't only made for pickup trucks. Van Racks mount to the roof of your van and provide a trusty place to carry your longer ladders and lumber. Units like the Hauler Racks Utility Van Rack can either be bolted to the roof or temporarily attached to your drip wells for an easy installation. Whether you work with a contractor-ready Ford Econoline or the family's Dodge Caravan, Van Ladder Racks maximize your versatility.
Van Racks are available as standard roof racks, or you can add extra accessories for maximum convenience.
The Hauler Racks Drop Down Ladder Rack attaches to your Hauler Racks van rack and lets you drop your ladder off to the side for easy access. It's equipped with hydraulic cylinders to stop the ladder from slamming into your van, and you don't have to lean or stretch to get to your ladder.
This video shows how easy the Drop Down Ladder Rack is to use.
Compare Our Most Popular Truck Racks & Van Racks
Price
from $672.35
from $180.20
from $358.70
from $435.20
from $97.11
Shipping
Free Shipping
Free Shipping
Free Shipping
Free Shipping
Free Shipping

Rating

Overall:
Performance:
Quality:
Appearance:

Install Time
1-2 hours
30-60 minutes
1-2 hours
1-2 hours
30-60 minutes
Fit
Vehicle-Specific Fit
Universal Fit
Universal Fit
Universal Fit
Universal Fit
Warranty
1-Year Warranty Against Rust
1-Year Warranty Against Rust
1-Year Warranty Against Rust
More Details
More Details
More Details
More Details
More Details
Choose the Best Truck Rack for your vehicle
We offer a wide variety of Truck Racks and Van Ladder Racks. Here are some guidelines to consider when trying to find the best Ladder Rack.
Your Vehicle Type
Helpful Tip: Experience matters! When shopping for a ladder rack for your truck or van, read our Truck Rack Reviews and see how our products are working for your fellow drivers.The type of vehicle you drive is important when determining what rack to purchase. There are several different racks available for pickup trucks including the Hauler Racks Overhead Truck Rack and the Access Adarac Truck Rack. If you're equipped with a camper shell, go with a rack that accommodates your cap like the Hauler Racks Utility Cap Rack.
When it comes to vans, make sure the Van Rack you choose is suited to your vehicle. Most Van Ladder Racks simply mount to your drip wells, and models like the ProRac Contractor Van Rack adjust to fit a variety of cargo vans and minivans.
Your Cargo Needs
What kind of cargo are you trying to haul? Our Truck Racks and Van Racks are designed for different types and weights of cargo. For lighter-duty use like ladders and pipes, a more simple rack like the 500 lb. capacity Hauler Racks Ladder Rack will do the job. If you need to carry heavier piles of lumber like lumber and rebar, go with a higher-rated rack like the Hauler Rack II Truck Rack. This rack is rated to carry a whopping 1200 pounds, so you can haul even the heaviest gear.
Final Thoughts
By simply bolting on a Ladder Rack you can enhance your truck or van's cargo-hauling versatility and boost your productivity. We hope this Truck Racks & Van Racks Research Guide will help you make a better decision when shopping for Ladder Racks for pickups and vans. If you have any questions about the info in this guide, please call our experienced Customer Service team at 800-663-1570.
This page was written by Packy AutoAccessoriesGarage