Minivan & SUV Tents
Your minivan or sport utility vehicle is great for taking the family on those big road trips. Why not make the most of it at your destination, too? These minivan and SUV tents make excellent use of the extra space in your vehicle. They attach to your vehicle with a seamless connection, giving you tons of room to sleep and access your gear. Toss an air mattress in the back of your vehicle and you've got a full-fledged camping suite. Minivan and SUV tents are made to fit your specific vehicle and are built from the toughest materials to stand up to the rigors of camping.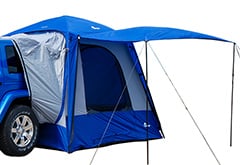 The Napier Sportz SUV & Minivan Tent helps you camp on the the road. This SUV Tent sleeps 4-5 people and can also operate as a stand alone tent. Great for camping and tailgating, the Sportz SUV & Minivan Tent comes in a variety of styles and sizes.
From $349.99
Free Shipping
Quick View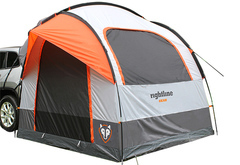 Going on a camping trip doesn't mean you have to sacrifice the comforts of home. The RightLine Gear SUV Tent hooks up to your SUV, van, or wagon/crossover to provide full access to your vehicle's interior. It's made from water-resistant fabric and includes a large screen room for bug-free relaxation.
From $289.95
Free Shipping
Quick View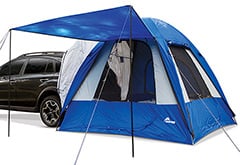 The Sportz Dome-To-Go Hatchback Tent gives you the freedom to camp anywhere. Perfect for tailgating and camping, this hatchback tent sleeps 4 adults and features a patented slip panel that opens up to your vehicle's trunk. The Sportz Dome-To-Go can also be converted into a standalone camping tent in minutes.
From $289.99
Free Shipping
Quick View
Want to learn more? Read our:
About Minivan & SUV Tents
If you think about it, few accessories for your SUV or minivan make more sense than minivan and SUV tents. Active as your family stays, a Ford Escape tent in back of your SUV, or a Dodge Caravan tent for the family minivan, can be the difference between a decent trip and one nobody will ever forget. When you use an SUV tent you save yourself money and provide a more intimate vacation atmosphere. Or even if you're flying solo over a weekend jaunt, you won't have to worry about big money hotel rooms or uncomfortable sleeping arrangments, not with a Land Rover Discovery tent providing you shelter from the comfort of your vehicle's rear cargo area.
AutoAccessoriesGarage.com is the perfect place to buy minivan or SUV tents. Simply input your particular SUV into our selector widget, and we'll show you every tent available for it. Full color photos and detailed descriptions come with every product, and once you've decided to buy something it ships to you free of charge. Change the way you camp, so much for the better, by shopping at AAG!
More Popular Minivan & SUV Tents Vehicles: