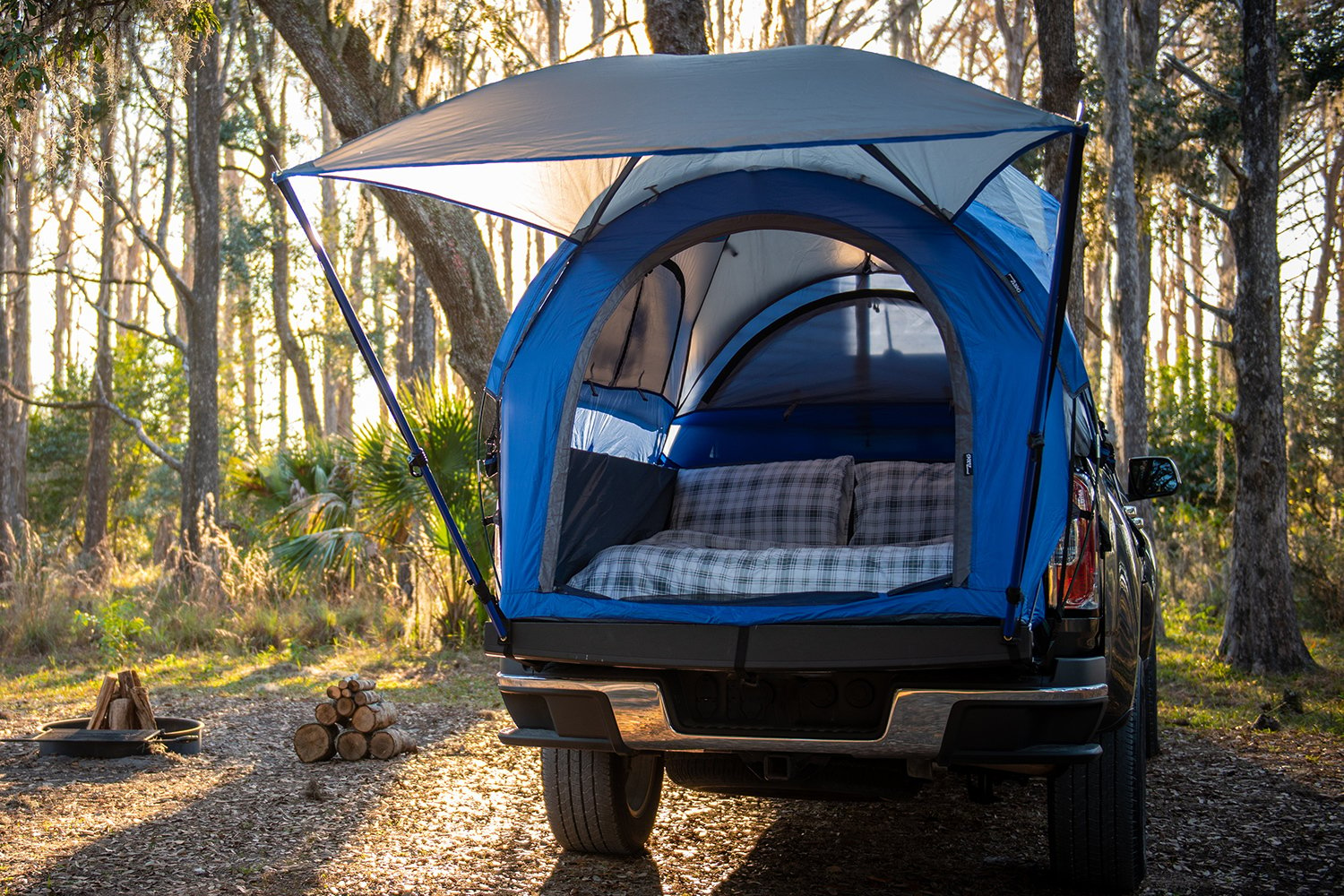 We can all agree, camping is great! The only downside is that pitching a tent can be a long and arduous process and even at the end of it, you still have to sleep on the cold and uneven ground with nothing but a tarp between you and the dirt. Sleeping in your car or truck bed is another option, but sleeping in a vehicle isn't known to be especially comfortable either. That is, unless you have a car, SUV, or truck tent! When you have a truck tent, laying out under the stars in the comfort of your own pickup just got a lot more comfortable! But it's not only truck owners that get the luxury of a custom-designed tent. We have options for hatchback cars, station wagons, SUVs, and mini-vans. But where to even start on the search for the perfect tent for your vehicle? We looked at customer reviews, ratings, and more to find you the Top 5 Best Truck Tents of 2022!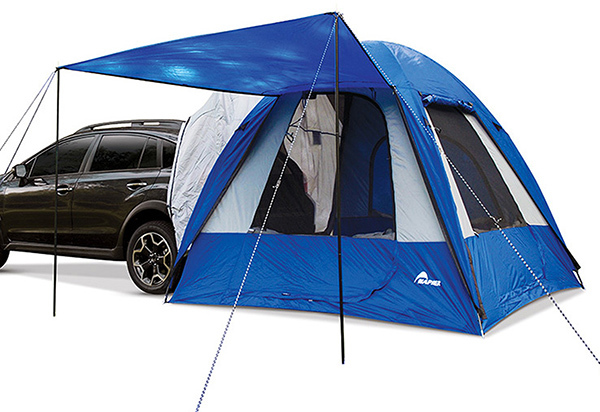 First up on our list, what if you don't have a truck? Well you're in luck, because all you need to sport the Sportz Dome-To-Go—Hatchback Tent is a vehicle with a hatchback cargo opening. Once in place, this tent can comfortably sleep up to four adults and can also be assembled on it's own, away from the car.
This was a real game changer for my cross-country roadtrip in my Focus. Took Route 66 the long way and camped in some of the best camp grounds I've ever seen.

Read More Sportz Dome-To-Go Hatchback Tent Reviews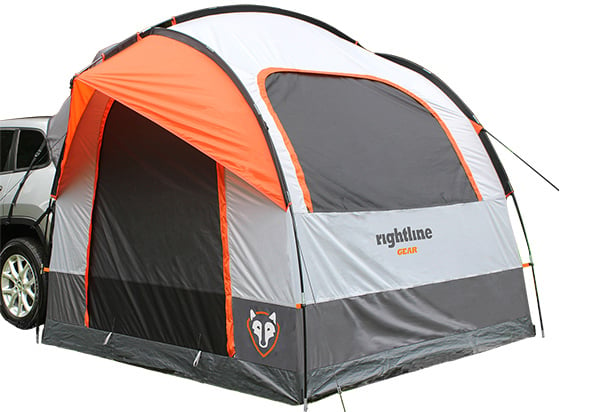 SUV owners? You're in luck too, because number four on our list is specifically made to fit Sports Utility Vehicles. Feast your eyes on the Rightline Gear SUV Tent. Tough, rip-stop polyester is used for the construction, so you know this bad boy is made to last. This tent will also fit wagons and trucks with shells.
Not any harder to set up than a traditional tent, but slightly more comfortable to sleep on an air matress in my Suburban than on the cold ground.

Read More Rightline Gear SUV Tent Reviews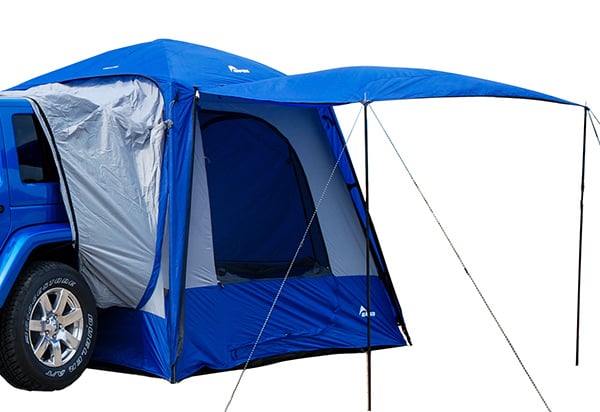 Soccer Moms and Hockey Dads rejoice! You can now install a tent on the cargo area of your mini-van! The secret is owning a Sportz Minivan & SUV Tent which includes shock corded fiberglass tent poles to make set-up easy and seriously strong! This enormous tent is perfect for both sleeping and tailgating!
Setup of the tent wasn't too hard, and it's quite a bit larger than we thought it would be. I haven't taken it out camping yet but did set it up in the driveway and everything for a dry run

Read More Sportz Minivan & SUV Tent Reviews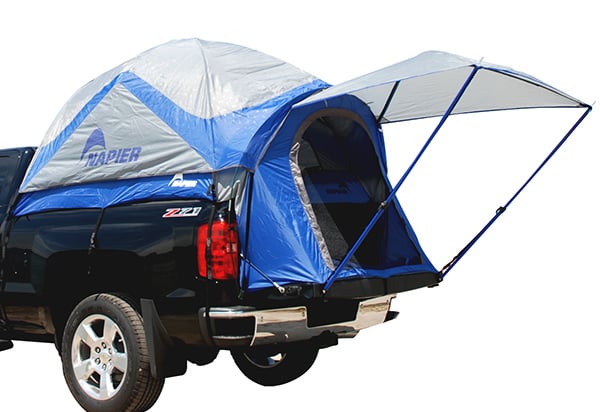 Now for all you truck nuts out there – the Sportz Truck Tent III takes years of innovation from Sportz and puts it in one handy and easy to use tent. Each component is color-coded so set-up as easier than ever, and this rain-proof tent will sleep two comfortably in the safety of your truck bed.
The tent was easy to put up and plenty of room for two. I highly recommend this tent.

Read More Sportz Truck Tent III Reviews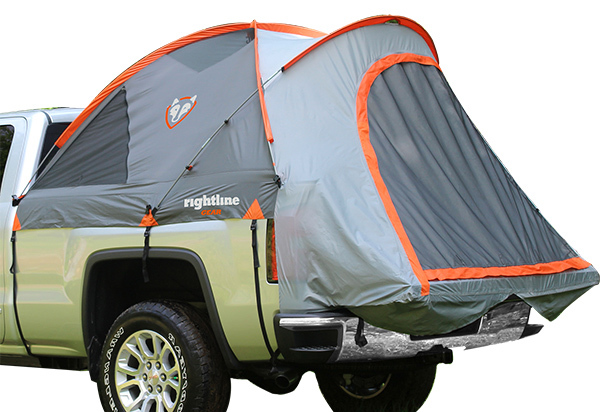 Capping off our list is simplicity at its finest, the Rightline Gear Truck Tent. You have a truck, you want a tent to put a tent in the bed – this is your dream come true. Gear pockets, large doors and windows, even a sky view with a weather cover – this tent has it all. Plus, setup is easy and doesn't require tarps, guy lines, or any of that mess.
Great addition to the truck for making those quick getaways for an overnight fishing or camping trip for one or two. Well made and is very sound and dry.

Read More Rightline Gear Truck Tent Reviews
What's the Best Fit for Your Vehicle? Enter Your Info Below to Find Out!