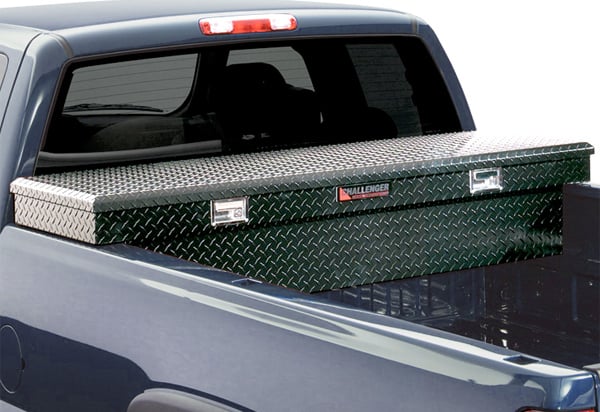 Pickup trucks are associated with one thing: hard work. You use your truck to get all kinds of jobs done, whether you're a contractor, construction worker, or just handy fixer-upper. You also have a big collection of tools, and need a safe place to store and organize them while keeping them readily available. That's where Truck Toolboxes come in.
Read on and learn about the different types of Truck Bed Toolboxes we offer, and find out how to pick the right Truck Toolbox for your needs.
The Benefits of Truck Toolboxes
Trucks all over the world have some kind of tool box bolted onto their beds. Why do so many drivers count on these toolboxes?
Storage & Organization
You've probably got a whole arsenal of screwdrivers, sockets, and other small tools you need to call upon every day. With a Truck Toolbox you can keep all those tools and bits in one place without them sliding around your truck bed. Many boxes, like the Deflecta-Shield Toolbox, even include 1 or 2 small trays to hold your smallest bolts and other items so they don't fall to the bottom under your other tools.
A Dee Zee Tool Box, Deflecta-Shield Toolbox, or BAK Truck Toolbox makes a great place to store gear of any kind - even if you aren't a tool-slinger. You can use our Truck Tool Boxes to haul everything from camping gear to groceries, and keep everything organized and safe.

Weather Protection
Don't let your tools rust out in the open! By storing the tools of your trade in a Truck Toolbox you can keep them protected from rain, snow, and UV rays for an extended service life. Virtually all toolboxes, including the Dee Zee Crossover Truck Toolbox, feature weatherstripping foam on the underside of the lid. This provides a reliable shield against rain and dust, so your tools stay dry and oxidation-free.
Theft Prevention
Your tools aren't only an expensive investment - they may also be what you use to put food on the table. If you value your tools, make sure you have them secured with a Locking Truck Tool Box. Most boxes include locking mechanisms, whether they're quick-release latches like on the Dee-Zee Platinum Series Toolbox or push-button keyed locks like the Defelcta-Shield Seal-Tite Toolbox. The BakBox, on the other hand, does not have a lid and instead locks up when you close your BakFlip Tonneau Cover.
The following video shows off the unique design of the BAK BakBox Toolbox and how it uses the tonneau cover for secure, invisible storage:
Compare Our Most Popular Truck Toolboxes
Price
from $288.49
from $313.91
from $353.28
from $393.73
from $289.00
Shipping
Free Shipping
Free Shipping
Free Shipping
Free Shipping
Free Shipping
Special Offers

Same Day Shipping

Rating

Overall:
Performance:
Quality:
Appearance:

Install Time
2+ Hours
30-60 minutes
30-60 minutes
Under 30 minutes
Under 30 minutes
Fit
Universal Fit
Universal Fit
Universal Fit
Universal Fit
Vehicle-Specific Fit
Colors
Warranty
1-Year Warranty
1-Year Warranty
1-Year Warranty
Lifetime Warranty
1-Year Warranty
More Details
More Details
More Details
More Details
More Details
Truck Tool Box Styles
There are a handful of different Truck Toolbox styles out there. Let's take a look at the various ways you can store tools in your truck bed.
Crossover Truck Toolboxes

Crossover Truck Toolboxes are the most common type you see on the road. These boxes mount against the back of your cab and typically rest on the bed rails. They're available in a variety of sizes, from the huge-capacity Deflecta-Shield Challenger Deep Truck Toolbox to the Dee Zee Low-Profile Tool Box, which offers better rear visibility and sleek style.
Crossover Tool Boxes are most often designed with a single lid that opens back towards your cab, but there are some other options. Gull-Wing Truck Toolboxes, including the Deflecta-Shield Ultima Gull Wing Toolbox, include two doors that open towards the center. This provides extra side access to your tools, and splits the lid weight in half for easier opening and closing.
Side-Mount Truck Tool Boxes
If you demand quick and easy access to your tools, a Crossover Toolbox might not be the way to go. Gear at the center of a crossover box may be hard to reach, especially if your truck bed is already full of gear. A Side Mount Truck Toolbox may be the way to go. These boxes install over the sides of your bed, giving you full-on access. They can also be made a little longer than crossover boxes, so you can fit longer gear. Our Side Mount Toolboxes include the Deflecta-Shield Challenger Side-Mount Truck Toolbox, which opens like a crossover, or the DeflectaShield Challenger Topside Tool Box, which mounts vertically with doors that open down.
Specialty Toolboxes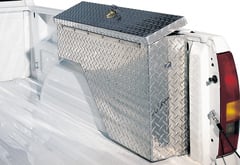 You can add extra storage even in unlikely places with Specialty Toolboxes. These boxes include stand-alone tool chests like the Deflecta-Shield Hand Tote Box for storage you can take with you on the go. You can also mount extra tool storage behind the wheel wells with the Dee Zee Wheel Well Tool Box. If you're pulling a trailer, go with the Deflecta-Shield Trailer Tongue Tool Box. This trapezoidal box mounts on top of your trailer tongue, giving you an extra storage area that's perfect for ball mount wrenches and other gear.
How To Choose The Right Truck Toolbox
Did You Know? Truck Toolboxes come in a variety of materials, including aluminum and stainless steel. Many also come in Polished or Black Powder Coat finish, so you can further customize your truck's style.With so many options out there, what's the right Truck Toolbox for your needs? Here are some things to think about.
Cargo Capacity
The first thing to consider is how much capacity you'll need. If you frequently take larger power tools and other big cargo on the road, you may want to consider a larger box like the Deflecta-Shield Toolbox. If you want easier access to small tools and hardware, choose a shallower Dee Zee Truck Toolbox.
Location & Tool Access
Cargo access is also something to think about when shopping for a Truck Toolbox. If your truck bed will be frequently occupied, a standard Crossover Toolbox might not be the optimal choice. A side-mount box like the Deflecta-Shield Challenger Side Mount Truck Toolbox will give you full and easy access to your gear, even with a full bed. You can also try a Dee Zee Specialty Series Wheel Well Tool Box to minimize the need for stretching and reaching.
How To Measure Your Truck Bed For A Toolbox
Truck Toolboxes are typically built in size classes based on what class of truck you drive. You should still check your truck bed's internal dimensions before deciding on a box to double-check that it fits. If you take the proper measurements ahead of time you can choose a toolbox that will fit your bed snugly and securely without hanging off the sides. There are a few measurements you should take when choosing a Truck Bed Toolbox:
Bed Wall Height (Height 2)
Distance Between Outside of Bed Rails (Length 1)
Distance Between Inside of Bed Rails (Length 2)
Distance Between Base of Wheel Wells and Bulkhead (Width 1)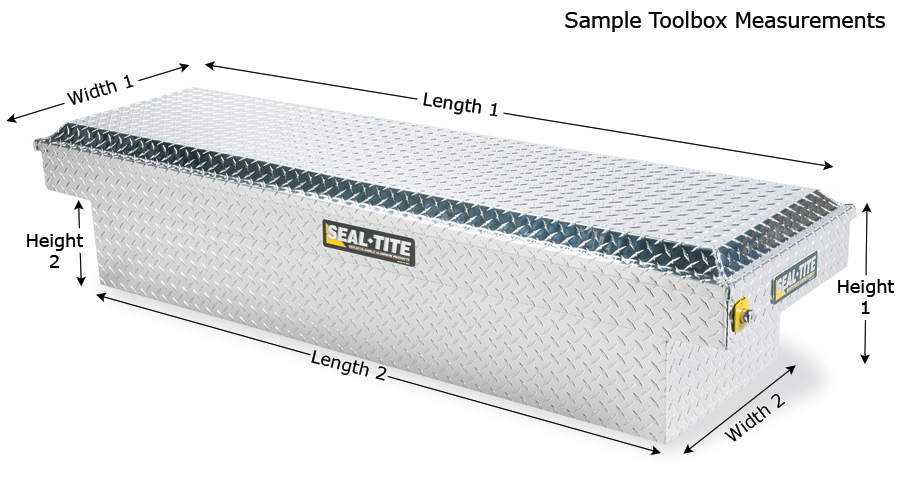 Conclusion
A Truck Toolbox is the perfect way to safely store everything you need for any job. We hope this Truck Tool Box Research Guide will help you in your search for the right Truck Toolbox for your needs. If you have any questions or suggestions about the info in this guide, feel free to call our experienced Customer Service staff at 800-663-1570.
This page was written by Packy AutoAccessoriesGarage