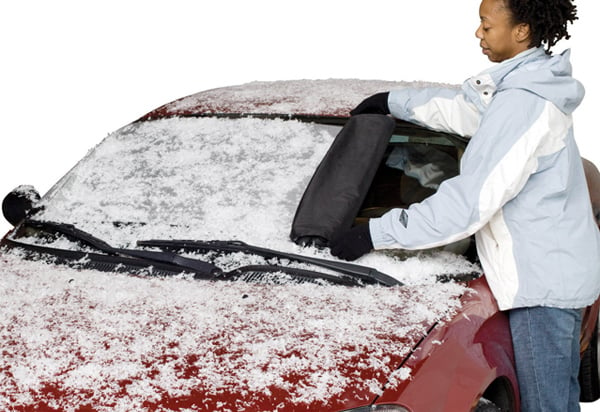 Winter is the most challenging season for vehicles of all types. Frigid temperatures, massive snow drifts, and icy roads all combine to threaten your vehicle's lifespan and make for a nerve-wracking and dangerous driving experience. When the leaves are gone and the mercury starts to drop, make sure you're properly equipped to take on the coming season with Winter Accessories.
We offer a full line of Winter Driving Accessories, from snow chains and windshield covers to snow plows and salt spreaders. Whether you need to clear parking lots of snow and ice or just get to work without sliding off the road, we've got what you need. Read on to learn about the different Winter Accessories we offer.
Snow Plows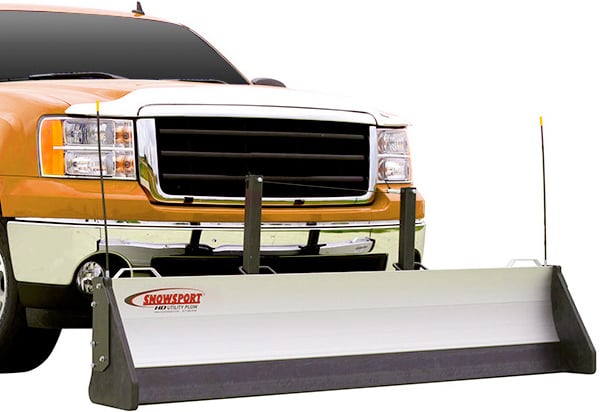 It's time to put away the shovel and become the hero of the neighborhood. With a Snow Plow mounted to your pickup truck or SUV you can push huge mounds of snow out of driveways, parking lots, and paths by simply driving forward. Truck Snow Plows are especially valuable for property managers with parking lots and homeowners with very long driveways who can't possibly clear a path with just a snowblower.
Helpful Tip: Many plows, including the SnowSport 180 Plow, can be installed on the front or rear of your vehicle. This means getting out of your snowed-in driveway can be as simple as dropping the plow and backing out of your garage.You don't need an insanely expensive, hydraulic-powered commercial-grade plow like you see on municipal trucks. In fact, our Snow Plows are lightweight, easy to install and use, and most importantly they're affordable. Our Snow Plows are designed specifically for homeowners and truck drivers that need easy, light-duty snow pushing that won't cost an arm and a leg to purchase or maintain.
The SnowSport HD Plow and SnowBear Snow Plow are prime examples of affordable plows that get the job done without excessive weight or cost. Each has their own benefits. The SnowSport has no motors, hydraulics, or electrical components so there's virtually no maintenance and no hassles necessary. Simply pull the locking pins out and drop the plow to start pushing snow. The SnowBear Plow utilizes a slightly more complicated electric winch system for easy raising and lowering from inside your cab, but it's easy to install and hooks up directly to your battery without further modifications.
Check out the video below and watch the Access SnowSport Snow Plow in action.
Snow Plow Accessories
There are a variety of ways you can maximize the function and convenience of your snow plow. With Snow Plow Accessories you can protect the plow from damage and enhance your towing safety. Heavy Duty Skid Shoes keep the plow safe from gravel and uneven terrain, while a Snow Deflector blocks snow from spraying up onto the windshield. For additional safety, equip your plow with an Off-Road Light Kit and a Plow Marker Kit to maximize your visibility.
ATV Snow Plows
Snow Plows aren't just available for pickup trucks and SUVs. With a SnowSport ATV Plow or SnowBear ATV Snow Plow you can turn your 4-wheeler into a versatile snow-pusher. These plows are designed specifically for ATVs and UTVs, with custom mounting brackets for easy installation. With an ATV Snow Plow you can quickly tackle long driveways, sidewalks, and other narrow paths that full-size vehicles can't reach.
Salt Spreaders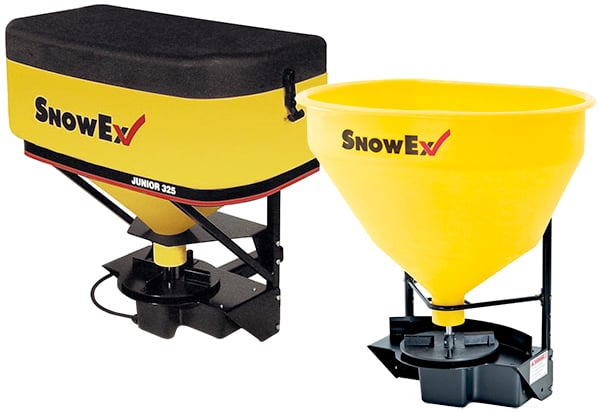 When clearing paths and large lots of snow, you need to also consider the layer of ice that inevitably builds up on the ground. Don't spend your day walking around with a heavy bag of salt - beat the ice with a Salt Spreader. These devices attach to the back of your truck and throw a stream of rock salt in your wake. These spreaders are made from rust-resistant materials and feature electric motor-driven spinners that evenly spread salt across the road.
If you need lighter-duty salt spreading for smaller lots and roads, check out the SnowEx Salt Spreader. This spreader is available in a range of sizes and styles for everyone from home owners to property managers. It can be mounted on a receiver hitch, making it universally easy to install. For heavy-duty contractor salting, go with the SnowEx Pro Salt Spreader. This massive salt spreader is designed for full-size pickup trucks and dump trucks. It boasts a 1.4 cubic-yard, 3,240 lb. capacity and spreads both sand and salt. Despite its huge size and capabilities, it still runs only on 12-volt power, minimizing maintenance hassles and fuel costs.
Compare Our Most Popular Winter Accessories
 
Price
from $1,500.00
from $39.29
from $1,631.99
from $46.49
from $1,349.00
Shipping
Free Shipping
Free Shipping
Free Shipping
Free Shipping
Free Shipping
Special Offers

Same Day Shipping

 
 
 
 

Rating

Overall:
Performance:
Quality:
Appearance:

Install Time
2+ Hours
Instant
2+ Hours
Instant
1-2 hours
Fit
Vehicle-Specific Fit
Vehicle-Specific Fit
Universal Fit
Vehicle-Specific Fit
Vehicle-Specific Fit
Blade Size
84"

---

96"
 
82"

---

84"

---

88"
 
72"

---

80"

---

90"
Material
Aluminum
 
Steel
 
Steel
Operation
Manual
 
Motorized
 
Hydraulic

---

Motorized
Extra Hardware Required?
 
 
Front-Mount Hitch Required (sold separately)
 
 
Remote Control Type
No Remote
 
Up, Down

---

Wireless
 
Up, Down, Left, Right

---

Wired
Warranty
1-Year Limited Warranty
Lifetime Warranty
1-Year Warranty
1-Year Warranty
1-Year Warranty
 
More Details
More Details
More Details
More Details
More Details
Winter Driving Accessories
Aside from pushing snow and throwing salt, there are other ways you need to equip your vehicle for the winter. Check out the following Winter Driving Accessories and improve your driving safety and convenience.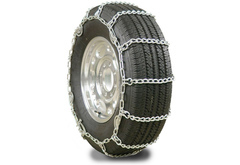 Snow Chains
If you live in a snowy climate, you are probably already familiar with Snow Chains (aka Tire Chains). These chains are wrapped around your tires to provide extra traction over ice and snow. You can go with standard Pewag Glacier Square Link Snow Chains or choose a set with a diamond-like shape, such as Pewag Twist Link Tire Chains. You can also up your traction with snow cables like Pewag Glacier Tire Cables. Snow Chain Sizing: Snow chains are sold in many sizes to fit different tires, and it's essential that you purchase the correct chains. Your tires have a standardized code on the sidewall. The first letter(s) indicate the vehicle type. After that are 3 digits that give the tire width in millimeters. The next 2-digit number provides the tire's height/width ratio. Use these numbers to determine your chain size.These "chains" are made from heavy duty cable that is durable enough to tackle snow and ice, yet has a lower profile than chains to provide extra clearance in your wheel wells.
There are a few things to keep in mind when using your Snow Chains to ensure maximum performance and safety for your vehicle:
Stay below the chains' maximum rated speed (typically 20-30 MPH).
Maintain proper chain tension and check tightness from time to time. Loose chains can wrap around your vehicle's drive axle and cause serious problems.
Do not drive with chains on dry roads for extended periods of time
Only install chains on driven wheels
Depending on where you live, Tire Chains may be required by law in snowy conditions or during certain months. On the other hand, they may be banned in certain jurisdictions to protect their road surfaces. Be sure to check with your local authorities before installing and using your Tire Chains.
Grille Covers
Extreme cold robs your truck's engine of horsepower and makes it burn a lot more gas. Sometimes your engine needs to bundle up the same way you do with a big winter coat. Grille Covers keep your engine warmer by preventing ice-cold air from entering through the grille. By maintaining higher engine bay temps in the winter months you can improve fuel efficiency and keep the power you need. The Fia Grille Cover is custom-fit to your exact truck and features a heavy-duty quilted vinyl outer layer with air-flow doors that provide just enough air to improve fuel economy without freezing your engine.
Windshield Covers
Everyone knows what a hassle it is to scrape and brush snow piles and ice off your windshield. The best way to minimize that struggle is by keeping ice and snow from reaching your window in the first place. Windshield Covers lay over your windshield when you aren't driving, forming a barrier between snowfall and the glass. When you return to your vehicle, simply pull the cover off and your windshield will be clean and free of snow and ice. Windshield Shades like the Intro-Tech Windshield Snow Cover and Classic Accessories Windshield Cover secure to your vehicle by 2 flaps that close in your doors to prevent theft.
Conclusion
Winter can be a harsh season for drivers, but when you equip yourself with the right Winter Accessories you can tackle the ice, sleet, and snow with confidence. We hope the information in this research guide will help you find the right winter gear for your vehicle. If you have any questions about the information in this guide, please call our knowledgeable Customer Service department at 800-663-1570.