Face it - snow shovels, and even snowblowers, are a thing of the past. If you need to clear long driveways, lots, and trails, it's time to mount a Snow Plow to your truck and save the day. Whether you're a homeowner with a long path from the street to the house or a property manager who has parking lots to maintain, a truck snow plow is absolutely critical. Let's take a closer look at our Truck and SUV Snow Plows, and see how they can make your life in the winter a whole lot easier.
Why Add A Snow Plow To Your Truck?
Helpful Tip: Some plows, such as the SnowSport 180 Plow, can be mounted on the front or rear of your vehicle. This means if your driveway is snowed in, getting out can be as simple as backing out of your garage with the plow down.The benefits of having a snow plow on your truck or SUV are pretty obvious - You can instantly say farewell to the hassles of shoveling and snowblowing, clear long paths and lots from the warmth of your driver's seat, and get the job done faster than ever.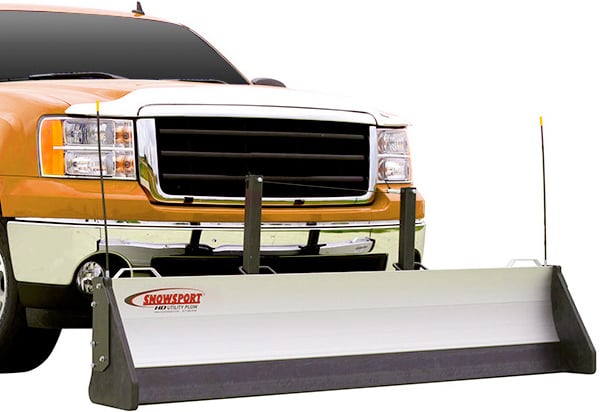 One big misconception about plows, however, is that they're super-expensive, unmanageably bulky, and hard to maintain. With the home plows we sell at AutoAccessoriesGarage.com, that couldn't be farther from the truth. Our Snow Plows are specially designed with homeowners in mind, so they're easy to use, lightweight, and reasonably priced for just about any budget.
For example, check out the SnowSport HD Plow and SnowBear Snow Plow. These plows let you clear your pathways easily, without the insane weight or cost of industrial-grade hydraulic plows. How do they do it? The SnowSport achieves this by utilizing a non-motorized, non-hydraulic, non-electrical design, so it's affordable and simple to use. The SnowBear Snow Plow operates with an electric winch system, but it's also easy to install and simple to hook up to your battery.
Compare Our Top 5 Selling Snow Plows
 
Price
from $1,400.00
from $1,410.02
from $2,199.00
from $2,099.00
from $1,499.00
Shipping
Free Shipping
Free Shipping
Free Shipping
Free Shipping
Free Shipping
Special Offers

Same Day Shipping

 
 
 
 

Rating

Overall:
Performance:
Quality:
Appearance:

Install Time
2+ Hours
2+ Hours
1-2 hours
2+ Hours
2+ Hours
Fit
Vehicle-Specific Fit
Universal Fit
Vehicle-Specific Fit
Vehicle-Specific Fit
Universal Fit
Blade Size
84"

---

96"
82"

---

84"

---

88"
72"

---

80"

---

90"
85"

---

90"

---

90"
82"

---

84"

---

88"
Material
Aluminum
Steel
Steel
Steel
Steel
Operation
Manual
Motorized
Hydraulic

---

Motorized
Hydraulic
Motorized
Extra Hardware Required?
 
Front-Mount Hitch Required (sold separately)
 
 
 
Remote Control Type
No Remote
Up, Down

---

Wireless
Up, Down, Left, Right

---

Wired
Up, Down, Left, Right

---

Wired
Up, Down

---

Wired
Warranty
1-Year Limited Warranty
1-Year Warranty
1-Year Warranty
1-Year Warranty
2-Year Warranty
 
More Details
More Details
More Details
More Details
More Details
Check out the video below to see the Access SnowSport Snow Plow in action.
Snow Plow Accessories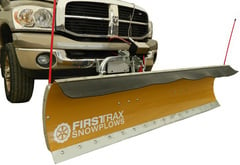 There are a variety of ways you can maximize the function and convenience of your snow plow. With Snow Plow Accessories you can protect the plow from damage and enhance your towing safety. Not only will you make plowing roads and paths a more safe and confident experience - you'll also keep your plow's blade and mechanics in top shape for year after year of reliable use.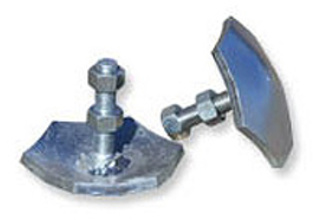 Heavy Duty Skid Shoes, like those available with Home Plow Accessories, keep the plow safe from gravel and uneven terrain, so the bottom edge of the blade doesn't get banged up and dented. Snow Deflectors mount at the top of the blade, blocking snow from spraying up onto the windshield. For additional safety, equip your plow with an Off-Road Light Kit, such as FirstTrax Plow Lights and a Plow Marker Kit to maximize your visibility.
ATV Snow Plows

Some paths, sidewalks, and trails are just too narrow for a full-size truck or SUV to reach. That's where an ATV Snow Plow comes in handy. These miniature plows turn your off-road vehicle into a flexible and super-mobile snow pusher. Their custom mounting brackets are designed for an easy installation, so you can get to work as soon as the first snow falls.
These days, Snow Plows aren't just made for pickup trucks and SUVs. In fact, just about any kind of vehicle can be equipped with a plow. Check out the SnowSport ATV Plow - they've got models available for everything from Honda ATVs to John Deere ATVs. These plows are designed specifically for your ATV and UTV models, and their custom mounting brackets make for an easy installation. In just minutes you'll have the plowing versatility you need to push snow everywhere you need a clear path.
Conclusion
We hope this Snow Plows Research Guide gives you a better idea of what you can do with a Truck or SUV Snow Plow. If you have any more questions, feel free to chat with us online or give us a call at 800-663-1570. Plus, you can read our Snow Plow Reviews for real-world testimonials from real-world drivers. Happy shopping!