Replacement Wiper Blades
When the sky opens up and torrential rainfall pours down, don't get stuck with flimsy or worn out wipers. Our replacement wiper blades cut through sheets of water far better than every day blades you get at the department store. These wipers feature high-quality materials like silicone to promote water beading and innovative designs that apply more even pressure to your windshield for streak-free performance. Plus, all of our wiper blades are custom-designed to your exact vehicle for a perfect fit and snap-on installation that takes just minutes. Don't let heavy weather hold you back - see clearly with the best windshield wiper blades.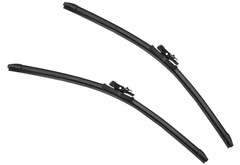 Sci-Tech Wiper Blades feature PIAA's patented silicone technology to promote water beading. These windshield wipers are weather resistant and custom fit to your vehicle.
From $22.94
Free Shipping
Quick View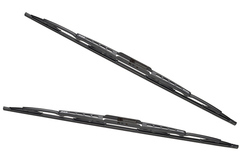 PIAA Super Silicone Wiper Blades feature tough, wear resistant silicone frames that will outlast your factory windshield wipers. These wiper blades are custom fit to your make, model, and year vehicle.
From $17.84
Free Shipping
Quick View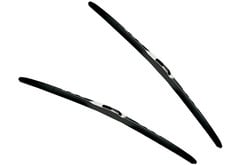 Silicone-rubber blades and an aerodynamic design provide a significant upgrade over your factory wipers. Lasts twice as long as your stock wipers. 1-Year Warranty.
From $19.54
Free Shipping
Quick View
About Replacement Wiper Blades
Is your windshield looking a bit streaked on the outside? Do even light drizzles or splashes have you squinting through what few clear spots you have left? It's time you quit being so stubborn and finally replace those wipers. While you're at it, step up to our performance wiper blades and enjoy the clearest view possible, for way longer than the ones you get at the local shop.
A quality set of wiper blades really takes lots of the stress out of driving in bad weather. They're specifically designed for your exact vehicle, ensuring a perfect fit and the best possible contact with the curvature of your windshield. And with heavy duty construction and silicone treatments, they'll last longer and clear your view more effectively.