Goldline RV Covers & Trailer Covers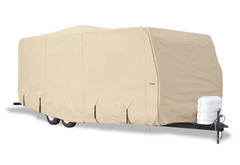 From $375.99
Free Shipping
Quick View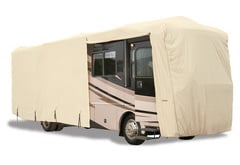 From $393.54
Free Shipping
Quick View
Sometimes, it simply comes down to the fabric.
Goldline dominates the RV cover market because they use the best fabric they possibly can. Expertly tailored with multi-weave finished edging, Goldline RV covers are designed specifically to outperform every other RV cover in all critical protection categories. That attention to this one crucial detail has paid off for them with a #1 customer satisfaction rating from both campers and dealers alike.
It's not JUST the fabric, though. Goldline RV Covers come with an industry-leading 5-Year Warranty. Goldline outfits each cover with their patented HD quick-release buckles. Their long-lasting, strong, supple fabric won't scratch your RV, and extended, patented Everest Glove zippers allow for the use of your RV cover even when you are inside the vehicle itself.
Some things are difficult to explain, but Goldline's domination of the RV cover market is not. Goldline RV Covers use better materials, come with a better warranty, and last longer than the competition. For luxurious RV protection, it's simple: Goldline.