Trident T-Top Covers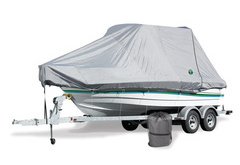 From $383.99
Free Shipping
Quick View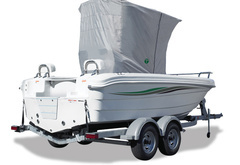 From $156.99
Free Shipping
Quick View
The T-Top is one of the most versatile boating accessories there is. Attach it to your center console and continue to enjoy 360-degree access to your boat's surface. Stand under it while you drive or protect passengers from wind and sun: in short, enjoy boating and fishing with newfound relish. Of course, your T-Top needs protection, and standard boat covers won't fit your new extended console. Enter Trident T-Top Covers, a brand of covers specially designed to cover your boat's T-Top.
In fact, Trident T-Top Covers set the industry standard for wholesale T-Top covers. Weather-resistant marine-grade polyester protects either your entire boat or just the T-Top and center console, all while allowing for easy trailering. Installation and removal are a breeze, and protection against dust, debris, sun and rain has never been easier to come by. And if all of this wasn't enough, an industry-leading 5-Year Warranty backs every T-Top cover Trident sells.
Your investment in a T-Top for your boat was an investment in the overall enjoyment you will get from the machine. Don't allow that investment to fall into disrepair. Trident T-Top Covers are there for you and your machine, and they are the industry's best.