BedRug Complete Truck Bed Liner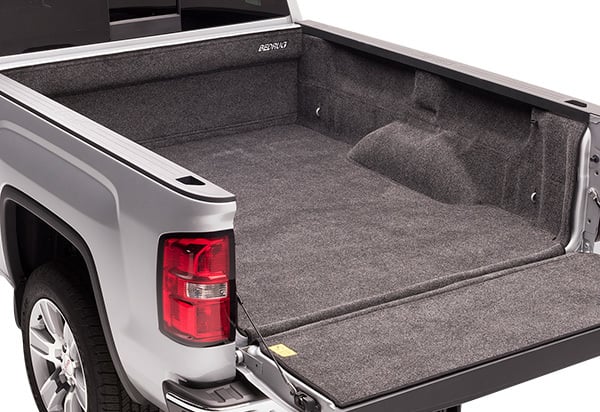 Regular Price:

$645.15-690.85

Our Price: $

438.00

-

469.00

Shipping:

FREE SHIPPING
The BedRug Complete Truck Bed Liner provides plush yet tough protection for your truck bed
Thick, soft surface looks and feels like carpet but is actually a super-durable plastic material
Handles impacts, chemical and gasoline spills with no problem - cleans up by simply hosing off
Holds its shape and position through all seasons and driving conditions
Installs and removes in seconds - no tools or alterations required
Will not harm your truck bed's painted surface
Lifetime Warranty
The BedRug is a true "magic carpet" for your truck bed. This innovative truck bed liner system is made of 100% plastic, yet has the luxury look and easy feel of carpet. It is more durable and protective than drop-in or even spray-on liners, and installs and removes in a snap. Simply put, the BedRug Truck Liner is the best thing you can do for your truck bed and your cargo.

The BedRug Pickup Bed Liner offers a soft, plush surface to hold your cargo. The carpeted surface will keep your loads from sliding around in transit and protect your cargo from scratches and dings. It is soft to the touch and unlike hard bed liners it has no "ribs" or had surfaces to hurt your knees when crawling around in the truck bed. The BedRug's thick carpet also acts as a shock absorber, protecting your factory bed from impact dents and damage. In fact, the surface is so soft it makes a comfortable seat for tailgating or even a bed for camping!

Don't let the soft, luxurious carpet feel of the BedRug surface fool you - this liner is seriously tough. It is molded from 100% polypropylene plastic, making it durable enough to withstand even the toughest loads and spills. Bleach, gas, battery acid, and oil are no match for the BedRug - simply give it a hosing or power washing and you'll be good to go! It will not absorb water, so moisture can either run through the BedRug zippers and through the bed drain holes or dry off in the sun. A special built-in tailgate hinge keeps small debris from falling between the bed and tailgate, putting an end to scratches, dirt and crushed rocks in your tailgate. The BedRug Pickup Bed Liner is also impact-resistant and can take any firewood, scrap metal, or concrete load you dump on it.

Unlike permanent spray-on bedliners, the BedRug installs and removes quickly and easily. And unlike weak drop-in liners, the BedRug is durable, soft, and pliable. It is custom-molded to fit the bed contours of your make, model, and year truck for a perfect, snug fit that won't change through the seasons. Because of the BedRug's custom fit, you have full access to your OEM bed tie downs.

The BedRug is made to last through the toughest treatment and continue to look and feel great. Your BedRug is backed with a Lifetime Warranty.

(Note: some custom tie-downs will be blocked by the BedRug, possibly requiring it to be cut. BedRugs that have been cut can not be returned.)
BedRug Complete Truck Bed Liner

Customer Reviews
Overall:
Performance:
Quality:
Appearance:
Average Install Time: 30-60 minutes
Showing 10 of 109 reviews. See All Reviews.
Chris C
who drives a
Dodge Ram 1500
2016-08-22
For me this the only way to go. Second one. I don't fully install so can pull out easy when needed to.I have cover so no worry about fully installing. Soft on furniture and every day things.
Install Time: Under 30 minutes
Joseph R
who drives a
Chevy Colorado
2016-07-27
Great product, AAG customer service department is always there to solve problems. I recommend both the product and the people that sell it. Will definitely be using them again. I suggest you do the same.
Install Time: Under 30 minutes
Blas
who drives a
Chevy Colorado
2016-07-23
Shipped fast and looks great. Knees don't hurt on it. Great product.
Install Time: Under 30 minutes
Judd W
who drives a
Ford F150
2016-07-10
Great product. I have had this product in 4 trucks now and have never had a problem or a quality issue. HIGHLY recommend!
Install Time: Under 30 minutes
Tim W
who drives a
Ford F150
2016-06-26
Bedrug showed up in about 5 days, installed in my 2015 F-150 shortbed in about an hour. Hardest part was cutting holes for lights and light switch. Looks great and is just what I needed! Will order from AutoAccessoriesGarage.com again.
Michael D
who drives a
Dodge Ram 2500
2016-06-23
Looks great, is soft on the knees and fits well in the bed. It took me a little longer to install, I had to remove 5th wheel electric connection and reinstall found a customer look.

Al M
who drives a
Dodge Ram 1500
2016-06-09
My 2nd BedRug. I love them and have shown a lot of people. I don't mind crawling into the bed of my truck anymore. Easy to install, easy to keep clean, and great looking.
Install Time: 30-60 minutes
Jim B
who drives a
Chevy Silverado
2016-05-16
Really fine product and would highly recommend over spray in liners and plastic versions.
Install Time: Under 30 minutes
David K
who drives a
Ford F150
2016-03-29
I was a little worried about the install being a pain. It really wasn't too hard. The biggest thing is to mount all the hold down correctly. I just removed all the hold downs from the truck then mounted the rug. I them pulled the rug back to find the mounting holes for the hold down and mark all the bolt holes and cut a small X in all the locations with a utility knife. Then I mounted to hold down on the rug to help hold the rug in place. Some people said that they cut on the markings on the back of the rug, but I found that those were not accurate enough. Do be careful with not letting the Velcro fasteners touch the rug because they stick to it very easily and pull the fibers of the rug up. I can see a couple spots where mine had gotten stuck to it. I am sure this will not show after some use but it does bug me a little bit while it is still new. I haven't put it to any test yet so I am relying on other's reviews for its durability.
Install Time: 30-60 minutes
Matt K
who drives a
Dodge Ram 1500
2016-03-26
Pretty easy to install. I'm kind of a perfectionist so it took almost 2 hours to install. I washed out the bed (it's a new truck so was already pretty clean) and then dried it and then used isopropol alcohol to clean the surface where the velcro would go. After reading a bit online I bought some gorilla tape and taped all the zippers on the underside to eliminate the potential for scratching the paint. I also purchased a bit more velcro to supplement the amount supplied. I'm glad I did because I feel it made for a more secure and form fitting installation. I had some issues cutting out spots for the bed lights. I have a 2016 Ram and the bed lights are right next to the tailgate which made it awkward to cut because the liner needed to be folded right there. In hindsight I should have removed the light assembly completely and then installed the light cover over the top of the Bedrug for a better look and fit but I got lazy after failing to see how to pull the light assembly off and didn't want to break them. But as it is I plan to line the Bedrug around the light opening with more velcro and hold it all in place around the lights. The tie downs were super simple - just a slit in the Bedrug and push them through. Didn't feel the fit on the tailgate was perfect. The Ram doesn't have a flat surface where the velcro goes so it was problematic to get it flat and taut so that took a bit of time. I will probably purchase more velcro and velcro another strip in the middle as well as the sides to make it a bit more form fitting and so it doesn't "poof" up like it tends to do now. Finally since the floor and tailgate piece are connected the extra material gets stuffed into the space between the tailgate and bed and in my case it makes the tailgate a bit more difficult to close as that material is getting pinched in the space between which is also where the wiring goes for the tailgate lock and backup camera. I don't think it's a problem but it's noticeably a harder close of the tailgate now. Overall it's a good fit, looks really nice, love that I don't kill my knees on it and the kids like it. I much prefer this over the plastic drop-in liner or the spray-in liners. It looks so nice I will probably put a tarp down for hauling anything dirty.
Showing 10 of 109 reviews. See All Reviews.