Safari Snorkels
A durable Safari Snorkel keeps your engine's air intake out of harm's way on your next off-road adventure. By elevating the tube above your vehicle's roof, Safari Snorkels prevent dirt and dust when on convoy and water during brief submersion from entering your engine and doing serious damage to it. By keeping your engine free of particles and liquid, you'll keep your good times rolling for as long as you can stand them. All it takes to hook up a Safari Snorkel is slight vehicle modification that, once undertaken, transforms your SUV into an unstoppable off-road monster.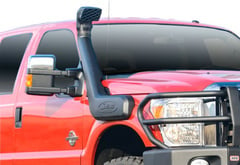 For regular off-road drivers, an ARB Safari Snorkel can prove an invaluable tool. These implements extend your vehicle's air intake hose over and above your vehicle to prevent dust, dirt, and water from getting into your engine compartment. Made of durable materials, these helpful intakes allow you to confidently engage in your aggressive off-road lifestyle without damaging your engine.
From $383.62
Free Shipping
Quick View
Want to learn more? Read our:
About Safari Snorkels
It seems like some sort of ridiculous, space-aged concept, but it actually makes perfect sense. A Safari Snorkel sits up as high as possible to prevent unwanted elements from ruining your engine. When traveling with a bunch of other off-road enthusiasts or attempting tricky aquatic maneuvers, the creative flexibility offered by a Safari Snorkel could prove invaluable. Better still, they look pretty awesome, too.
AutoAccessoriesGarage.com is your #1 provider of innovative Safari Snorkels. Just use our vehicle selector widget to find out if our Safari Snorkel selections fit your ride. If they do, you can go over the information and pictures to help you make a decision. Once purchased, your new Safari Snorkel ships your way completely free of charge. It's our job to make your life easier, and at AAG we take that quite seriously.