Volant Air Intake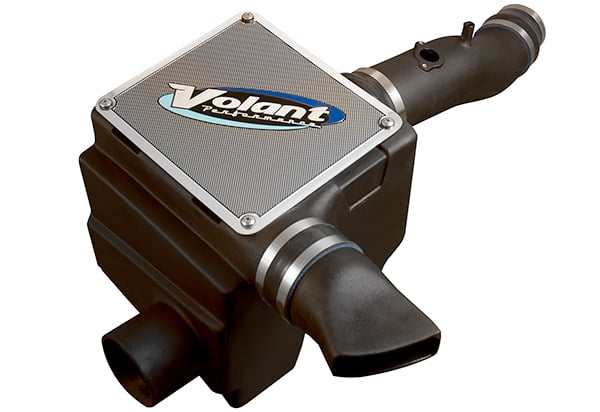 Regular Price:

$265.55-910.50

Our Price: $

180.29

-

618.13

Shipping:

FREE SHIPPING
The Volant Cold Air Intake is custom-designed for your vehicle
Increases horsepower, torque and gas mileage
Molded polyethylene ducts give your engine a clear, cool air passage
Some models feature a power-enhancing enclosed air box
Easy filter access and tricked-out looks with the chrome Volant box lid
Stainless-steel marine-grade clamps hold up under engine heat
Typically installs in 1 hour or less (minor modifications may be required)
Choose your filter: the high-performance Primo air filter, or the super-efficient and zero-maintenance Power Core filter
Your Volant Cold Air Intake is covered by a 1-year warranty
The rocket scientists at Volant have outdone themselves once again! With the Volant Cold Air Intake System you can add up to 18 horsepower, 40 lbs of torque and even boost your gas mileage. The Hi-Flow Velocity Air Box features a massive air duct to let in tons of performance-boosting air. Some drivers have reported a 1 to 2 mpg increase in gas mileage with the Volant Cold Air Intake. All this, and it takes less than an hour to install with household tools.

Your Volant Cold Air Intake System is available with two filter options. For high performance with low maintenance, the classic Primo filter provides high flow and filtration with cleaning intervals of 35,000-50,000 miles. For even higher power and virtually no maintenance go with the oil-free PowerCore filter, which offers the most efficient and effective filtration with no cleaning for an incredible 100,000 miles!

Volant backs your high performance Air Intake System with a 1-Year Warranty.
Note: Thanks to the Magnuson Moss Warranty Act: US Code - Title 15, Chapter 50, Sections 2301 - 2312, the factory warranty of your vehicle is protected by law, even after the addition of aftermarket parts.
Volant Air Intake

Customer Reviews
Overall:
Performance:
Quality:
Appearance:
Average Install Time: 30-60 minutes
Showing 10 of 14 reviews. See All Reviews.
Jose G

who drives a

Chevy Tahoe



2017-03-19
Happy w/ MPG gains and def nice sound coming from under hood.
Install Time: 30-60 minutes
Chad L

who drives a

Chevy Silverado



2016-07-09
Instructions are very vague, you're better off installing without looking at those. Over all, easy install.
Install Time: 30-60 minutes
Jeff H

who drives a

Dodge Durango



2013-10-07
Great look and factory fit. A+
Install Time: Under 30 minutes
Hutch

who drives a

Dodge Ram 1500



2013-07-24
The system was easy to install but the air sensor rubber plug pops off because the shape of the hole is off, which make it difficult to insert the sensor. So far the system is working well.
Install Time: 30-60 minutes
Joshua M

who drives a

GMC Sierra Pickup



2013-02-04
Very impressive. Sounds damn good, easy to install, definitely gained power and fuel economy.
Tyler S

who drives a

GMC C/K Pickup



2012-05-06
I was expecting a higher quality piece than what I got. The way that it mounts onto my intake seems like an afterthought, and the holes aren't all that well lined up with the studs on the intake. Also had to call the manufacturer to receive a longer intake hose because between the two that I got, was still too short to reach the air box and the air plenum. This was installed on a 1998 Chevy K1500.
Install Time: 30-60 minutes
Roy F

who drives a

Chevrolet C/K Pickup



2011-06-10
Far from a perfect fit. Parts were missing or just weren't the right size. It has boosted my horse power, but has significantly dropped my fuel mileage (about 5 mpg). Seriously thinking about putting the factory air cleaner back on.
Daniel C

who drives a

Chevrolet Camaro



2011-04-22
The Volant Cold Air Intake is a very good product, it has increased the Avg. MPG and also makes the 6.2 L sound awesome. The appearance is great, it shares the details found on the factory engine cover. The installation was easy, although the directions consisted of just a schematic type drawing. Install took about 30 minutes. Auto Accessories Garage was very good to deal with, and the CAI was delivered within 3 days of being shipped, my Thanks to Rick for taking care of my order. Sincerely Dan Conlan
Install Time: 30-60 minutes
John D

who drives a

Chevrolet Camaro



2011-03-28
I have heard and seen Volant CAI's in trucks and other off road vehicles for years. So at first I had really had a good feeling about getting one. But then I found a thread where more than one Camaro5.com members were having serious problems with them. Added to that, Volant didn't take part in Jannetty Racing Cold Air Intake testing (something that alot of people listen to). So I had mixed feelings so say the least. Something the reader needs to understand I have a wife that seriously frowns on wasting money and the other part of that I don't have any to waste anyway. SO if I make a purchase it HAS to be a good one. BUT, we have become really interested in showing our car off and with gas prices skyrocketing. (and me living 20 miles for town) We wanted to do something that looked good, worked well, and didn't cost an arm and leg. We really liked the Vararam CAI but the price about made me gag. SO had almost decided to buy a chrome tube and some chrome peices to cover the stock air box. So I was looking on spending 160+ dollars. Not to bad...I was telling myself. Then I found the posted from a new Camaro5 member saying got a Volant CAI for $137.00 Holy cow could it be true??? SHould I take the chance of a CEL?? I got ahold of another memeber and after a couple words of encouragement...DAMN THE TORPEDOS!!! I went ahead and got it...well after a quick phone call to the wife. Who to my surprise said "Get it." After 5 days the box was waiting for me when I got home Friday. I quickly unpacked it. WOW this thing is HUGE!! But looked very nice. Frist thing I noticed...NO WRITTEN INSTRUCTIONS! THIS WOULD BE SERIOUSLY HELPFUL..it just a CAD drawing. I'm pretty good at figuring things out...and this isn't like I'm building a space ship. So I started the install the box POPPED into place and then the tube went right in. Pretty simple. Now I was really nervous with this next part. If it threw a Check Engine Light the wife would kill me. So I started the car. She responded with a VROOOMMM. So far so good I drove around the neighborhood slowly not wanting to rush anything. After 10 miles I crossed my fingures and put the hammer down. THE BEAST CAME ALIVE!! With a sound that scared small animals and childern in the neighborhood. There was a big difference in horsepower!! So I parked it and waited for my wife to get home. When she did she jumped in and said "Come on lets try it out." Thats my girl!! She got on the highway and jumped on it. The BEAST responded and threw us in ours seats and roared down the highway. She looked over at me with a evil grin on her face. So here we are 2 weeks and no CEL and my MPG testing (by info center) an increase of 2 mpg in town (45 mph) and 1 mpg highway (then again I drive 70) And the car sounds and acts happy. UPDATE: Come to find out there was a pricing mistake and the item was suppost to be like a 150.00 more. Maybe Volant should look at the spike in sales and identify nitche in the market.
Install Time: Under 30 minutes
Showing 10 of 14 reviews. See All Reviews.