Spare Tire Mount Bike Racks
Bike adventurers that drive a Jeep, SUV, or 4x4 could benefit greatly from a Spare Tire Mount Bike Rack. These racks take advantage of the space behind your spare tire to give you an easy, convenient, and secure place to keep your bikes on the road. Our Spare Tire Mount Bike Carriers are made to be rugged when facing the road but gentle when handling your bikes. Their modern designs also look great on your vehicle, even when they're empty. Also, they lock right to your vehicle so you have no fear of theft.
Our

4

Spare Tire Mount Bike Racks

reviews have an average rating of

3.8

out of

5

stars.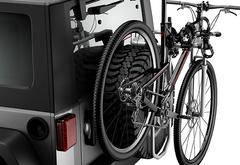 Thule really got it right with their 963 Spare Me Spare Tire Bike Rack. Durable construction, ease of use, and clean modern looks make it a real home run in the auto bike rack game. When it's time to take some bikes out with your Jeep or SUV, spare yourself the trouble and go with the Thule Spare Me. More...
Priced at $179.95
Free Shipping
Quick View
Turn your spare tire into a rugged bike hauler. The Surco Spare Tire Bike Rack attaches to most rear-mounted spare tires and holds up to 3 bikes. It's built tough to take on any adventure, and is easy to load and unload. More...
Priced at $177.22
Free Shipping
Quick View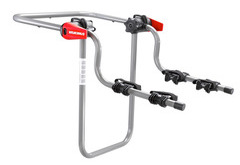 Having a rear-mounted spare tire doesn't mean you can't carry a couple bikes behind your ride. The Yakima SpareJoe Bike Rack mounts to just about any size spare tire and holds up to 2 bicycles. This spare tire bike rack is built from tough bomber steel and folds up for handy storage when not in use.
Priced at $116.94
Free Shipping
Quick View
Want to learn more? Read our:
About Spare Tire Mount Bike Racks
The concept seems so simple, and yet only recently has it been properly developed. Spare Tire Mount Bike Racks use the hanging rubber on your vehicle's back-side to ensure safe passage for your beloved cycles. You can count on a durable fit and secure attachment when you choose one of our spare tire bike racks, because we wouldn't carry something if we didn't think it was the absolute best. Slap your bikes on the back of your ride and light out for your destination: they'll be ready to rock and roll when you arrive.
Use AutoAccessoriesGarage.com for your next online shopping excursion and see how easy the process can be. Tell us what you ride, and we'll tell you what Spare Tire Mount Bike Racks are available for it. Go over all the details, from the full-color photos on down to the in-depth product descriptions, and if you see something that looks great it will ship your way completely free of charge. Take it easy on yourself: go with AAG.
More Popular Bike Racks Vehicles: