Aries Nerf Bars & Running Boards
Tough looks. Easy entry. Perfect fit. That's what you'll get with Nerf Bars and Side Steps from Aries. Every one of these steps is crafted from durable steel and features a hot polished or powder-coated finish for great style and long-lasting service. Plus, they include custom-designed hardware to bolt right into your frame for a fast, precise installation. Outfit your truck with Aries and take your truck to the next level. Our 31 Aries Running Boards & Side Steps reviews have an average rating of 4.5 out of 5 stars.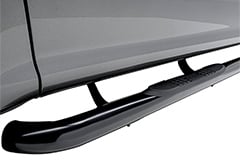 From $160.00
Free Shipping
Quick View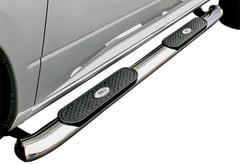 From $210.00
Free Shipping
Quick View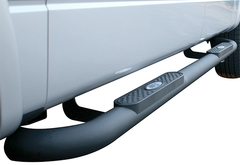 From $195.00
Free Shipping
Quick View
About Aries Running Boards & Side Steps
If you're shopping Aries Running Boards & Step Bars, you're shopping one of the absolute best in the business. The thing is, not all companies are created equal, and this is one that flies high above the rest. For years and years customers have returned to these guys because they can be trusted. If you demand high-quality that won't let you down, then you are most definitely in the right place.
That goes from head to toe, as well. There's no need to take a shortcut when it comes to tricking out your truck or SUV in the most "you" way possible. Insist on Aries Step Bars and see the difference innovative designs and reliable materials can make. You won't sweat the craftsmanship or the installation, and once they're set up you will love what they'll mean for your beloved ride.
Next-level looks are easy to achieve with Aries Nerf Bars & Side Steps, and it's easier than ever through AutoAccessoriesGarage.com. We'll help you find the perfect products right away, with our handy vehicle selector and our skilled customer service crew on the ready. Best yet, every Aries Nerf Bar ships completely free - no hidden fees, no nonsense. That's why so many drivers choose AAG for their truck accessories.
Aries Running Boards & Side Steps Reviews
Harvey J
from Santa Clara, CA wrote:
Solidly built product. Powder coat is rather thin. Surface rust on the ends where the protective plastic caps were installed. Read more Aries Step Bar customer reviews.
Willie made it work
from Alto, NM says:
Material Quality A+; Engineering C- This set of Aries step bars is made of good quality materials. Everything heavy duty. The engineering for installation on the late model (2006-20012) Nissan Frontier CrewCab rates low, though, mainly due to poor configuration of the stiffening brackets at all 4 mounting plates. We had to fabricate a new set for the rear mounts because the factory-supplied ones were literally not going to fit without heating, twisting and grinding. If I hadn't had access to a fully-equipped shop, I would have either returned them or had to pay to have them installed. By the way, the rear support brackets as designed require inserting part of the bracket inside a rubber-plugged rocker panel hole which was NOT intended for that. THIS IS A BIG NO-NO! Do it and you will have internal rust inside the panel within a short period of time. DON'T DO IT! This is where you definitely have to fabricate a different bracket similar to what is used by other brands. Having done this installation (different brand) on another Nissan, I knew exactly what to do. In the end, the result was a great looking, solid installation. But, I figure it would have cost me at least $350 to have them modified and installed by a shop. This Aries brand might have better designed brackets for other trucks.... not for this Nissan model. If you have mechanical experience and tools, this Aries product is still a good buy because of the high quality materials... otherwise you will not be happy with the results. As far as AutoAccessoriesGarage is concerned, they rate AAAAA+. Great service, recommended.
Robert W
from Parker, CO said:
Great fit, easy install, and they look great. I'm very happy with these 4" bars I got from Aries.