N-Fab Nerf Bars & Running Boards
When you want a rugged off-road look and a handy stepping surface, you'll be in fine shape with a set of N-Fab Nerf Bars and Truck Steps. Every step they make is built from rugged steel, with your choice of polished or black powder-coat finishes. They're also zinc-coated to ensure that your hot looks will last for years. Give yourself a tough-yet-clean look with N-Fab, and get the best deal at AutoAccessoriesGarage.com. Our 33 N-Fab Running Boards & Side Steps reviews have an average rating of 4.5 out of 5 stars.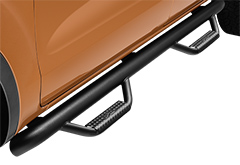 From $319.00
Free Shipping
Quick View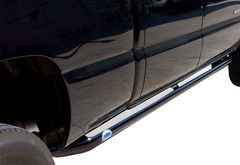 From $428.00
Free Shipping
Quick View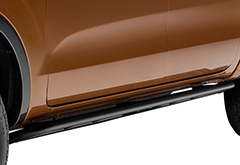 From $409.00
Free Shipping
Quick View
About N-Fab Running Boards & Side Steps
There are those that expect things to be average, and those that expect the best. You fall into the second category, and so do the folks behind N-Fab Running Boards & Side Steps. These guys have gone that extra mile and put in that greater effort to ensure their products are at the top of the line. When the time comes to spruce of your truck or SUV, do it here and be amazed.
The quality you can count on with N-Fab Step Bars starts at the factory, where they insist on nothing but durable, high-quality materials and innovative processes. With those in tow, they crank out fantastic products that both work beautifully and make your truck look awesome. You'll take it easy on your knees and ankles, and you'll feel great doing it. The more benefit the merrier, that's what we say!
With a tough set of N-Fab Nerf Bars on your truck, other drivers will know you mean business. These steel tubes give off a tough vibe, but they're also handy, letting you climb into your lifted truck with ease. Each N-Fab Truck Step is custom-designed for a precision fit and seamless looks on your truck, so installation will be quick and easy. And when you go with AAG, you'll even get free shipping on your entire order.
N-Fab Running Boards & Side Steps Reviews
Russ M
from Bend, OR said:
Your website was easy to use and your prices were great! I needed to follow-up with Customer Service and they were extremely helpful. I will definitely use you again for my automotive needs. Read more N-Fab Nerf Bar customer reviews.
Joshua J
from Oakdale, MN says:
The steps look great. I got mine in the textured black finish. The finish looks great. The fit took a little massaging. The driver side rail needed a few mounting holes to be opened up a bit to fit. The 2 front mounts were just over 1/3 of an inch off. On the flip side the passenger side required nothing and I had it on in 5 minutes. I am 6'2" 250lbs and the flex is comperable to most factory rails i have dealt with. BTW... not exactly a single person job. Overall I love the look and the function of the N-Fab 6 steps. Plus my wife and 4yrs old really appreciate not having to jump into the truck!
RHK
from Rockland , CA said:
Great look, great fit, great product. I had some questions and contacted N-Fab, and their customer service was excellent. This product is very well-made, in the USA, and I would recommend it to my friends.