Van Racks
Make the most of your workhorse van with the help of a sturdy Van Rack. Our Van Racks mount to the roof of your cargo van to provide a trusty place to mount your larger gear like ladders, lumber, and pipes. Van Storage Racks are even available for minivans, turning your family hauler into a weekend work truck. Van Racks are constructed from heavy-duty materials to stand up to all the use and abuse of tough hauling, and they virtually double your cargo capacity, minimizing the number of trips you need to get the job done.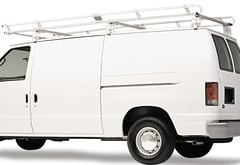 Transport your cargo safely with the Hauler Racks Utility Van Rack. This ladder rack can carry up to 1200 lbs. of cargo and is made of rust-resistant, anodized aluminum. Your Hauler Racks Utility Van Rack works great with all full-size and mid-size vans.
From $621.35
Free Shipping
Quick View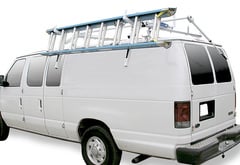 Give your Hauler Rack Van Rack a handy upgrade. The Hauler Racks Van Drop Down Ladder Rack Accessory lets you unload your ladder easier and keeps it secure during long rides across town. Plus, each Ladder Rack Accessory is equipped with adjustable hydraulic cylinders to keep the ladder from slamming against your vehicle. Backed by a 30-Day Warranty.
Priced at $833.85
Free Shipping
Quick View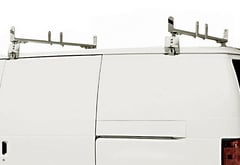 Maximize your van's cargo space with the Hauler Racks Universal Van Rack. This ladder rack is designed to fit any mini-van or full-size van and increases your payload up to 1000 lbs. The Hauler Racks Van Rack is backed by a 1-Year Warranty against rust.
From $300.05
Free Shipping
Quick View