DK2 Snow Plow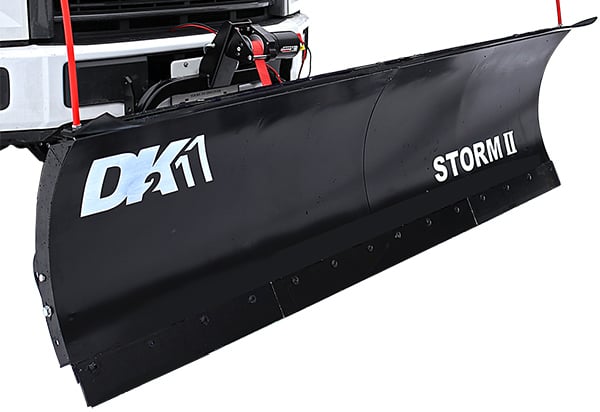 Regular Price:

$2,208.65-2,674.10

Our Price: $

1,499.42

-

1,815.42

Shipping:

FREE SHIPPING
20% Price Drop - Prices Already Reduced, Limited Time!
The DK2 Snow Plow gives your truck serious driveway and lot-clearing power
Durable all-steel construction stands up winter after winter
Included vehicle specific mounting system ensures secure fit and operation to your exact year, make and model truck or SUV
Hardwired winch remote provides up-down control from the driver's seat
3-position manual direction adjustment: straight ahead, or 45-degree angle to either side
Easy installation and removal with integrated drop down caster wheels
Kits include steel cutting edge, snow deflector, wireless remote, winch kit, winch strap, plow markers, caster kit, and skid shoes, along with all mounting hardware
Three different plows available:
DK2 Rampage II - 82" X 19", 206 lbs.
DK2 Storm II - 84" X 22", 237 lbs.
DK2 Summit II - 88" X 26", 245 lbs.
Light Kits available for DK2 plows, sold separately
Backed by a 1-Year Warranty
Snow Plows can end up costing an arm and a leg if you don't know what you need. Get everything and then some in a high-quality, affordable plow for personal and modest commercial use with a DK2 Snow Plow.
Formally known as the K2 Snow Plow, which featured a front-mount hitch style design, the new and improved DK2 Snow Plow now features a vehicle specific mounting system which doubles the connection points and is twice as strong as the previous 1-point connection. It's just basic math, a 2 point connection is twice as strong as a 1 point connection. The big commercial grade plows have custom brackets and now you will too - without paying commercial prices.
Three different plow sizes are available, depending on the jobs you'll have lined up. The DK2 Rampage II is a great plow for around your house or farm, the DK2 Storm II suits neighborhood and small business use, and the DK2 Summit II is fantastic for tougher jobs like small rental unit lots or alleys.
Your DK2 plow is easy to remove, as well, and every purchase includes a wide variety of accessories to complete your setup - including a custom mounting kit, electric wireless winch with wireless remote, wiring harness, skid shoes, side markers, deflector, scraper as well as a caster kit. Don't take out a mortgage just to get a great plow on the front of your truck or SUV - a DK2 Snow Plow is a wonderful tool guaranteed to get your jobs done this winter. Backed by a 1-Year Warranty.
Installation Video
DK2 Snow Plow

Customer Reviews
Overall:
Performance:
Quality:
Appearance:
Average Install Time: 2+ Hours
Showing 10 of 15 reviews. See All Reviews.
Thomas L
who drives a
Ford Excursion
2016-01-21
Ordering was simple and the Associate was very friendly, helpful and knowledgeable. He answered all of my questions. Shipped the same day and I had it in two business days. It was easy to assemble and install on a Ford Excursion Diesel. We chose the DK2 because of its size and positive reviews by other users. The plow works great and we are already putting it to use here in Middle Tennessee making money. Thanks!
I assembled the plow today and when I opened the box several issues were found. Damage to blade painted surface with scratches and scrapes (6), kind of expected. But on one end a deep gouge was repaired by spraying a different color paint. Not happy with that. One part of the blade had a gouge that was apparently there before paint was applied and never repaired. Also not happy that the metal used for the scraping blades were severely pitted almost the entire lengths on all 3 Blade pieces. Also got some drilled slag dumped on me during assembling the frames. To me the welds are very thin so I am wondering how it will hold up over time.
Paul M
who drives a
Ford Expedition
2015-02-05
Perfect for what I need. The drive is a half mile long so I put this on my SUV and off I went. It has worked great so far. Fairly easy to install even easier to operate.
John F
who drives a
Dodge Ram 2500
2014-12-17
Website was great and easy to deal with. Staff answered all off the questions. Plow was very easy to install, with 2 guys it took about 2 1/2 hours. Well worth the price I paid. Shipping was warp speed...ordered Sunday night got the plow Tuesday afternoon.
Cary M
who drives a
Nissan Titan
2014-12-01
Overall it was very easy to put together. The only issue was the power connectors for the winch. When I initially plugged them in after mounting the power unit and wiring everything I could not get the winch to work. I fiddled with the connectors, prying the metal parts so they would touch when plugged together I was finally able to get power to the winch. After that everything works just fine.
billy4prez
who drives a
Ford F-150
2014-02-19
Good plow in general for a half ton pickup with a factory front end. The downside of the plow is that it is light. This is my first year plowing snow and found that if the snow is light and fluffy this plow works great. If the snow is heavy my half ton would get stuck rather easily. That was due to the plow not being heavy enough to go through heavy or old snow, the plow would just ride on top of the snow. Next year I will either have tire chains or a 3/4 ton pickup with a heavier plow on it.
wendy
who drives a
Jeep Wrangler
2014-01-05
It took me awhile to put it all togather but it mounts in 5 min. great I love it
Install Time: Under 30 minutes
James R
who drives a
Nissan Frontier
2013-11-18
I've wanted a plow for years and now this is one I can afford and I love it.
Kevin P
who drives a
Honda Ridgeline
2013-10-31
Quality is above my expectations. Assembly took a bit longer than I thought it would, but most of the issues were self inflicted. Overall I am very pleased and can't wait to see how it performs.
Jeffery G
who drives a
GMC Suburban
2013-05-31
Missing the light bar. It was pretty easy to put together, but the blade itself is pretty wimpy. Didn't know it was a two-piece plow. The picture looks like a one piece plow.
Showing 10 of 15 reviews. See All Reviews.