Grille Covers
If you drive your truck or car in colder climates, you know what freezing temperatures can do to your engine's performance. Grille Covers act like a winter coat for your engine bay, retaining engine heat and keeping cold air out. With a Grill Cover your vehicle will heat up faster, keep its temperatures more stable, and even run more efficiently. Some of our custom Grille Covers also include bug screens for when the summer comes.
Our

1

Grille Covers

reviews have an average rating of

2.5

out of

5

stars.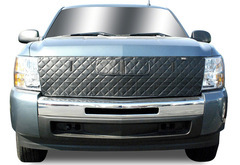 The cold winter air robs your engine of precious heat. Don't let the cold ruin your power and efficiency - wrangle in the warmth with the Fia Custom Fit Grille Cover. Its heavy-duty quilted exterior screen keeps heat contained in your engine bay for improved performance in even the coldest winter climates. More...
Priced at $74.85
Free Shipping
Quick View