Electric Cooling Fans
Staying cool can mean the difference between domination and damage. Equip your engine bay with an Electric Cooling Fan for substantial airflow gains to your radiator and cooling systems. Electric Cooling Fans are the first step towards gaining horsepower and torque as well as improving your overall performance and the life of your vehicle.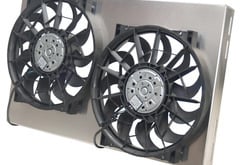 Get rid of your power-draining belt-driven fan and add twice the airflow. The Derale Dual High Output Radiator Fan boasts two 265-watt 2-speed motors and a skewed blade design for quiet, high-powered air flow. The fans are mounted on an aircraft-grade aluminum shroud that can be polished, anodized, or custom-painted.
From $210.83
Free Shipping
Quick View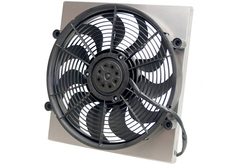 Keep your engine cool with a Derale Single High-Output Cooling Fan for great performance no matter how you drive. The Derale Cooling Fan features a 2-speed, powerful 265-watt motor with an ultra-quiet patented skewed blade design. It's available with or without an aluminum shroud that can be polished, painted, or anodized for a custom look.
From $182.95
Free Shipping
Quick View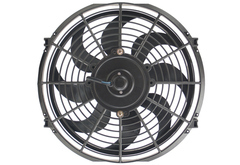 Blast your radiator with the cool air it craves. The Derale Extreme Curved Blade Electric Radiator Cooling Fan eliminates your inefficient, power-robbing belt drive fan and replaces it with a high-watt electric design. The Derale Electric Cooling Fan's motor lasts up to 3 times longer than the competition, and is waterproof/dustproof for serious off-road and all-season driving.
From $95.47
Free Shipping
Quick View