Intercoolers
Every diesel performance engine should reap the benefits of a Performance Air Intercooler. Our Intercoolers provide cooler, denser air to your engine, keeping operating temperatures down while bringing horsepower and torque up. Turbo Intercoolers and Performance Intercoolers are a great fit for your performance exhaust and tuner for substantial power gains on your diesel.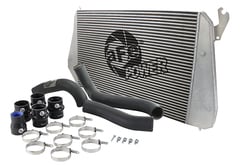 The aFe Blade Runner Intercooler lets your diesel engine take in massive amounts of dense, cool air. The direct-replacement Blade Runner keeps your temperatures lower, enhancing the performance of every component and upgrade under your hood. You'll see boosts of up to 20 HP and 63 ft/lbs of torque, and you might find yourself taking fewer trips to the gas station. More...
From $179.00
Free Shipping
Quick View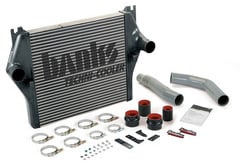 Face it - your factory intercooler is undersized and overworked. Replace it with the Banks Techni-Cooler Intercooler and let your diesel work at its full potential. The Banks Techni-Cooler compresses and cools your incoming air, providing gains of up to 60 horsepower and 140 ft/lbs torque. More...
From $998.00
Free Shipping
Quick View